AP Top 25: Texas moves up six spots to No. 15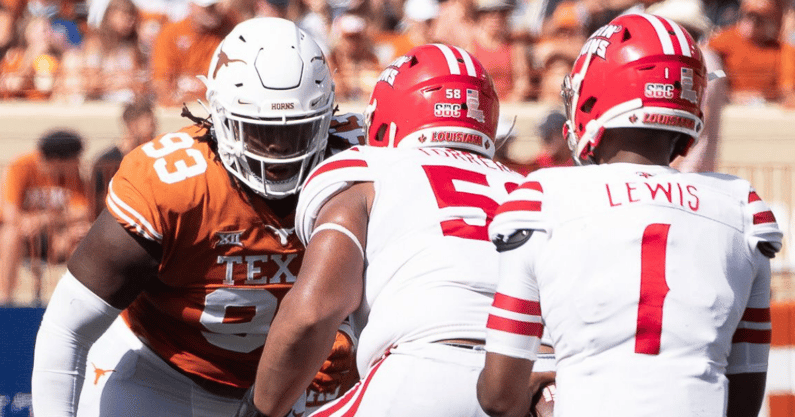 After a 38-18 win against the Louisiana Ragin' Cajuns to open the Steve Sarkisian era, the Texas Longhorns jumped up six spots Tuesday in the AP Top 25 poll from No. 21 to No. 15.
The Longhorns were ranked No. 15 in the USA Today Sports AFCA Coaches Poll, which was also released on Tuesday. Fifteen was the number of the day for Sarkisian's team, as On3's most recent 1-130 rankings put the Longhorns at the No. 15 spot.
Other Big 12 teams to make the AP poll included No. 4 Oklahoma and No. 9 Iowa State. The Cyclones host in-state rival No. 10 Iowa in a battle of top 10 teams this weekend.
The SEC placed several teams in the top 25, including three of the top five. Alabama remained No. 1 with 59-of-63 first place votes. Georgia, the No. 2 team, received the other four following its win over Clemson. Texas A&M moved to No. 5 after topping Kent State. Florida, Ole Miss, and Auburn all made the top 25 after winning their season openers.
The Pac 12 placed five teams in the top 25, second behind the SEC. The ACC and Big 10 followed with four. The American had one team make the cut in No. 7 Cincinnati, while the Sun Belt placed No. 17 Coastal Carolina in the top 25. Independent Notre Dame is ranked No. 8.
Louisiana fell out of the top 25 after losing in Austin.
The Arkansas Razorbacks, Texas' Week 2 opponent, moved up one spot in On3's rankings from No. 54 to No. 53 after defeating the Rice Owls 38-17 on Sept. 4. They were not ranked in the other two major polls but were in the receiving votes category.