Arkansas heeds call of the hogs in dominating performance versus Texas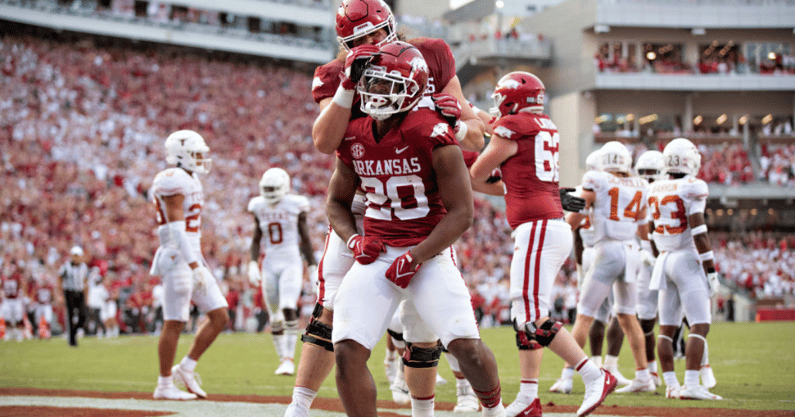 FAYETTEVILLE, Ark. — Minutes before kickoff at every Arkansas football game, the Razorback faithful who fill Donald W. Reynolds Razorback Stadium call the Hogs. Saturday night, most of the 74,531 in attendance donned cardinal and white and exclaimed "Woo! Pig! Sooie!" prior to the Razorbacks taking on the Longhorns.
Upon hearing the call, the Hogs arrived and delivered an ass whoopin'.
The Longhorns were thoroughly outplayed on both sides of the ball, predominantly in the trenches. Arkansas rushed for 333 yards and four touchdowns on 47 carries. Texas toted the rock 41 times for just 138 yards, with two of the three rushing scores coming from late-game Casey Thompson scrambles. No matter who was at quarterback, be it Thompson or starter Hudson Card, Texas couldn't overcome Arkansas' domination along the lines in a 40-21 defeat.
Texas' star back, Bijan Robinson, tallied 69 yards and a touchdown on 18 carries. Twenty of those 69 yards came on a single carry. The other 49 yards were a result of 18 carries, good for 2.72 yards per carry.
Robinson often had to elude defenders in the backfield as a result of a porous offensive line. When Robinson couldn't get going, Card struggled to overcome the Razorback rush paired with the down-and-distance. Texas was often in third down situations, and failed often in those situations. The Longhorns were 4-of-13 on third downs, and five of their 12 drives ended after three offensive plays.
"Well, I think the story of the game, we just couldn't get anything going offensively," Sarkisian said postgame. "The three-and-outs and the inability to win on first down inevitably put us in third-and-long, and the execution wasn't quite there on third down."
Arkansas' three-man front wreaked havoc on its own, but it paved the way for a stellar night for Razorback linebackers. Hunter Henry, Grant Morgan, and Bumper Pool all had double-digit tackle totals.
On the other side, any Razorback who had over seven carries rushed for more than 50 yards. Four players had over seven carries.
Trelon Smith led the way with 75 yards and a score, with quarterback KJ Jefferson not too far behind with 73 yards.
Texas was held scoreless in the first half and scored its first touchdown of the game early in the third as a result of a short field created by a BJ Foster interception.
But Arkansas, with its 16 points in the first half from a Dominique Jackson touchdown rush and three Cam Little field goals, had plenty left in the tank for their ensuing touchdown response. And the following one. And one more in the fourth quarter.
"Over time, they kind of wore us out," Sarkisian said. "We couldn't sustain any drives offensively, so our defense was on the field to a point to where they kind of wore out. Forty-seven rush attempts, we never put any pressure on them to feel like they had to throw the ball."
Jefferson attempted 19 passes and completed 14 of them for 138 yards. Those pedestrian numbers didn't matter, as Arkansas offensive coordinator Kendal Briles didn't seem concerned with passing the ball. He happily took 7.1 yards per play rushing the football. There was no need to look to the air to score.
When Arkansas did complete chunk passes of 20-plus yards through the air, they were parts of eventual touchdown scoring drives.
The domination the Arkansas offensive line put on display throughout the 3:11 affair was analogous to the performance of Razorback defensive coordinator Barry Odom's line. Often with three-man pressures, the Hogs made life miserable for Robinson, Card, Thompson, or whoever was situated behind the line of scrimmage.
"We were a little jittery for whatever reason," Sarkisian said of his blockers. "I don't think it was about the looks, that we weren't prepared for them. We just didn't play to our standard, to our capability."
Thompson entered the game down 26 points in the third quarter. He engineered two fourth-quarter scoring drives and completed both by crossing into the end zone with his legs. He finished 5-of-8 passing for 57 yards plus 44 yards on the ground. Card's stat line read 8-of-15 for 61 yards, while rushing for 13 yards.
"It was a gut thing," Sarkisian said on the timing of inserting Thompson. "Hindsight is 20/20. Maybe you look back and do it earlier but we did it when we did it. I was proud of Casey and the way he competed."
Outside of praise of Thompson, Sarkisian offered little comment about the quarterback situation going forward. He acknowledged Card could have performed better, but that acknowledgement was then applied to multiple positions.
"Could we have blocked better? No question," Sarkisian said. "Could Hudson have maybe played better? Sure, he could have. Could we have ran better routes? Yes. So everybody takes a part in this thing, coaches included. We have to get back to work and understand that the way we played tonight was not good enough for us to win."
The loss was demoralizing after a promising Week 1 win, but it also carried some measure of big picture embarrassment outside of the results on the field. Arkansas fans chanted "S-E-C, S-E-C, S-E-C" not so much out of conference pride, but as a jab to their former, and now future, conference brethren.
Then they stormed the field and called the hogs in celebration of their victory over the No. 15 team in the country.
It was a celebration filled with excitement after the sheer physical domination that preceded it. Domination that surprised Sarkisian. Domination he and his assistants are tasked with addressing ahead of next week's matchup with Rice, and also Big 12 play.
"This was not a performance I was anticipating, but we'll find out about ourselves and what we're made of," Sarkisian said. "Because I really believe this game is not going to define us, but we've got work to do. That's for sure."