Baylor head coach Dave Aranda offers quote that states importance of Texas game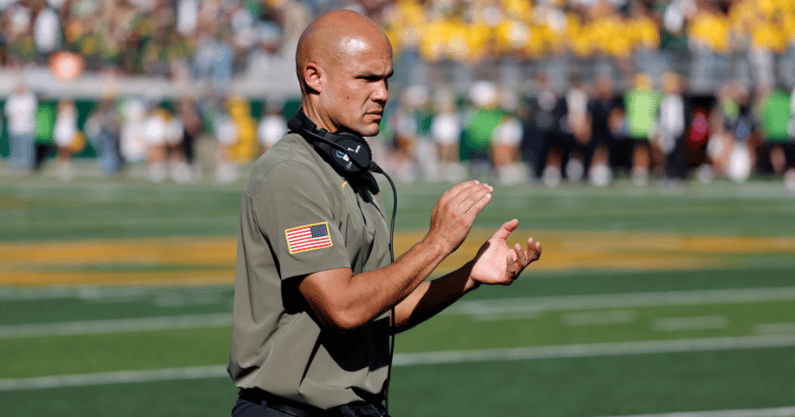 Baylor head coach Dave Aranda met with media on Monday just a couple of days after his team defeated Long Island University 30-7. It was Baylor's first win of the season after the shocking loss to Texas State in the season opener and the close defeat at the hands of Utah the following week.
[Join Inside Texas and get ONE MONTH of Longhorn intel for just $1!]
If you haven't heard Aranda talk, he's a very gracious and thoughtful speaker who often leads his answers by thanking the questioner for the question.
On Monday, much of the focus was on the upcoming game against Texas, the No. 3 team in the AP Poll, but certainly not a team without its own questions. Still, Aranda views UT as improved over last season.
"I think the offensive line has matured to where they can get a pressure, they can get a stunt and pick it up and climb up to the linebacker and seal him," Aranda said. "The past pressure-stunts they'd be muddled and you'd have a free runner. I think they've matured to where stuff comes at 'em and they can kind of take it in stride."
This has certainly been the case even this season as Texas has improved with line consistency since the Rice game.
Aranda continued, "Their skill has gotten better. Last year they had one wide receiver and he's back and he's a really good player and everything. Now they have another guy on the other side, so, to be able to defend two guys who can do something after the catch, to reduce space on them to a degree to where they're not given access but then not leave yourself vulnerable on shot plays, all that is a trick to play."
He's of course underlining the importance of adding Adonai Mitchell to a receiver corps highlighted by Xavier Worthy. Last season defenses were able to focus coverages on Worthy, and even when he wasn't covered he and quarterback Quinn Ewers had trouble connecting.
As the opener to conference play Aranda knows this is a big game, but he also recognizes the increased magnitude due to it being the last time Baylor and Texas will play for the foreseeable future.
[Sign up NOW for the Inside Texas newsletter for Texas Longhorns daily updates and breaking news in your inbox!]
"We are going to talk about that (magnitude of playing Texas for the last time)," Aranda said. "I think as an aside to that, but probably not as an aside, is I can't tell you how many times this offseason it's been, 'hey Dave, just win one game please'. That's been brought up to me multiple, multiple times. I sense it and I know it. I'm blessed and we're blessed to be able to do something about it. But we're definitely going to talk about the history and some of the bigger games of the past because I that's way important with something like this."
Given this being Texas' swansong in the Big 12 everyone knows teams will be gunning for one last victory over the storied but perhaps tarnished program. Aranda's quote is just a sign of things to come as Texas begins conference play.
Kickoff is 6:30 p.m. on Saturday in Waco. Most sports books have Texas as 15-point favorite.