Bijan Robinson to miss remainder of 2021 season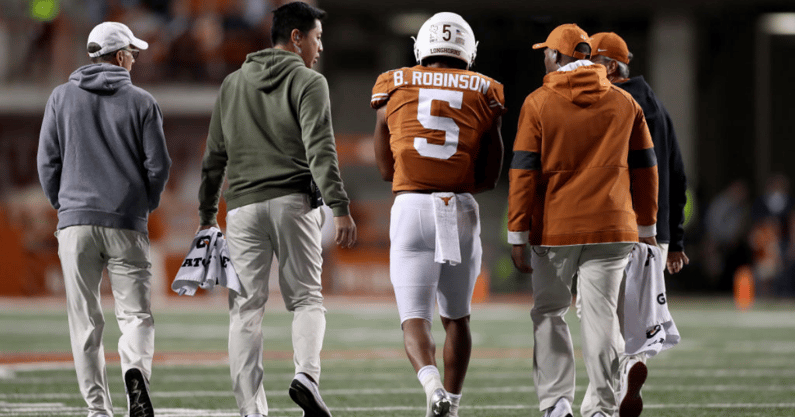 Texas star running back Bijan Robinson, who has rushed for 1127 yards and 11 touchdowns during his sophomore season, will miss the final two games on Texas' schedule due to a dislocated elbow. Longhorns head coach Steve Sarkisian announced the news at his weekly press conference on Monday.
Robinson, a former five-star out of Tucson (Ariz.) Salpointe Catholic, injured himself during the third quarter of Texas' 57-56 overtime loss to Kansas when attempting to stiff-arm a Jayhawk defender near the goal line.
"I've said all along, who he represents as a human being, as a person is even better than what everybody gets to see on Saturday on the field," Sarkisian said. "This guy embodies what a true champion looks like. He's a tremendous teammate. He's a great leader. He has unbelievable work ethic.
"And, oh, by the way, he's really talented. I think we saw all of that here for the first 10 games of the season. He's a warrior. He wants the ball. He wants the opportunities to get the ball in his hands, whether it's the run game, the pass game.
"We want him to get healthy and get himself back because I think he's primed for a big-time junior season."
Robinson broke a decades-old program record in 2020 with 8.2 yards per carry in nine games. He took a featured role this season after being part of a committee under Tom Herman during his freshman season.
In addition to his 11 touchdowns on the ground, Robinson caught 26 passes for 295 yards and four touchdowns.
Texas will look to Roschon Johnson over the coming two weeks to take on Robinson's workload. In addition, Sarkisian mentioned at his press conference he expects Keilan Robinson to clear COVID-19 protocol on Tuesday and rejoin the team.
Gabe Watson is also on the roster and could be called to contribute. Jonathon Brooks, who rushed five times for 33 yards against the Jayhawks, was described as week-to-week by Sarkisian on Monday.
No matter who Sarkisian puts by quarterback Casey Thompson in West Virginia on Saturday, it won't be Bijan Robinson. The electric playmaker will be missed by an inconsistent Longhorn offense needing to find consistency wherever they can get it.