How do Biletnikoff winners fare the year after they win the award?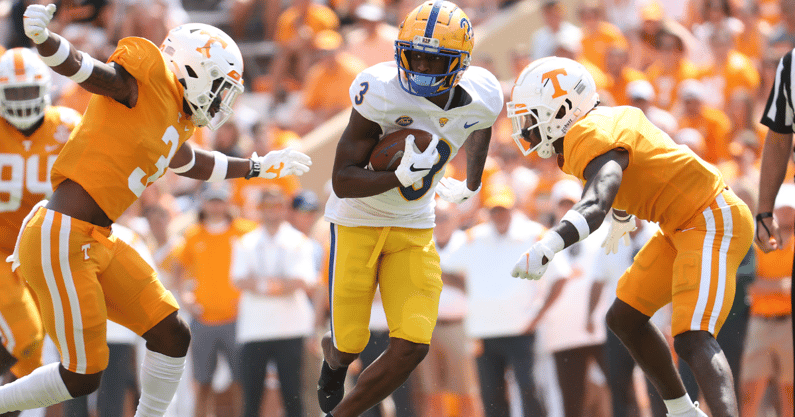 Twenty-six wide receivers have won the Fred Biletnikoff Award since the Tallahassee Quarterback Club, Inc. first issued the trophy honoring the most outstanding receiver in college football in 1994. Of the 26, eight winners were unable to enter the NFL draft after their award-winning season. Included in this list is 2021 winner Jordan Addison, who today wraps up his official visit to Texas.
[Get a FREE 7-day trial of Inside Texas Plus!]
Most receivers who returned to college football for another year go on to successful seasons, and two have even repeated as Biletnikoff winners. Some, however, either were not as productive or just happened to play in a year where they were outperformed by another receiver.
None ever elected to transfer like Addison.
Some of the best receivers in college history have taken home the award named in honor of Florida State's first consensus All-American. Here's how they've fared the year after they do so.
Biletnikoff season: 52 catches, 1029 yards, 7 touchdowns
Following season: 63 catches, 1084 yards, 11 touchdowns
The first ever Biletnikoff winner, Engram enjoyed the quarterback play of Heisman finalist Kerry Collins during his award-winning season. Penn State also cruised to an undefeated 12-0 record, a Big 10 title, and a Rose Bowl win over Oregon, with some national champion selectors naming Joe Paterno's squad as the No. 1 team in the land.
Engram was still productive the following year without Collins. He was simply overshadowed by Ohio State's Terry Glenn, who had 1411 yards and a nation-leading 17 touchdowns in 1995. Engram was selected in the second round of the 1996 NFL draft.
2000: Antonio Bryant, Pittsburgh
Biletnikoff season: 68 catches, 1302 yards, 11 touchdowns
Following season: 42 catches, 659 yards, 9 touchdowns
Bryant averaged 19.1 yards per reception and finished ahead of Florida State's Snoop Minnis and UCLA's Freddie Mitchell II despite trailing both in receiving yards by a small margin.
His second year was not as productive as Pitt spread the ball around a bit more, but he still heard his name called in the second round of the 2002 NFL draft.
Biletnikoff season (2007): 134 catches, 1962 yards, 22 touchdowns
Following season: 97 catches, 1165 yards, 19 touchdowns
The first repeat winner, Crabtree was WR1 for Graham Harrell in Mike Leach's Air Raid offenses. He led the country in receptions, receiving yards, and touchdowns in 2007. He took home the award again in 2008, squeaking past fellow Big 12 receivers Dez Bryant and Jeremy Maclin.
Crabtree was selected 10th overall in the 2009 draft. He is one of several players in Texas Tech's ring of honor.
Biletnikoff season (2010): 111 catches, 1782 yards, 20 touchdowns + 1 rushing touchdown
Following season: 122 catches, 1522 yards, 18 touchdowns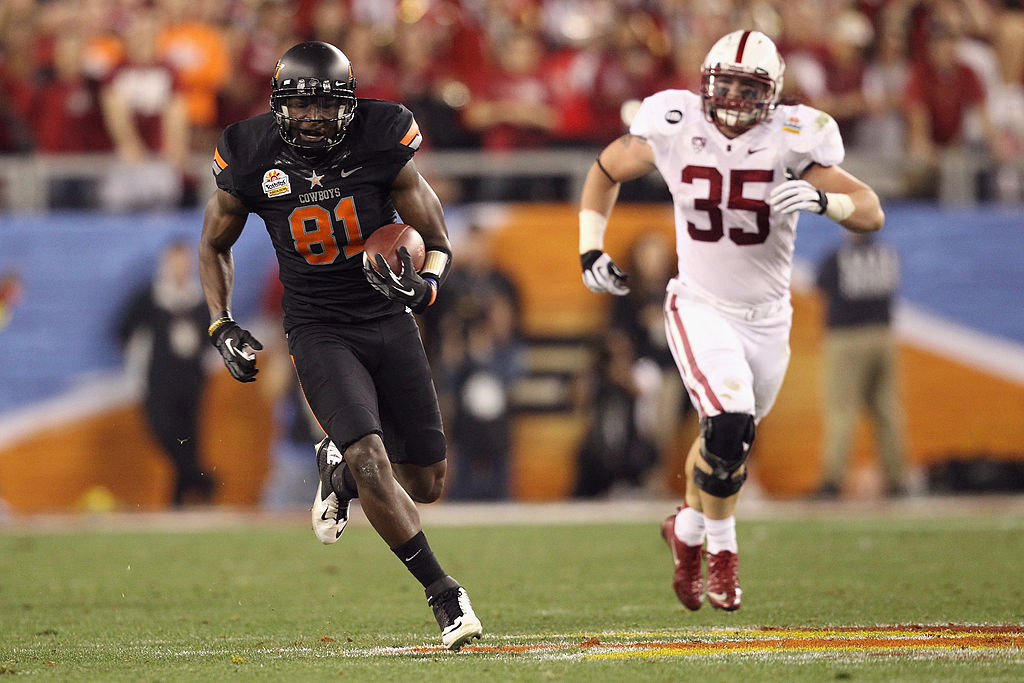 Blackmon, along with quarterback Brandon Weeden, helped Oklahoma State to arguably its best two-year stretch in school history and came within a field goal of playing for the BCS National Championship. Their prolific offense, in the face of tragedy befalling their athletic department, did not get a chance to play for the national title, setting up the all-SEC title game of Alabama vs. LSU.
Blackmon was dominant during his two-year run, topping Oklahoma's Ryan Broyles for the honor in back-to-back years. He was selected fifth overall in the 2012 draft.
Biletnikoff season: 118 catches, 1721 yards, 14 touchdowns
Following season: 57 catches, 791 yards, 4 touchdowns
Under head coach Lane Kiffin and with Matt Barkley at quarterback, Lee led a receiver group that included Robert Woods and Nelson Agholor. It was Lee's second consecutive 1000-yard season after a 73-catch, 1143-yard freshman year where he hauled in 11 touchdowns.
During a tumultuous 2013 for USC, Lee ceded targets to Agholor before going in the second round of the 2014 draft.
Biletnikoff season: 68 catches, 1315 yards, 14 touchdowns
Following season: 77 catches, 1163 yards, 10 touchdowns
Leading a wide receiver group that included Henry Ruggs, Jaylen Waddle, and DeVonta Smith all catching passes from Tua Tagovailoa, Jeudy thrived in Mike Locksley's system, reaching the College Football Playoff final. He once again led the Crimson Tide in receptions in 2019 (under offensive coordinator Steve Sarkisian), but Smith recorded more yards and touchdown receptions.
It was another fantastic year for Jeudy, who was selected 15th overall in the 2020 draft. He was simply outshined in 2019 by the next player on this list.
Biletnikoff season: 84 catches, 1780 yards, 20 touchdowns
Following season: (opted out)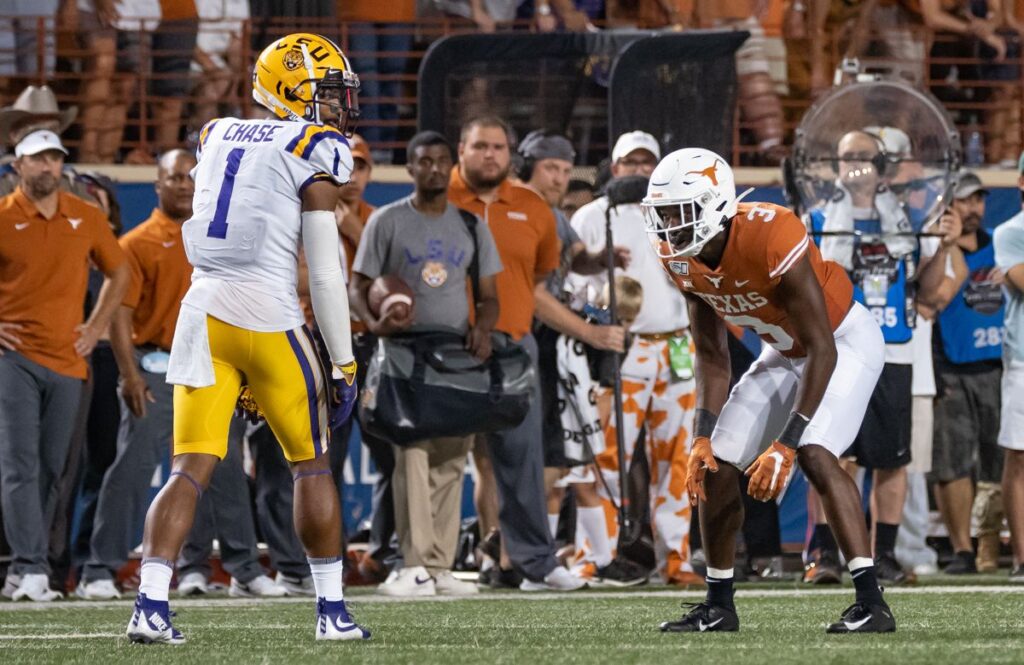 Though Justin Jefferson caught 27 more passes in LSU's incredible 2019 season, Chase outgained him by 240 receiving yards and two touchdown catches. Chase, Jefferson, and Terrace Marshall (along with Clyde Edwards-Helaire and Thaddeus Moss) reaped the benefits of catching passes from Joe Burrow in Joe Brady's offense on the way to one of the greatest seasons in college football history.
Protecting himself for the NFL draft, Chase opted out of the 2020 season. He was selected with the fifth overall pick in the 2021 draft.
2021: Jordan Addison, Pittsburgh
Biletnikoff season: 100 catches, 1593 yards, 17 touchdowns + 1 rushing touchdown
Following season: ???
Addison and quarterback Kenny Pickett helped Pitt to its first ACC title in school history during the Panthers' first 10 win season since 2009. Under offensive coordinator Mark Whipple and current Texas wide receivers coach Brennan Marion, Addison won the award over Purdue's David Bell and Alabama's Jameson Williams.
In this new era of college football, Addison is the first Biletnikoff winner to likely transfer from the school where he won the award. Alabama, Texas, and USC are his reported schools of interest after appearing in the transfer portal on May 3. He'll likely enter the NFL draft after one season, but his transfer is the first of its kind.