Breaking down the Texas 6A State Semi-finals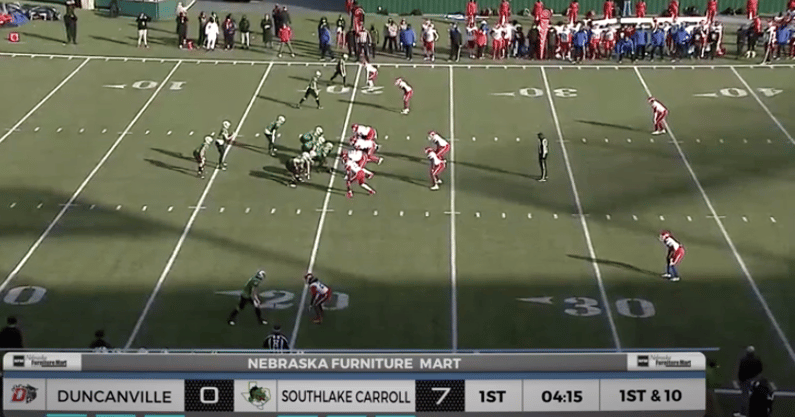 This is a loaded year in the Texas 6A State Championships. Some of these squads have flown under the radar a bit because you don't have as many famous, bluechip quarterbacks leading teams. There would have been one in Southlake Carroll, but he opted to graduate early and is now the subject of massive recruiting intrigue as he chooses which Texas college to transfer to from Ohio State for the 2022 season.
Many of the big, famous brands in Texas high school football are competing in these playoffs though and there are a number of amazing matchups if you can catch them.
I wanted to preview the battles a little so that if/when you watch these games, you have a sense of the broader context in which they are occurring. There are few things as fun and intriguing as Texas high school football.
We'll start at the "lower" level of the Division 2 semi-finals.
Division II
Tomball vs Denton Guyer
This is currently one of the more low profile battles of the weekend. Tomball had a fantastic season riding quarterback Cale Hellums, a 5-foot-11, 185 pound athlete who threw for just under 2,000 yards while rushing 209 times for 1,765 yards at 8.4 ypc with 16 touchdowns.
He's obviously got some legit dual-threat ability and is committed to go to Army where you figure he could stay at the same position and essentially serve in the same role. At Tomball they aren't a triple-option, under center team though, they run the spread like most everyone else. What's made them extra potent is that their quarterback can actually throw the ball but they can line up in "dread-wing sets" where he shares the backfield with 6-foot-0, 220 pound tight end Andrew Wint who lead blocks for him while receivers spread the field.
They have two good running backs as well, it's not just spread-iso ball for Hellums all the time, but it's a trump card and a big problem in a playoff bout. The line is also massive with Tulsa commit Landon Roaten (6-foot-5, 295) at left tackle and E.J. Ball (6-foot-5, 330 pounds) at right tackle.
Denton Guyer is a classic DFW powerhouse who won back to back State Championships with Jerrod Heard at quarterback back in 2012 and 2013. They're different in one regard now, they have another 4-star quarterback prospect but Jackson Arnold is only a solid runner but a big time passing talent.
He has scholarship offers from Ohio State, Notre Dame, and Florida to name a few and will be a freshman in 2023.
The Guyer Wildcats surround him with a number of big time talents. Running back Jackson Foster is a workhorse in the inside power game while Arnold has a 3-star target in senior Jace Wilson (UTSA commit) and a 4-star target in Notre Dame commit Peyton Bowen.
Bowen (6-foot-1, 185 pounds) is the main star of show and also plays safety for the Wildcat defense along with Pitt commit Marquan Pope (6-foot-2, 200 pounds). Guyer has some big time skill athletes in the skill positions on both sides of the ball. The offensive line is all listed at 280 or better but only center Joe Radovan is currently committed to a FBS program (Air Force).
A Guyer victory in this game probably looks like Peyton Bowen dominating, perhaps on both sides of the ball, and simply out-classing Tomball. A Cougar upset win is going to involve Tomball controlling the game with a steady diet of Hellums inside running against a spread out Guyer defense who can't choke the run game out with their safeties.
Katy vs Westlake
This one is different and many will probably regard it as a de-facto Championship game.
The Katy Tigers are no stranger to Westlake head coach Todd Dodge, who battled them several times as the head coach of Southlake Carroll in the early 00s (chronicled in my book). They're no stranger to fans of Texas high school football either and head coach Gary Joseph has been there I believe for the entire century and been head coach for most of it as well.
As is always the case with the Tigers, their squad is defined by having a thick, powerful offensive line executing an under center, I-formation offense and then their patented 3-4 weak eagle defense.
The latter includes most of the recruit star power of the team. Cornerback Bobby Taylor has been out with injury but is a 4-star committed to Texas A&M, their Edge Malick Sylla is another 4-star also committed to playing in College Station. Sylla is an interesting player to watch, they use him much like they did Jovanni Stewart back in the day letting him tear it loose around the edges in space. The difference is Stewart was a 5-9, 175 pound honey badger and Sylla is 6-foot-6, 230 pounds.
Inside linebacker Ty Kana is a big piece of the puzzle, he's 6-foot-2, 210 pounds and heading to Texas Tech next season. Katy is one of the few programs in the state who develops inside linebackers who actually have the size and measurables to play the position in college.
On offense their line is a bit smaller this year than in previous seasons and interestingly composed. They have a 4-star on this side of the ball as well in Nic Anderson, an Oklahoma commit, but he doesn't touch the ball all that often. Their quarterback isn't much of a field stretcher and running back Seth Davis has received 230 carries for 2,422 yards at 10.5 ypc with 28 touchdowns. His backup Dallas Glass also has over 1,000 rushing yards and 20 more rushing touchdowns to give you a clear sense of what Katy is all about on offense.
Facing them is one of the best Central Texas teams we've ever seen.
Westlake is working on their third consecutive State Championship this season. In 2019 they demolished Denton Guyer (quarterback quickly injured) 24-0 in the 6A D2 Final, in 2020 they faced the Quinn Ewers Southlake Carroll Dragons for the D1 crown and beat them 52-34 in the "Dodge Bowl" (Todd's Riley Dodge coaches SLC).
They return quarterback Cade Klubnik, a 4-star bound for Clemson, but I'd say their offense is more defined by other features. Here's their O-line:
Left tackle: Bray Lynch. 6-foot-4, 275 pounds. Committed to Indiana. Senior
Left guard: Conner Robertson. 6-foot-4, 295 pounds. Committed to Texas. Senior
Center: Jack Griffin. 6-foot-1, 235 pounds. Senior.
Right guard: Michael McKelvey. 6-foot-0, 250 pounds.
Right tackle: T.J. Shanahan. 6-foot-5, 300 pounds. Offers from Alabama/everyone. Junior
Big, experienced, and legitimately athletic and talented. That's not all either, their receiving corps is lead by 6-foot-3 junior Keaton Kubicka and 6-foot-2 blue chip recruit Jaden Greathouse (2023). They have size outside, size on the line, and then Klubnik and emerging star running back Jack Kayser have some breakaway speed in the backfield.
The most vulnerable they've looked all season was beating Euless Trinity 34-14 and they've averaged 58.8 points per game. That's not all though, they've yielded an average of 7.6 points per game and shutout four opponents while holding six more under 10 points.
The name of the game on defense is a very good zone scheme on the back end and a strong D-line powered by defensive ends Colton Vasek (6-foot-5, 230 pounds) and Ethan Burke (6-foot-6, 230 pounds). Burke is a late blooming recruiting star who has committed to Michigan.
Here's what makes this game remotely interesting. Katy has size and power on the edges of their offense with a good blocking tight end, big tackles, and a fullback leading from the backfield. Westlake is exceptional and long on the edges, but they aren't big at defensive tackle or linebacker. Can Katy lean on them and keep the chains moving and the clock running?
Then on the other side of the ball, it's mostly a question of whether Sylla can blow up the Westlake passing game or if the Chaps' two big tackles can keep Klubnik clean. It's hard to spread out the Tigers and run them over, they keep the ball in front of them outside and always have stout defenders in the middle of the field.
Division I
North Shore vs Lake Travis
This is getting to become an annual showdown every year, although the Mustangs have been winning the matchup regularly.
North Shore is an absolute powerhouse these days and typically the most talented program in the Houston metroplex. They seem to be favored by many in this contest as well, but it looks a bit complicated to me. North Shore's titles in 2018 and 2019 were enabled by current Auburn quarterback Dematrius Davis, who's now gone and replaced by true freshman Kaleb Bailey.
Obviously Bailey is a promising talent to be starting in high school games as a freshman, but that's quite the departure from North Shore's norm in recent runs. The O-line is thick but doesn't have a Power 5 prospect in the mix. Defensively? Well defensively they're very good.
North Shore's standard defensive strategy is to play an ultra-aggressive brand of quarters in which the outside linebackers are crashing on runs and receivers are left to the cornerbacks and safeties to cover man-to-man without much help underneath.
When combined with their talent up front, which includes 4-star Texas commit Kristopher-Ryan Ross at defensive tackle, they become impossible to deal with for running teams. The talent in the defensive backfield is always fantastic and this year includes 5-star senior cornerback Denver Harris and 4-star junior cornerback Jacob Davis. They tend to play press-man…so it's tough to throw on them either. The whole system is designed to pressure the ball at every turn with speed so there simply isn't anywhere to go.
Lake Travis has often buckled under the strain in the past, this year?
This year Lake Travis has a couple of potential workarounds. Quarterback Bo Edmundson is a solid player with a diverse array of Power 5 scholarship offers and head coach Hank Carter has surrounded him with some big time talent. There's 4-star receiver Caleb Burton (committed to Ohio State) on the wide right and then 3-star former defender Derrick Johnson was moved to running back alongside him. The O-line is a typical Cavalier group except at left tackle where sophomore Adrian Oratokhai can be found, he'll be one to watch in future recruiting cycles.
Interestingly enough one of the Cavs' primary weapons is a fellow named Isaac Norris. Technically he's a tight end and lines up regularly as a Y-back, but he'll also handle wildcat quarterback duties (eight rushing touchdowns). When he isn't blocking, he's motioning around to pick on linebackers underneath with a team-leading 78 catches for 998 yards and 10 more touchdowns. Despite Burton's presence on the team, Edmundson's ypa is a modest (for high school) 8.5, primarily because so much of their offense is about feeding Norris in the quick passing game.
This is actually a bit of a problem for North Shore, who's prone to giving away space and angles for quick stick routes and outs in the passing game to slots, trusting high school offenses can't be efficient utilizing them. Norris is 6-foot-0, 190 pounds and I'm not aware of any major scholarship offers he has currently.
Norris vs the North Shore defensive backfield promises to be one of those fun battles that recruitniks would miss. Sometimes the big time talents on these teams aren't in roles where they are at the focal point of the action, but in this game we may see it come down to Norris vs a North Shore outside linebacker who isn't one of the big time recruits.
Southlake Carroll vs Duncanville
If Katy vs Westlake isn't the biggest matchup of the weekend it's this one.
Southlake Carroll has trucked along despite losing Quinn Ewers to early graduation, running Riley Dodge's smashmouth spread system. His replacement has been senior Kaden Anderson who has a pretty strong arm himself. They're still running RPOs and Anderson has 2,824 yards on 313 attempts at 9.0 ypa with 34 touchdowns to six interceptions.
They have a pair of deadly targets in speedy Landon Samson (45 catches for 755 yards and 13 touchdowns) and then big R.J. Maryland (team leading 59 catches for 1,042 yards and 14 touchdowns. Where they've really chewed people up this year though is with the power run game, mixing inside zone and gap schemes for junior running back and third-year starter Owen Allen.
This kid is a fascinating high school football story, he's 6-foot-0, 200 pounds and doesn't have any big, reported scholarship offers. Check out his three seasons at Southlake Carroll.
Freshman: 215 carries, 1,266 yards, 5.9 ypc, 23 touchdowns.
Sophomore: 296 carries, 2,063 yards, 7.0 ypc, 28 touchdowns.
Junior: 285 carries, 2,114 yards, 7.4 ypc, 32 touchdowns.
He's pretty nifty finding creases inside, has some breakaway speed (nothing crazy), and is obviously a very tough player to handle such a workload. The offensive line this year may be the best yet for Riley Dodge with Kansas-bound left tackle Joey Baker back and then four guys to his right all better than 6-foot-0 and weighing at least 260 pounds. It's very hard to stop their run game given the strength of the line, Allen's knack for finding holes, and the numbers defenses have to devote to their passing game.
Defensively they run a smart 4-2-5 quarters scheme which regularly shifts the one or two star defensive backs they have around where they can have maximal impact. This year Ayvonne Jones is their top guy, a 3-star cornerback committed to Wisconsin.
Their test is Duncanville, who may be the most talented team in the state.
The Panthers opened the year taking a whooping from visiting Mater Dei, but there's no shame in such a loss. Mater Dei recruits from the greater Los Angeles area and routinely fields more talent than many a P5 program. Since then, Reginald Samples' D-Ville has cruised in nearly as dominating a fashion as Westlake has done.
The name of the game for D-Ville is power and trenches, quarterback Solomon James is a solid passer but they have bluechip tackles helping to pave the way for their run game. On the left is Ohio State-bound Jaylen Early, a 6-foot-4, 290 pound athlete. On the right? The mammoth Cameron Williams (6-foot-5, 391 pounds) who just recently decommitted from Oregon. I like Williams for left tackle in college after he optimizes his body for high level football (probably less than 391 pounds is the ideal playing weight).
Add in 245 pound tight end Marcus Vinson and you have a problem on the flanks of your defense against this team, then you have 215 pound running back Malachi Medlock coming up behind them.
Those are big challenges for the SLC Dragons, who will have to content themselves with run-blitzing to get stops and trying to prevent touchdowns on defense.
The Duncanville defense is also a big challenge. This defensive line is a nasty unit, starring 4-star defensive end Omari Abor and a pair of tackles in Quincy Wright and Kaden Seay with Arkansas and Kansas commitments. The defensive backfield doesn't have the same star power but they don't need it either, they have good athletes and their style is the opposite of North Shore. Rather than swarming the ball with numbers, they'll hang back in Cover 2 and lean on their D-line to control games.
Quinn Ewers and Owen Allen were too much for them a year ago, they had to play extremely conservative to avoid getting torched by the passing game…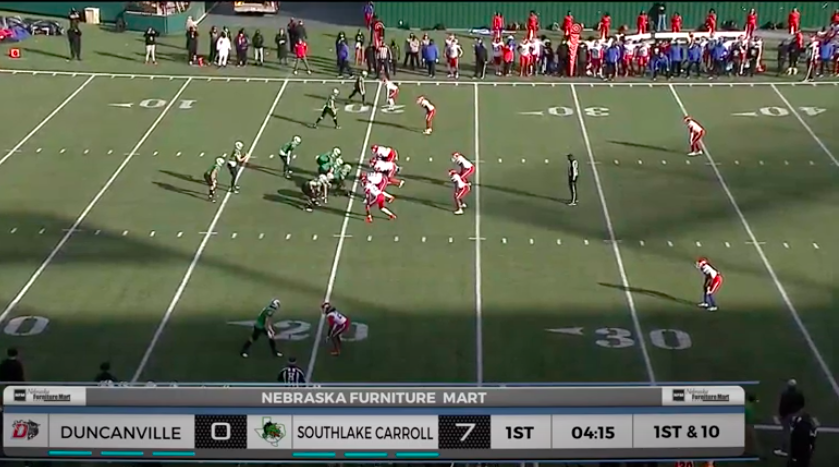 …and consequently couldn't stop Allen.
Without Ewers? Maybe it's different.
Next weekend we'll get the State Championships, one of my favorite times of the year, but get eyes on some of these semi-finals if you get the chance.
Discuss the Texas high school playoffs for free on the Flyover Football board!