Brenen Thompson's journey to Austin includes two sprints to gold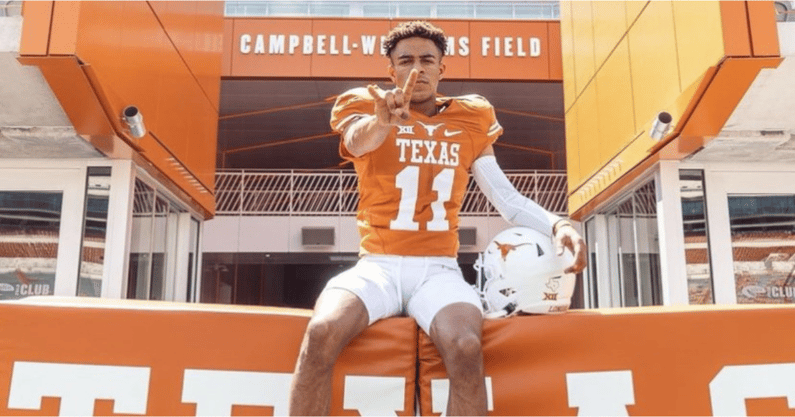 Texas signee Brenen Thompson's current hometown of Spearman is nestled in the part of the Lone Star State that's closer to Colorado than it is to the Colorado River. In order to get to Austin for the UIL State track meet, Thompson, his coaches, family, and supporters had to trek over eight hours before he competed on Thursday in the finals of the 100m and 200m in the 3A classification.
[Get a FREE 7-day trial of Inside Texas Plus!]
First came a stop in Abilene after five hours on the road. Then, a stop in his original hometown of Early for shrimp kabobs at his favorite restaurant, Humphrey Pete's. Once Thursday came, it was Thompson's time to attempt the 100m-200m double, the 100m race an effort to take gold after placing second in 2021 and 200m run an effort to repeat as champion.
That over eight-hour drive culminated in 30.97 seconds of running, with Thompson placing first in both events with times of 10.24 and 20.73.
"Really, I wanted to finish strong," Thompson said Thursday. "I wanted to finish my high school season strong, and leave a mark on this track that I'll run four more years at. That's what I did."
Thompson aspired to run in the 10.1 range in the 100m, and finish under 20 seconds in the 200m. His future football head coach, Steve Sarkisian, seemed to predict as much on Thursday speaking to Texas Exes gathered in Dallas.
The 100m final was first. The future receiver for Sarkisian and sprinter for Longhorn track head coach Edrick Floréal didn't get the start he wanted, but still finished in first place.
"It feels good to run on your future home track," Thompson said. "I had to come out here and show out."
The 200m came later, and he won that race by over half a second. When he stepped off the podium with his second gold medal of the day, future teammates Jahdae Barron and Xavier Worthy were there waiting to congratulate him on his achievements.
Those two are just a couple of the people involved with the Texas football program who can't wait for him to get on campus on May 29. A family beach vacation in Alabama comes first, but after that there will be more hard work, something Thompson has done since he arrived at Spearman High School his freshman year.
Thompson grew up in Early, just a couple of hours away from Austin. He moved to Spearman prior to his ninth-grade year, and quickly ingratiated himself with the community through track and football.
Spearman's head football coach, Aaron Witten, had nothing but positive things to say about the future Longhorn receiver.
"He's a great kid, a fun-loving kid," Witten said. "He likes to be out hunting and fishing, being with his buddies. Just a fun kid. He's a hard worker. He's kind of like a coach on the field when he's playing. He's helping young kids out. He's just a good kid."
Witten said when Thompson took his Texas visit in September, he returned with a different sense about the Longhorn program.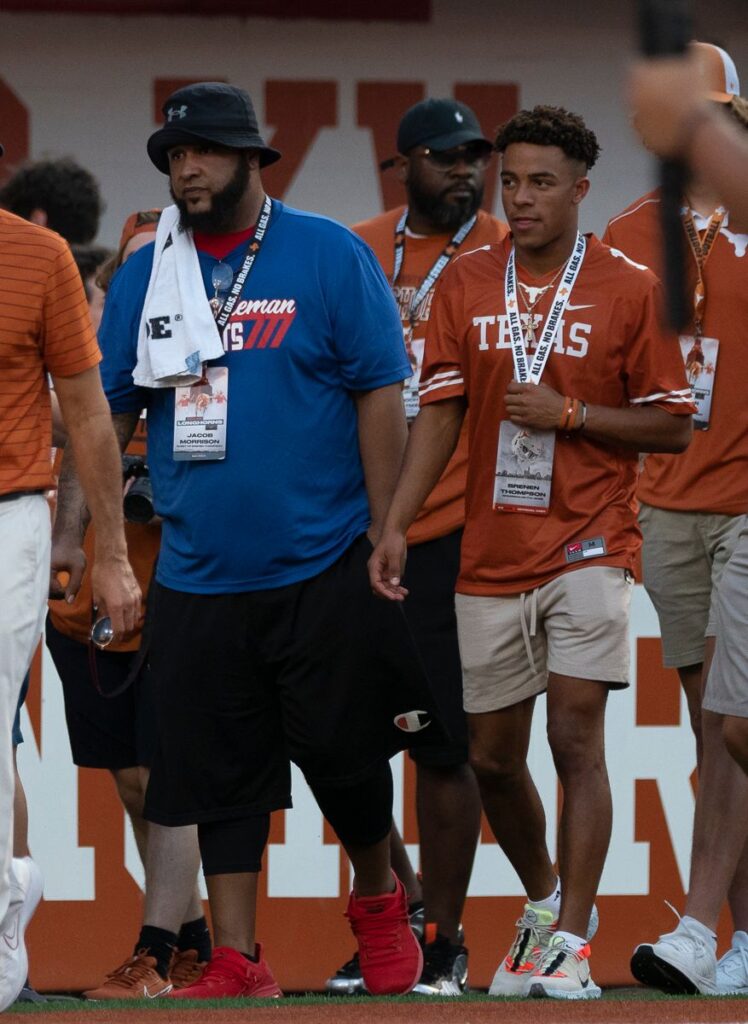 "He just came home and said it felt like home," Witten said. "After that visit, he just seemed like a totally different kid. I think he felt like it was home, and it was a done deal the second he left."
It was a combination of a variety of factors – a home-state team, the offense, Sarkisian – that Thompson had been studying for several years.
Football runs in Thompson's family. His father, Aubrey Lacy, played at West Texas A&M from 2003 to 2005. He mentioned Thompson watched Alabama's offense during the 2019 and 2020 seasons, and saw a lot of what he liked from their receiving corps. Then Sarkisian, the architect of that offense, took the Texas head coaching job.
After the visit, Thompson saw his fit.
"He just went with who he felt comfortable with and who he trusted," Lacy said. "He trusted that offense and he trusted that coach."
His role under Sarkisian is likely at slot receiver due to his listed 5-foot-11, 165-pound size, as well as his blazing speed.
Witten believes he'll play quickly at Texas, even with offseason additions like Isaiah Neyor and Agiye Hall and Texas' current pursuit of Jordan Addison. Reaching the playing field would be quite the next step on Thompson's journey.
3A is the second-smallest classification in Texas that plays 11-man football. Spearman is a town just south of the northernmost border in Texas, population 3130. It's not an easy place to get to. Even the closest interstate highway is over an hour away.
Still, his time with the Lynx is something Thompson will hold near and dear to him for a long time.
"So many memories," Thompson said. "So many opportunities in Spearman. I'm very thankful for everyone there. From the teachers, to the students, to my teammates. I want to thank everyone there from the bottom of my heart."
It's not a town accustomed to having the likes of Sarkisian and several other Power 5 coaches roll through. Thompson knows he may be the first but wants to show others he shouldn't be the last.
"One thing I really want to leave is that it's possible wherever you're from," Thompson said. "I was a 145-pound kid freshman year with no offers coming into a 3A high school with really no attention. At Spearman, there really wasn't anybody big time before me. I stepped in it and said I'm going to do what I know I can do, and get what I know is mine. I want all the kids to know in the 806 it's more than possible and go get what's yours."
After the family vacation, he'll arrive at Texas on May 29. Along with all his belongings, he wanted to make sure people knew what he's bringing.
"I'm coming," Thompson said. "A fast boy is coming. Hook 'em."