Candid conversations with quarterback candidates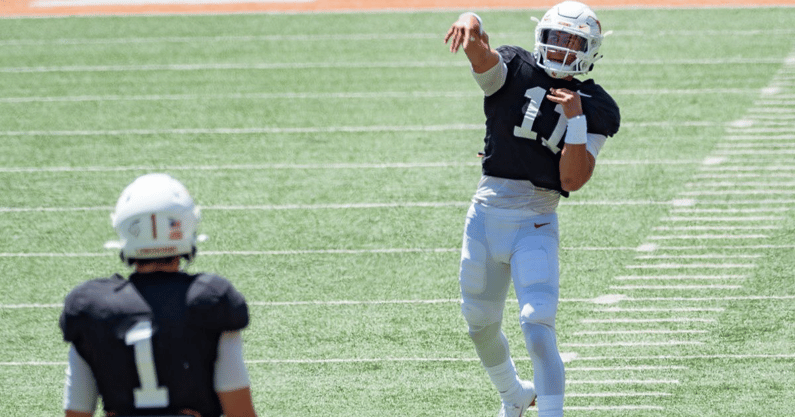 The members of the Texas quarterback room know what's up.
"I know for sure (Steve Sarkisian) said that we need more out of the quarterback room and the quarterback position," Casey Thompson said Friday. "I don't disagree with that. I think that we need more depth at that position. I also think that we need a little bit more out of me. I think we need a little bit more out of Hudson (Card). I think that we all have to be better, but quarterback specifically I think that we can be a little more consistent."
[Subscribe to Inside Texas right now and get 50% off an annual or monthly membership!]
The words Thompson is referring to stem from Sarkisian's most recent Monday press conference. Sarkisian said he has to open up the quarterback job, letting Thompson, Card, Charles Wright, Cole Lourd, and Ben Ballard duke it out to be Texas' QB1.
He also left the door open to adding quarterbacks not currently on the Longhorn roster. Texas is in pursuit of Devin Brown out of Utah, a former USC commit. They also have a commitment from Maalik Murphy, who just ended his senior year with a CIF-Southern Section Division 3 title.
Brown and Murphy, though quality prospects, may not provide the immediate remedy or competition Sarkisian was talking about. And in the age of the transfer portal, Sarkisian has to both recruit players to Texas and to stay at Texas.
"Not only are we trying to recruit those two guys to stay, we've got to recruit other players to come in because clearly the situation we're in right now, we don't have the depth at that position that's needed moving forward," Sarkisian said.
That transfer portal may provide a solution for Sarkisian, even if one of the two main quarterbacks from this season were to leave. However, quarterbacks don't simply exist in the portal. They have to elect to enter their name into the database. Concurrently, Sarkisian then has to win the recruitment.
One potential candidate has appeared in UCF's Dillon Gabriel, but he may already know where he's heading per On3's Matt Zenitz.
If someone walks into Moncrief to play quarterback who wasn't on the 2021 team, he's there to make the room better. That isn't lost on the Texas quarterbacks. Again, they know what's up.
"I'm open to competition," Thompson said. "I'm not ever scared of that. I'm always confident in my abilities, as you guys know, so we'll have to see what happens in the offseason and see what decision that he makes."
Thompson's own season indicates why the Longhorns are going to be in the market for additional signal-callers. He didn't win the starting job in camp, Card did, but Thompson took over as the starter in the second half of the loss to Arkansas and as Big 12 play began.
He played very well against Texas Tech, then stepped back some against TCU. He tore up the Oklahoma offense in the Red River Shootout, but sprained the thumb on his throwing hand in the process.
Though it affected his play, Thompson still put himself on the field and Sarkisian elected to keep No. 11 as the starter. He said after the Longhorn win over Kansas State he isn't able to fully bend it or extend it.
It was reaggravated several times, but it won't require surgery. It forced him to leave the loss at West Virginia and also resulted in him being pulled at Iowa State.
"The only game where I felt that I wasn't able to compete and play at a high level was at Iowa State," Thompson said. "Honestly, if I was the coach, I would have pulled me as well."
Confidence in one's own ability is a typical feature of Power 5 quarterbacks. They wouldn't be in that position if they didn't believe in themselves.
And Thompson's belief in himself has validity. He led the Big 12 in touchdown passes with 24. He completed 64 percent of his passes and averaged a solid 8.1 yards per attempt.
But ultimately the coach makes the decision. And with an almost open invitation to college quarterbacks to join Thompson in AJ Milwee's position group, how did he feel Texas' head coach handled the tumult at quarterback?
"I think he's been pretty fair and given us both an opportunity," Thompson said. "He's given us, me and Hudson, a lot of opportunities to prove ourselves, and I'm very thankful for that."
In those opportunities, there hasn't been enough for Sarkisian to know for certain who his quarterback for 2022 will be. Thompson isn't the only one who needs to get healthy before that next decision-making process begins as Card suffered a high ankle sprain against WVU, per Sarkisian.
Neither will require surgery, but Sarkisian will prod his quarterbacks in the upcoming offseason after their first year in his offense.
"Hopefully there's some retention and things to build off of and dig back into the nuances, and then ultimately for the QB, probably more important than any other position, is get to the why," Sarkisian said. "Why are we doing this, why we're running that play, why we're in this formation and rather than just running the play, really dig down to the why's and hopefully, with a year of experience, we can get to that point."
Thompson grasped at the torch last year. Neither he nor Card could take a firm hold of it in 2021.
If they're to do so in 2022, they're likely to have to battle not just each other, but one, or two, or three more to take the first snaps under center against Louisiana-Monroe on Sept 3.