CARD KNOCKS, Pt. 2: Hudson Card explains his approach to preseason QB competition
Part one of Joe Cook's Card Knocks with Hudson Card series can be found here
Throughout the three interviews Card had with Inside Texas, he was extremely diplomatic in how he discussed the quarterback competition with Casey Thompson. He repeatedly called it a healthy competition and emphasized that the team was supportive of both quarterbacks.
Still, Card entered camp with the goal of being QB1 for the Texas Longhorns.
"I think you kind of have to go in there having that lens," Card said August 4.
Camp began for the Longhorns on Friday August 6 at the Frank Denius Fields. Prior to practice one, Card explained what his mindset was heading into the first fall practices of the Steve Sarkisian era at Texas.
"Just have fun with it," Card said. "Do the best you can do. I'm going to control what I can control. And obviously, just do everything I can in my power. Put in the extra work, and just go out there and compete and have fun and try to bring our teammates along. Our team has potential to do something special, especially with this coaching staff. I'm just going to go out there and do my part. That way I have no regrets, and just have fun with it."
'Do the best you can do' isn't just about what takes place on the Denius Fields, or in the bubble, or on Campbell-Williams Field in Darrell K Royal – Texas Memorial Stadium. It's about what happens in the film room, in the training room, or just at home with his roommates, some of whom are teammates.
Card spent the 2020 season with Sam Ehlinger, one of the better recent templates for success as Texas' starting quarterback.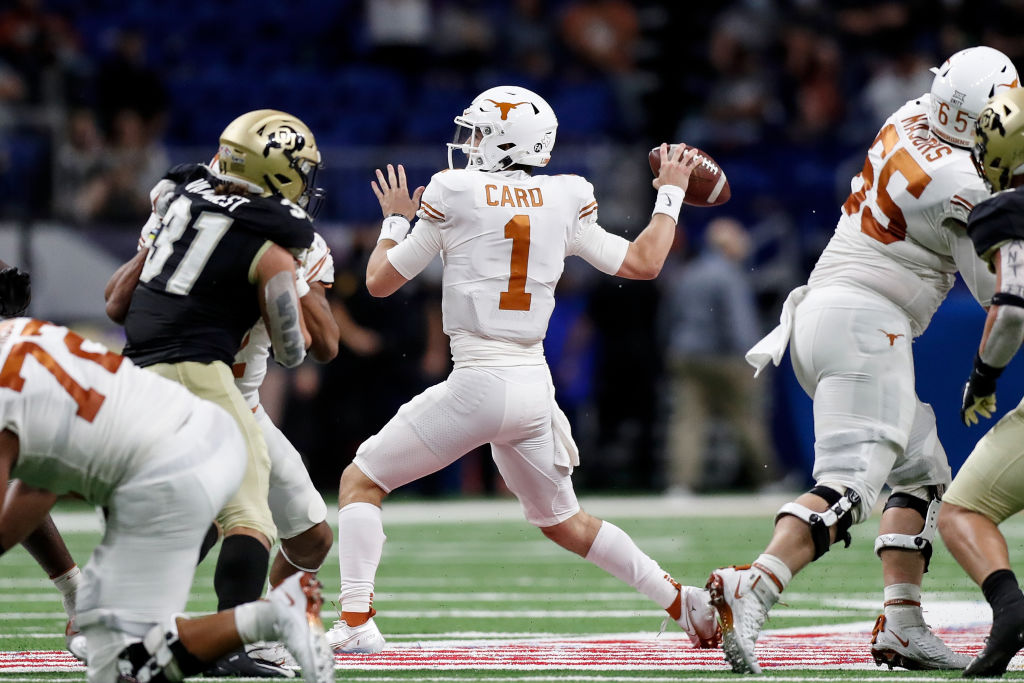 "I saw the way Sam prepared his body in the training room, to film, to extra work," Card said. "Definitely that aspect of it, and you can never be too prepared going into a game. Really, the preparation and everything that comes along behind the scenes that no one sees that really pushes you to the next level."
Card tried to take those aspects with him, but he also needed to adjust to the demands of a new coaching staff. There were 14 practices and a scrimmage held in the spring that helped him and the rest of the team acclimate to the new way of doing things, as well as new systems.
There was new verbiage, new plays, new formations, new philosophies. With the exception of a couple of assistant coaches, there was almost a complete overhaul in the Texas football office. Not just the physical overhaul with the south end zone project, but with new staffers.
If there was something that needed additional instruction, the coaches were ready to offer explanations.
"This group is really great at communicating," Card said August 15. "I'm not saying the last group wasn't because they were too. I would say communication with this group, just making sure you know every little detail and you don't go into practice having questions or not knowing. They're really, really easy to talk to and ask questions. They're great teachers."
The first week was mostly spent installing new systems on both sides of the ball. Some players were in Austin in April for spring practice, but a large contingent of the freshman class and several transfers didn't have a full-fledged practice with the team until the first week of August. 
With so much to go over, the coaches waste as little precious avaialble time as possible.
"We definitely try to get as much work as we can in the practices," Card said. "They're hard on us on the field and they coach really hard. We're always doing something on the field, that's one thing about coach Sark's practices. There's really no break time for anyone, you're always doing something the way practice is organized."
"Then off the field in the film room, it's basically like a classroom. It's a learning environment. They go step by step with what you did on the field."
For Card, one thing the coaches emphasized with him during film study was keeping his eyes upfield. Another was the value of checkdowns. With running backs like Bijan Robinson, Roschon Johnson, and Keilan Robinson, Card said they have been told to trust their players in space instead of potentially forcing the issue downfield.
All that practice and preparation is for games, but in the context of preseason camp, it is for game-like situations. The Longhorns' scrimmage on August 14th gave both Card and Thompson plenty to learn from.
Part three of Card Knocks can be found here.
Read more about Inside Texas' NIL deal with Hudson Card here