Casey Thompson named starting quarterback for Rice game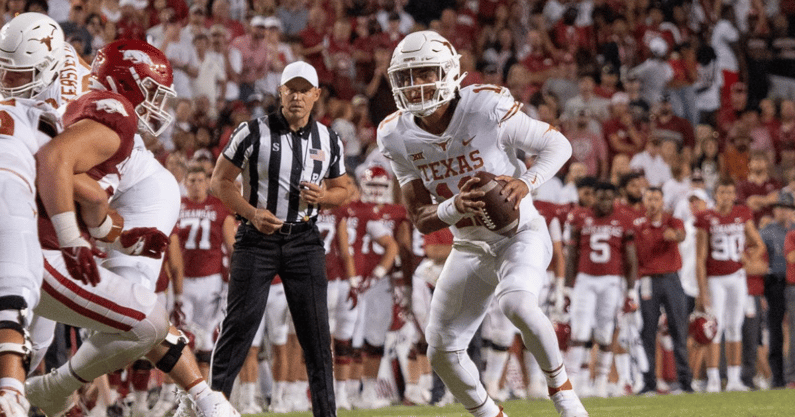 After electing to start redshirt freshman Hudson Card at quarterback for the first two games of the season, Texas head coach Steve Sarkisian announced Monday that junior Casey Thompson will start against Rice.
"Casey will start this week at quarterback," Sarkisian said during his opening statement. "Hudson will play, very similar to the same format we had when Hudson started and Casey would play. I feel good about that. Both guys have been battling. Both guys keep competing.
"I feel like it'll be good for Hudson to take a little bit of a deep breath coming off last week's game. It'll be a great opportunity for Casey to step in and battle and compete with the ones early on in the ballgame. I feel good about that."
In Texas' 40-21 loss to the Arkansas Razorbacks on Saturday, Card received the start and was 8-of-15 passing for 61 yards. He rushed eight times for 13 yards, was sacked three times, and had one fumble.
Thompson was 5-of-8 passing for 57 yards with seven rushes for 44 yards and two touchdowns. He entered the game with under two minutes remaining in the third quarter and the Longhorns down 33-7.
"It's not always about how you execute every play," Sarkisian said. "It's about, are you maneuvering the offense down the field to score points? I think Casey's put himself in a good position to do that. Obviously, different circumstances as opposed to what Hudson was dealing with early in the game, but that's okay."
Thompson also played late versus Louisiana, going 4-of-5 passing for 41 yards and one score. Sarkisian has repeated the need for both quarterbacks this season, and did so again Monday. When asked about what impact the decision could have in the locker room, Sarkisian said he believes his team knows what he's doing is for their benefit.
"I stand up in front of this team," Sarkisian said. "I'm very clear with my message. I don't think that anybody on our team would ever think that I'm doing anything that isn't in the best interest of our football team, and that's the approach that we have."
Card, who was making his first career road start in a very hostile Donald W. Reynolds Razorback Stadium, was described by Sarkisian as being antsy in the pocket.
"We weren't great protecting him early on in the game, but I thought he was a little antsy and we missed some opportunities," Sarkisian said.
Several deep passes from Card intended for Jordan Whittington and Xavier Worthy did not find their intended receiver.
In contrast to Card, Sarkisian noticed a different demeanor from Thompson.
"I thought Casey showed a lot of poise and calm in the pocket," Sarkisian said. "Delivered the ball down the field. All those things add up to, 'hey this guy deserves his chance.' I feel good about it."
Sarkisian mentioned the ideal situation is to have a starter and a backup at quarterback, but his QB room currently has two players he believes are good players.
"I think the team believes in both of them," Sarkisian said. "That was evident from Week 1 against Louisiana, Week 2 against Arkansas. We'll put ourselves in position to make sure that both those guys are in a position to excel."
Thompson was Texas' second leading rusher versus Arkansas behind Bijan Robinson, and showcased tough running against the Razorbacks even with a large deficit.
His play has made the decision difficult for Sarkisian, who wasn't sure how long the continuing battle would last. That's a problem he is comfortable with confronting.
"I kind of like it because they're making it hard. That should be the characteristic of our team at every position. Every week, you just don't know because both guys are battling so hard. I appreciate that about both Casey and Hudson."
Texas takes on Rice on Saturday with kickoff at 7 p.m.