Casey Thompson, Xavier Worthy add Big 12 honors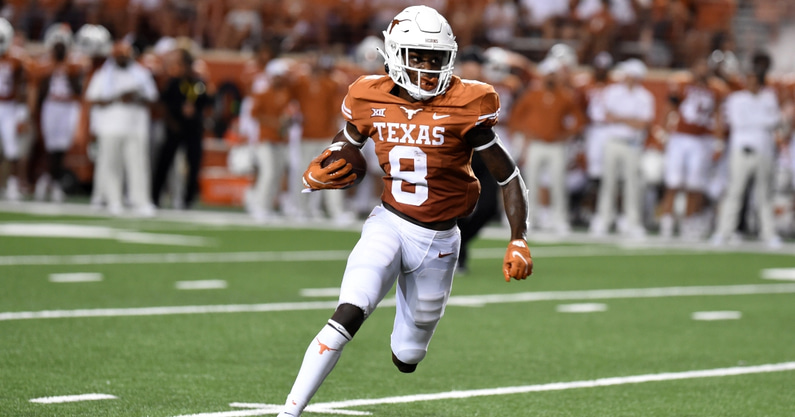 AUSTIN, Texas – Texas junior QB Casey Thompson was named the Maxwell Award Player of the Week, a Manning Award Star of the Week, and the Big 12 Offensive Player of the Week, while true freshman WR Xavier Worthy was named the Big 12 Newcomer of the Week, the organizations announced on Monday.
Thompson, a native of Oklahoma City, Okla., led the Longhorns to a 70-35 victory on Saturday, completing 18-of-23 passes for 303 yards and five touchdowns, while rushing seven times for 29 yards and another score. The five touchdown passes in a game are tied for second in UT history, while the six touchdowns he was responsible for (five passing, one rushing) also equaled the second most in a game in program history. Thompson led the Longhorns on scores on eight of the nine drives he was under center, resulting in five touchdown passes and three touchdown runs.
Worthy, a Fresno, Calif. native, caught five passes for 100 yards and set a Texas freshman record with three touchdown receptions. His 100-yard effort was the 17th by a freshman in program history and he was the 13th individual to accomplish the feat. Worthy had touchdown receptions of 62, 23 and three yards, with his 62-yard grab ranking as the 18th-longest for a Longhorn freshman.
Texas' 2021 Big 12 Weekly Honors
Week 1 vs. Louisiana – Bijan Robinson (Offensive)
Week 4 vs. Texas Tech – Casey Thompson (Offensive)
Week 4 vs. Texas Tech – Xavier Worthy (Offensive)
(via Texas release)