Cedric Baxter Jr. to visit Texas prior to signing day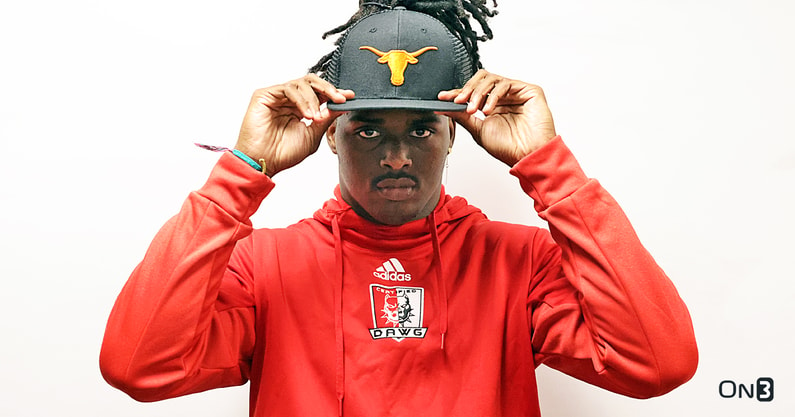 On3 5-star running back and Texas commitment Cedric Baxter Jr. will make one more visit to Austin prior to signing day.
[Get a FREE 7-day trial of Inside Texas Plus!]
The 6-foot-1.5, 213-pounder told Inside Texas Tuesday that he will be in Austin December 17 for the Longhorns big visit weekend prior to December 21 signing day.
Baxter told Inside Texas last week that he wasn't sure if he would be at the big visit weekend, depending on the Edgewater Eagles run at a Sunshine State title. Edgewater (12-1) lost to Orlando Jones (11-2) 42-13 Saturday.
The Florida State Seminoles and Florida Gators continue to pursue the No. 1 running back in the 2023 cycle, but Texas remains the heavy favorite to sign Baxter Jr. The relationship with Texas running backs coach Tashard Choice has always been a steep hill for those to climb. And that remains the case.
The Seminoles and Gators will be dropping by Edgewater High in hopes of flipping Baxter, but Inside Texas was informed that Baxter is done making visits barring a major change. That means Texas gets the lone December visit, and the weekend prior to signing day.
Texas early enrollees
The Longhorns No. 6 ranked class has a number of early enrollees, including the nations top running back prospect.
Arch Manning, QB, New Orleans (La.) Isidore Newman
Cedric Baxter Jr., RB, Orlando (Fla.) Edgewater
Johntay Cook II, WR, DeSoto (Texas)
Connor Stroh, IOL, Frisco (Texas) Wakeland
Andre Cojoe, IOL, Mansfield (Texas) Timberview
Payton Kirkland, OT/IOL, Orlando (Fla.) Dr. Phillips
Jaydon Chatman, IOL, Killeen (Texas) Harker Heights
Sydir Mitchell, DL, Oradell (N.J.) Bergen Catholic
Colton Vasek, EDGE, Austin (Texas) Westlake
Derion Gullette, EDGE/LB, Teague (Texas)
Liona Lefau, LB, Kahuku (Hi.)
Malik Muhammad, CB, Dallas (Texas) South Oak Cliff