Chris Beard talks Arterio Morris, Dillon Mitchell, the recruiting landscape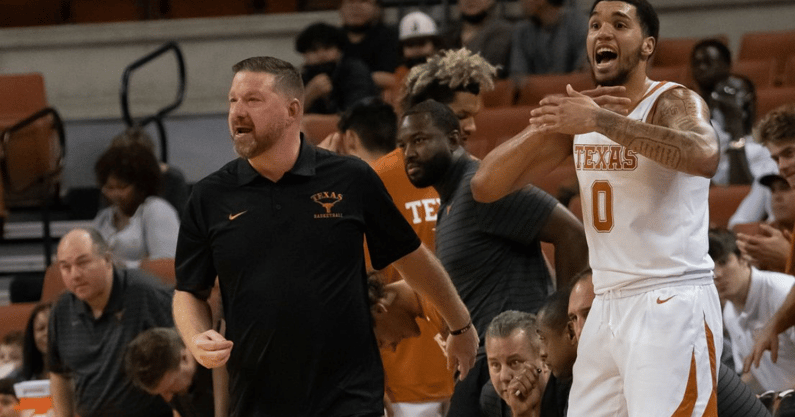 Texas signed a two-man class Wednesday consisting of Dallas Kimball guard Arterio Morris and Montverde Academy (Fla.) forward Dillon Mitchell. Morris is the No. 14 prospect in On3's 2022 rankings, while Mitchell checks in at No. 37 in the rankings.
[Subscribe to Inside Texas and get 50% off an annual or monthly membership!]
One night after his first career win at Texas, Longhorns head coach Chris Beard spoke about the impact each player will have on the Texas program, their recruitments, and the recruiting landscape in general.
Chris Beard on signing day and Texas' two man class
"Today's a big day for the program, our first fall signing day, and we're pleased to add two players that we think will be immediate impact guys. I'll start with Arterio, one of the best players in the country, one of the best players in our home state. Really benefits from playing in one of the best programs in high school basketball in Texas. Nick (Smith) does a great job. Kimball has a lot of history and tradition there, so whenever you get a player from Kimball, you know you have a little bit of a benefit because it's just one of the best, well-coached programs in the state.
"Certainly, getting Dillon from Montverde kind of speaks for itself. The standard of all high school basketball with what coach (Kevin) Boyle and his staff have done there. Just an honor to have one of his players. Dillon is a high character guy. He's special, he has special written all over him.
"Him and Arterio both, I think, will have a chance to make immediate impacts for a lot of different reasons. But at the top of the list, I think how they've been coached. Not only in high school, both had big-time summer AAU grassroots experiences with two of the best programs in the country. So, we're getting two talented guys that have been coached, and that's always kind of what we're looking for in recruiting."
On entering Mitchell's recruitment late in the process
"I don't know what early or late is in recruiting, but when there's a job change, in some ways, you're always getting involved late. We didn't talk to players about the University of Texas until April. Dillon was a guy that, I don't want to speak for him, but had a list of schools. He had taken some early official visits. Then, we watched him in the summer. Obviously, he's one of the best players in the country, and he opened up his recruitment a little bit mid-summer. Not that he'd ever closed it, but he kind of had an idea. I don't want to speak for him, but I think the coaching change and us coming to Texas piqued his interest in some way, so we're fortunate. We did not have a chance to recruit him in the traditional way, but we haven't had a chance to recruit any of these guys in the traditional way because of COVID-19. Getting involved late? I'm not sure. But it's a bright surprise to get two guys of this quality when we got the job just in April."
On players Texas searches for
"The best players in the country, they're pretty specific in what they're looking for. I know Arterio and Dillon and other guys that we recruit, will recruit, and have recruited, the best players in the country, they know what they want. We're trying to find the guys that love basketball. We're trying to find the guys that don't like it, (but) love it. We're trying to find the guys that don't have backup plans. 'If pro basketball doesn't work out, I'd love to do this.' We want guys who, 'it's going to work out, one way or another,' and that's what we're getting with both these guys, among other people, and these guys that we're coaching this year."
On Ulric Maligi
On recruiting against professional opportunities
"It's kind of early, how that all plays out. I think all of us in college basketball, and even in pro basketball, what I would tell you is there's communication going on that's decent between everybody. Just like everything, there's going to be some good and some bad. There's going to be some people laying in the weeds, but more than not, our game is a pretty good game. I think negativity always sells. That's the press line, that's the story. Controversy, we all get it. But the reality of it is, the NBA works really good with college basketball. The G-League works pretty good with college basketball. So we're all in it.
"What we're doing here is we're just recruiting kids in a transparent way. Just exactly what they're looking for and what we're looking for. It'll be interesting to see how this plays out. It's just so early with the Overtime and even the G-League, I think it's yet to be determined how this thing really shapes up. All we're trying to do is just continue to be who we are, recruit the players that we feel we need and we want. We want to make sure we get the players, and our program fits them."