Comparing statistics for the Texas vs. Baylor season finale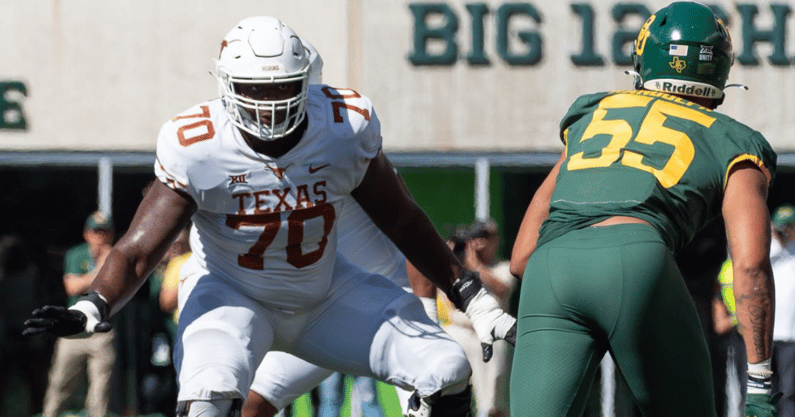 The 2022 regular season finale is finally here. The 7-4 Texas Longhorns are set to take on the 6-5 Baylor Bears this Friday at Darrell K Royal – Texas Memorial Stadium.
[Get a FREE 7-day trial of Inside Texas Plus!]
The Longhorns have an outside chance at making the Big 12 championship game but need a win to have any chance to get to Arlington. The Bears are looking to top Texas in back-to-back seasons for the first time since 2013 and 2014.
What to the stats say about the matchup? Comparative statistics takes a look.
Texas overall SP+ ranking: No. 8
Baylor overall SP+ ranking: No. 25
Texas defensive SP+ ranking: No. 19
Baylor defensive SP+ ranking: No. 49
Texas offensive SP+ ranking: No. 25
Baylor offensive SP+ ranking: No. 24
Texas special teams SP+ ranking: No. 39
Baylor special teams SP+ ranking: No. 35
Texas overall FEI ranking: No. 6
Baylor overall FEI ranking: No. 34
Texas offensive FEI ranking: No. 16
Baylor offensive FEI ranking: No. 25
Texas defensive FEI ranking: No. 12
Baylor defensive FEI ranking: No. 45
Texas special teams FEI ranking: No. 7
Baylor special teams FEI ranking: No. 104
Texas ESPN FPI ranking: No. 5
Baylor ESPN FPI ranking: No. 19
Texas strength of schedule ranking, per ESPN: No. 17
Baylor strength of schedule ranking, per ESPN: No. 50
Texas total offense: No. 38 – 432.9 ypg
Baylor total offense: No. 29 – 442.7 ypg
Texas total defense: No. 60 – 369.5 ypg
Baylor total defense: No. 56 – 367.5
Texas yards per play: No. 22 – 6.3 ypp
Baylor yards per play: No. 43 – 5.7 ypp
Texas yards per play allowed: No. 25 – 4.9 ypp
Baylor yards per play allowed: No. 48 – 5.3 ypp
Texas rushing offense: No. 27 – 198.9 ypg
Baylor rushing offense: No. 21 – 202.5
Texas rushing defense: No. 32 – 125.0 ypg
Baylor rushing defense: No. 42 – 131.2
Texas passing offense: No. 64 – 234.1 ypg
Baylor passing offense: No. 57 – 240.2 ypg
Texas passing yards allowed: No. 92 -244.5 ypg
Baylor passing yards allowed: No. 83 – 236.3
Texas 3rd down conversion percentage: No. 78 – 38.3 percent
Baylor 3rd down conversion percentage: No. 32 – 44.7 percent
Texas 3rd down conversion percentage defense: No. 87 – 40.9 percent
Baylor 3rd down conversion percentage defense: No. 121 – 45.4 percent
Texas 4th down conversion percentage: T-63 – 50 percent
Baylor 4th down conversion percentage: No. 18 – 63.9 percent
Texas 4th down conversion percentage defense: T-58 – 48.3 percent
Baylor 4th down conversion percentage defense: No. 26 – 41.2 percent
Texas turnover margin: No. 52 – +2
Baylor turnover margin: No. 52 – +2
Texas scoring offense: T-21 – 35.5 ppg
Baylor scoring offense: No. 29 – 34.2 ppg
Texas scoring defense: No. 31 -20.6 ppg
Baylor scoring defense: No. 60 – 25.5 ppg
Texas time of possession: No. 112 – 27:39
Baylor time of possession: No. 20 – 32:23
Texas net punting: No. 45 -39.44 ypp
Baylor net punting: No. 71 – 38.27 ypp
Texas punt return average: T-31 – 9.94 ypr
Baylor punt return average: No. 15 – 12.6 ypr
Texas red zone offense: No. 22 – 89.6 percent
Baylor red zone offense: T-93 – 80 percent
Texas red zone defense: T-15 – 75 percent
Baylor red zone defense: 121 – 92.1 percent
Texas QB Quinn Ewers' top performance: Oklahoma – 21-of-31 for 289 yards with 3 touchdowns and 1 interception
Baylor QB Blake Shapen's top performance: Oklahoma State – 28-of-40 for 345 yards with 2 touchdowns and 2 interceptions
Texas RB Bijan Robinson's top performance: Kansas – 25 carries for 243 yards and 4 touchdowns
Baylor RB Richard Reese's top performance: Kansas – 31 carries for 186 yards and 2 touchdowns
Texas WR Xavier Worthy's top performance: WVU – 7 catches for 119 yards and 2 touchdowns
Baylor WR Monaray Baldwin's top performance: Oklahoma State – 7 catches for 174 yards and 2 touchdowns
Texas K Bert Auburn: 18-for-23, long 49. 48/48 XP
Baylor K John Mayers: 7-of-8, long 49. 39/41 XP