Do you need an elite quarterback to win a national championship?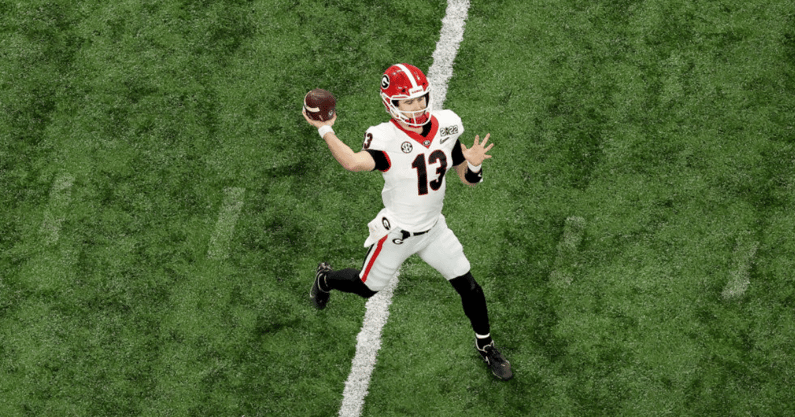 2021 Georgia won the national championship with a loaded roster and a pedestrian to solid college QB in Stetson Bennett. This belies the popular narrative that an elite QB is absolutely essential to winning it all.
Still, is Bennett the outlier that proves the rule?
How important is an elite signal caller in winning a college football national title?
Before we dig in on that premise, let's define elite. For my purposes, elite means elite as a college player. There is a statistical element to that determination, but figures often lie while liars figure. There is also a strong subjective element and you must evaluate the QB within their system, supporting cast, and their centrality of role. One must also identify the difference between a QB riding in the cart and a signal caller pulling it up the hill. Play in big games and critical moments is also important. I'm looking at both objective and subjective measurements in my determination. At the end of the day, this is just my educated opinion. A few signal callers may be a tough call and I'm happy to hear where and why you disagree.
I'm starting with the year 2000 because it's a round number and it's a useful – if somewhat arbitrary – break point heralding the early introduction of the spread offense and modern college offense. I'll use the AP Poll title winner to determine pre playoff champions, save for 2003.
By my tally, 9 of 22 (40.9%) national champion QBs were elite level players. Surprised? I certainly was. Joe Burrow, Vince Young, Tim Tebow, and Trevor Lawrence dominate our memories while we forget Jake Coker, Craig Krenzel, Chris Leak, and Matt Flynn.
Of course, there is also considerable variation within the non-elites. AJ McCarron and JT Barrett represent a different tier of QB play from Josh Heupel and Matt Mauck. Perhaps some delineation should also be made for very good.
As for the debatably elite QBs, it is my opinion that a junior AJ McCarron was right on the cusp between very good and elite play, particularly given the structure of the Bama offense at that time. If you want to give McCarron the nod as an elite college QB in his junior season (30 TD to 3 INT, Heisman runner up), that's your call.
Similarly, I really liked Ohio State's JT Barrett and Cardale Jones was an extremely effective back-up when Barrett went down, but that QB room was very good, not great. I credit Zeke Elliott, dynamic wide receivers, and the Buckeye senior laden OL for that offense's ultimate powerhouse status.
An examination of college football national champions since 2000 suggests that the college game is friendlier to competent bus drivers vs. the NFL game. That should not surprise us. But the danger of any retrospective analysis is that it pretends that the future will look like the past. Irrespective of the game's evolution in philosophy, passing game rules, and overall sophistication.
For that reason, it is likely also not an outlier that 4 of the last 6 (66.7%) national champions had elite QB play. While I have little supporting data but my own best guess, I think elite QBs leading future national title winners will trend closer to that number than the 31.3% representation (5 of 16) in the sixteen years prior.
Subscribe to Inside Texas and get a FREE 7-day trial. Details here.