Enrolling early has many benefits, but it's no guarantee of first-year playing time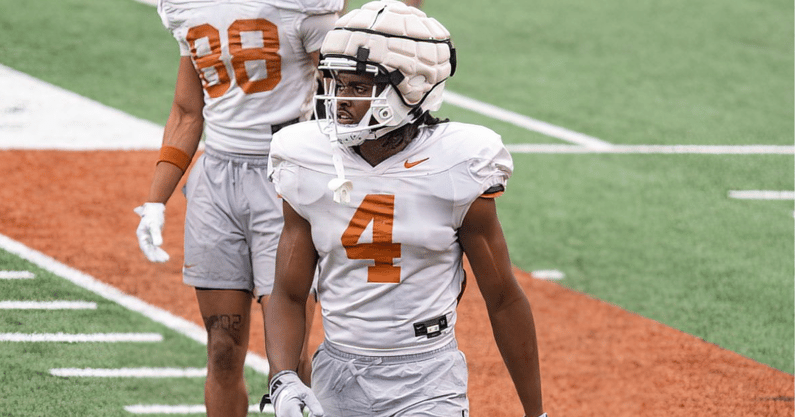 Fourteen prep football players signed by Texas skipped their final semester in high school to enroll in the Spring of 2023 and to go through drills with the Longhorns in March and April while soaking in the life of scholarship college athlete.
[Get Inside Texas Plus until 8/31 for just $29.99!]
And while getting a jump on the other members in their signing class allows the players to get acclimated to being a college student while beginning their stint as a student-athlete, enrolling early doesn't guarantee a move up in the pecking order or playing time as indicated by the most recent production by Longhorns who have taken that route.
Texas coach Steve Sarkisian was asked Tuesday about the new class of early enrollees and how beginning the season as college students in the Spring affects their immediate contributions to the team. This year's set of players already on the 40 Acres includes quarterback Arch Manning, linebacker Anthony Hill, running back Cedric Baxter and wide receiver Johntay Cook, all of them On3 Industry Ranking five-stars with opportunities to contribute in some fashion during the coming season.
"There are some distinct advantages (of enrolling early)," Sarkisian explained. "I think [one of them is that] the first time they go to class when they come in spring, they don't have a game that next Saturday. You can really get acclimated to school life. I think getting winter conditioning, getting the install, and then getting into spring practice and getting those 15 practices, getting ahead in school for earlier graduation down the road [is important]."
But, Sarkisian explained, just because a player arrives in the spring doesn't mean they'll be that much ahead on the players that come during the summer. If a player has the talent to play as a true freshman, that talent quickly rises to the top.
"(Offensive tackle) Kelvin Banks is a prime example," Sarkisian explained. "We didn't get him until the summer. He ended up being about a day one starter for us at left tackle.
"Everyone's different in there when they show up. It's more about the intent that you have when you show up – how intentional are you to be the best player, to develop your body, to learn the system, to be the student, to get acclimated academically. It's more about the intentions you have when you arrive rather than when you show up."
A good indication of what Sarkisian was referencing is illustrated by the playing time of the early enrollees in 2022, when the Longhorns were looking for more from their true freshman that just creating depth for the team.
[Sign up NOW for the Inside Texas newsletter for Texas Longhorns daily updates and breaking news in your inbox!]
Of the 10 early enrollees last Spring, only offensive lineman Cole Hutson started every game and five others (EDGE Justice Finkley, defensive backs Terrance Brooks, Jaylon Guilbeau and Larry Turner-Gooden, and running back Jaydon Blue) played enough in 2022 to burn their redshirts. 
Two others, defensive lineman Aaron Bryant and Jaray Bledsoe, saw limited action and two more, quarterback Maalik Murphy and defensive back B.J. Allen, didn't see the field at all.