Five Longhorns whose improvement will shape the season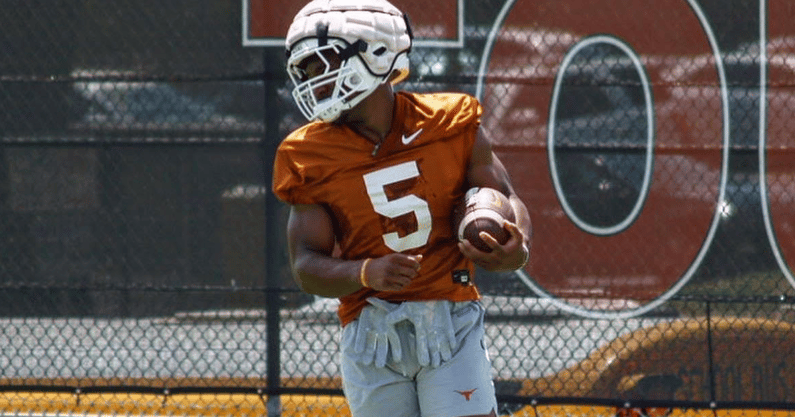 Teams who finish 5-7 typically need a lot of things to change in order to be competitive at the top of their conference the following year. New starters from among the underclassmen ranks usually helps, as does the infusion of proven transfers who can own major roles in the starting lineup.
[Get a 50% off an Inside Texas Plus subscription!]
What allows coaches to be successful early in their tenures at a new school and what causes a big shift from a losing team is most often simple improvement from the existing players. If Texas is going to have a good 2022 season one of the most likely reasons is considerable growth from players who were involved in 2021 and used the offseason to shore up their weaknesses and become winning players.
I've got a few in mind whose growth could have massive ramifications for the team this coming year. If the following five players improve in the following ways, that'd be the surest path to Texas having a breakout year in 2022.
No. 1: Alfred Collins plays as fast as he can
Where the freakish defensive lineman looked potentially dominant as a freshman, he was inconsistent as a sophomore in the new scheme. An obvious reason for his struggles was the evolving nature of the defense, which wanted him to read and react a bit at tackle and then certainly at defensive end when he was moved outside to shore up a team weak spot.
He had consistent issues dealing with runs away from him where he was late to take on blockers and was consequently reached, leading to cutback opportunities for opposing runners. This year he's moving back inside to his more natural position at 3-technique and is in year two working with Bo Davis in the scheme. There's not a lot of time to think inside when you have big bodies and bad intentions to your right and your left. If Collins is ready to play as athletic and powerful as he is in reality, he could have a massive season going up against mostly non-NFL offensive linemen in the Big 12 and solve a lot of problems before they start for the Texas defense.
No. 2: Andrej Karic hones his technique
You know what would be better than a freshman blue chip coming to fall camp and winning the most difficult job on the offensive line? A third-year blue chip making a big leap in the offseason and commanding the role instead.
Karic's faults are pretty well established. He's not particularly big at about 6-foot-4, 300 pounds and he doesn't have a lot of reach to make up for his lack of height. However he's extremely quick and plays really hard. To make a leap and own the left tackle job he'd need to hone his technique and footwork to allow his athleticism and nastiness to do work natural reach and a thicker base won't.
For everyone wanting to rule him out, he is apparently ahead of big Hayden Conner who looked pretty smooth and effective at left tackle in the spring game. If Karic made the common 3rd year leap he could be hard for even an ultra-talented freshman to replace, which would be great news for Texas.
My recent reviews of Pete Kwiatkowski's "crap, I didn't recruit any Edges" problem solving at Washington leads me to believe DeMarvion Overshown could absolutely be the solution to Texas' pass-rushing issues on the Edge. We know he'll be involved there, but the question is whether he'll be a regular blitzer from his normal Will linebacker position or if he can move down to be a full-time Buck.
The latter role would be simpler overall and give Texas a pseudo-dime nature to their nickel package which is useful in the Big 12. However, he'd have to prove he can hold up there when teams throw big bodies at the perimeter to lead the way for outside runs.
There's simply no escaping Overshown's need to improve in taking on and beating blocks, it was a major flaw to his play at the Will inside linebacker position as well. Whether he's a part-time or full-time participant in chasing the quarterback from the edge, Overshown needs to dramatically improve in how he handles blocks for this run defense to be fully healthy.
No. 4: Kitan Crawford masters his new alignment at safety
The general sense around the program is Kitan Crawford is probably the most talented safety on the roster and a potential game-changer for the 2022 season. The only trick is he's not exactly a safety yet. Crawford spent the last few seasons at cornerback and is now trying to master the new position and techniques at a position where decision-making, angles, and a thorough understanding of both the defensive scheme and the offensive aims are paramount…in a single offseason.
He's reported to be a natural. I believe his knack for the position is the fact he's a legitimate 4.5 (or faster) sprinter with good size and a willingness to be physical and tackle. Brandon Jones had similar traits and was one of the better downhill tacklers we've seen in Austin over the last 10 years. Texas fans want to see it, the safeties were not an imposing part of the run defense in 2021. However, maintaining proper positioning in coverage is the bigger question mark. A safety who gets you beat deep regularly is not an asset even if he can knock over a running back racing downhill from depth.
Since he's a converted cornerback, you figure this should be at least familiar territory for Crawford, lending hope he might be ready by the end of fall camp. The sooner the better.
The obvious area for Bijan Robinson to improve as an overall running back who could be heading to the NFL next season is in pass protection. However, if Johnny Lawrence taught us anything at all, there's an even better option available.
How is Robinson more likely to crush a team who wants to bring pressure? By blocking it? Or by flexing out of the box, presenting a major threat to the linebackers who'd otherwise be blitzing, and giving the quarterback a quick release option? Robinson did some work in 2021 flexing out of the box and running pretty solid routes on defenses, in 2022 those occurrences should climb way up. Let Roschon Johnson and the tight ends worry about pass protection, Robinson should begin his Alvin Kamara impression now before he reaches the next level.
A big year from Robinson catching the ball could be just the thing for an offense who might otherwise struggle to protect their quarterbacks.