Five questions ahead of Big 12 Media Days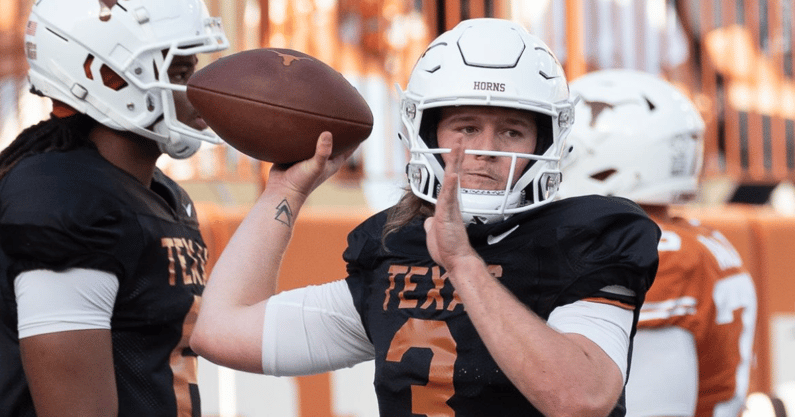 Big 12 Media Days marks the beginning of the 2022 "talking season," where every piece of college football news is related to what coaches and players say as opposed to what they do. The annual media event begins Wednesday at AT&T Stadium in Arlington, Texas.
[Get a FREE 7-day trial of Inside Texas Plus!]
Writers, TV reporters, radio hosts, and college football media personalities from around the country head to Jerry World this week to ask Big 12 officials, head coaches, and a selection of players for the latest on the conference and to preview the upcoming season.
Texas will send head coach Steve Sarkisian plus Bijan Robinson, Roschon Johnson, DeMarvion Overshown, and Ovie Oghoufo to the annual event, with the Longhorns featured on day two along with Oklahoma, Texas Tech, Iowa State, and TCU.
Here are a few questions to consider ahead of the two-day extravaganza that can be seen on ESPN+ and will be covered live by Inside Texas
Is Brett Yormark ready for the big stage?
No longer is Bob Bowlsby the person disseminating Big 12 talking points. That job now belongs to new commissioner Brett Yormark, who assumed his post in late June.
Yormark will likely field questions about the Big 12 and its changing membership, NIL, and the current college football environment. Will the former Roc Nation executive be able to handle everything with aplomb in spite of a tumultuous landscape? The answer to that question will come Wednesday beginning at 8:30 a.m.
What will Steve Sarkisian say about his quarterbacks?
The quarterback battle between Quinn Ewers and Hudson Card is undoubtedly one of the biggest storylines of the Texas Longhorns offseason. Ewers is a talented prospect with miniscule game experience. Card is more experienced in the system but is lacking on-field results. Sarkisian's comments on each quarterback's progress in summer workouts is worth noting.
Don't overlook the other battle between Maalik Murphy and Charles Wright for the third-string role. That competition won't grab as much attention but could be just as spirited.
Is this where Texas begins a Bijan Robinson Heisman campaign?
Sometimes it's handing out bobbleheads. Sometimes it's read in the fine print of a player's roster profile. Either way, media days are where programs begin selling Heisman voters on the idea of a certain player. In 2020, the Texas sports information department specifically mentioned Sam Ehlinger as a Heisman candidate. Will they do the same for Robinson? And how much will the humble Robinson embrace the hype himself?
Are any freshmen O-linemen making an impact?
The ability for players and coaches to work together during the summer with a football for two hours a week is a new development, and Texas hopes it will help members of its historic 2022 offensive line class be ready for the season. At various speaking engagements in May, Sarkisian understood that developing some of the freshmen O-linemen to be game-ready was one of this offseason's most important tasks. After all, freshmen will constitute most of Kyle Flood's position group.
The pads aren't on yet — that doesn't happen until August 4 — but is one of Devon Campbell, Kelvin Banks, Neto Umeozulu, Cole Hutson, Cam Williams, Malik Agbo, or Connor Robertson making strides in offseason workouts? The answer could indicate plenty about the direction of the offense.
Is the defense showing signs of improvement?
Total defense is not a perfect statistic, but it can say a lot. Texas' No. 100 ranking in the metric last season says the Longhorns were not good at stopping anyone. Only so much can be gleaned from pad-less offseason workouts and 15 spring practices, but what Sarkisian says about Pete Kwiatkowski's side of the football should relay plenty about Texas' 2022 prospects, especially with Alabama coming to Austin on Sept. 10.