Flyover Recruiting Notebook: Bowen, Sanders, Deblanc, Moore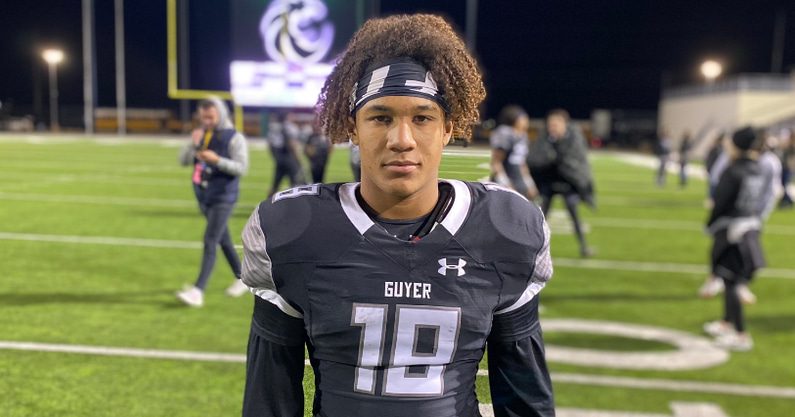 One of the staples of Inside Texas is the "Recruiting Notebook" where staff members break down priority targets and how they will specifically fit in the Texas Longhorn system.
I use a similar format to break down some of my favorite Texas high school football players who may not be household names to more casual followers of recruiting, but merit evaluation.
Get a detailed look at four sophomores and freshmen that are making an early impact in their high school careers.
Quick note: While I normally give comparisons in the FRN, I am not a fan of making comps for players still in their freshmen year of high school.
Outlook- In a Denton Guyer defensive backfield littered with power five football players, sophomore Eli Bowen has stood out as the most productive of the bunch. Eli has forced 10 turnovers in his 12 games for the Wildcats including a three interception game vs. Florida commit Nick Evers. Eli visited Texas over the summer with his older brother Peyton Bowen, and hears the most from Colorado and Notre Dame at the moment.
How he fits at the next level- If he continues to grow he'll be a high floor four-star corner. If he sticks around 5-foot-9, 165 pounds he could play corner or nickel at a major program.
Strengths- One of the best pass defenders I've watched this season. Extremely rare to see a young corner elite at both man and zone coverage playing against Texas 6A competition. A cerebral player that also has a clear mean streak evident in full game tape. Not verified through testing numbers but his foot speed and reaction time are a step above competition and teammates in person.
Areas for Improvement / Concern- Eli can struggle to get off blocks from physical WRs, especially when in man coverage downfield. Aggressive mentality helps him in run support but his slight frame limits him as a young player.
Comparison- It's hard for me to watch Bowen's production, football IQ, and physical attributes and not say former Washington Husky and current Tennesse Titan defensive back Elijah Molden.
Outlook- One of the breakout players of the 2021 season. Bellville is known for their two D1 running backs but this 6-foot-4 freshman has started to steal the headlines with his disruptive play. A source told Inside Texas that Sanders is high on the Longhorns' 2025 recruiting board and that Texas has been in contact with the disruptive freshman.
How he fits at the next level- Likely will slide inside as he continues to gain weight.
Strengths- The first things that come to mind when watching DJ are "explosive" and "disruptive". Even as a freshman he consistently wins reps against a myriad of offensive schemes. Ankle and Hip flexibility are ideal on tape and even though he projects to the interior his bend playing EDGE is still very impressive.

Areas for Improvement / Concern- Like most young players he needs to work on keeping consistent pad level. At times he'll engage for far too long with offensive linemen that aren't close to his talent level.
Outlook- Aldine Eisenhower's Ryan Niblett exploded onto the recruiting scene this fall and his younger teammate Deion Deblanc is likely the next in line at Ike. Deblanc was incredibly productive at the 6A level as a freshman, recorded a 10.98 verified 100m time as an 8th grade, and is already repping 405 on squat.
How he fits at the next level- Deblanc has played RB, WR, and S and as of right now it's plausible he could end up at any of the three.
Strengths- Explosive athlete backed up by track times and in the weight room. Change of direction with the ball in his hands is a major plus, and Deblanc shows the ability to stack cuts without losing top-end speed. Multiple chunk returns on kickoff highlight potential special teams upside.
Areas for Improvement / Concern- As a receiver can tend to let the football reach his body instead of snatching from the air. Positional fit being up in the air makes it tough to critique Deblanc too heavily. Right now is a dang good athlete and football player that will be graded with a finer focus once he gets feedback on where colleges see him.
Outlook- In my Spring prospect factory series, Duncanville took the crown for the best producer of D1 talent in the state of Texas. Well, at the state's best prospect factory the next man up seems to be 2025 WR Dakorien Moore The 6-foot-1 receiver has seen his usage rate increase throughout the season highlighted by last week's 91 yard 1 TD 2nd round performance vs. Mesquite.
How he fits at the next level- Complete WR that can be moved inside or outside depending on the matchup. Likely sticks on the outside at WR.
Strengths- Already a technically sound route runner as a freshman, extremely fluid at the top of his stem. Breakaway speed evidenced by kickoff return ability and body control on contested catches are two potentially elite traits Moore possesses. Kick coverage highlights show that Moore isn't just a WR specialist and has some true dawg in him. Track background running with the DeSoto swift track club.
Areas for Improvement / Concern- Most concerns with Moore are more "nitpicky" than true concerns. Would like to see a more diverse route tree, especially at the intermediate level.