Friday Night Focus: Erik Ezukanma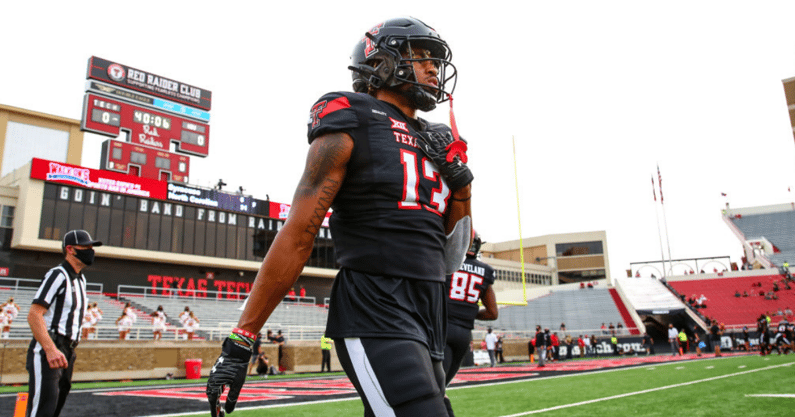 The Texas Tech offense is under new direction with former Red Raider quarterback Sonny Cumbie back in Lubbock as offensive coordinator for Matt Wells' team. At his disposal is a capable transfer quarterback in Tyler Shough and two steady running backs in SaRodorick Thompson and Tahj Brooks.
But the best playmaker for the Texas Tech offense may be redshirt junior wide receiver Erik Ezukanma.
Ezukanma, a fourth-year player out of Keller (Texas) Timber Creek, already has 350 receiving yards on the young season. He caught seven passes for 179 yards in the season-opener versus Houston, followed it up with six-catch, 143-yard outing with a touchdown versus Stephen F. Austin, and rides into Austin on the heels of a three-catch, 28-yard day versus Florida International.
In two career games versus Texas, Ezukanma has 14 catches for 226 yards and two scores. Though he hasn't helped the Red Raiders prevail over Texas, he has been a thorn in the Longhorns' side since 2019 and will likely bother every team on the Red Raider schedule this year.
The next team on that schedule, however, is Texas. Longhorns head coach Steve Sarkisian knows his defensive backs have a challenge this weekend in defending Ezukanma.
"Obviously a really good football player," Sarkisian said Thursday. "I think the first two weeks of the season, he was killing the opponents. I think last week they spread the ball around a bit more. That may have been the byproduct of the gameplan or a byproduct of their opponent trying to pay more attention to him."
Shough is the man responsible for getting the ball to Ezukanma, and has succeeded in doing so 16 times this year. But Shough has also found Travis Koontz on double-digit occasions, and Kaylon Geiger is one catch shy of 10 for the year.
"I think they've got the personnel that can make plays for (Ezukanma) and the quarterback does not just have tunnel vision on (Ezukanma)," Sarkisian said. "He's willing to spread the ball around."
Still, Ezukanma's physical abilities will provide a consistent challenge to Longhorn defenders.
"We've got our work cut out for us on that front because when we do get those matchups one on one with him, he's a big, physical player and he's excellent with the ball in his hands after the catch," Sarkisian said.
The challenge will be the first of many for Josh Thompson and D'Shawn Jamison during Big 12 play, but few will be as difficult as Ezukanma.