Get to know 2023 Texas commit Trevor Goosby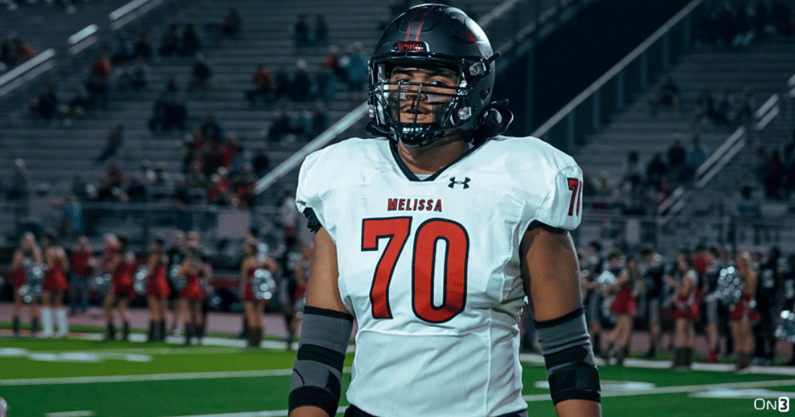 Whether you're a diehard recruiting fan in need of a refresher or a casual fan in need of only the particulars, this will be the series for you. 
[Get FOUR MONTHS of Inside Texas Plus for $1!]
The first national signing period for college football runs from December 21-23. That puts it a week later than normal, which allows you even more time to familiarize yourself with the next class charged with helping restore Texas back to national prominence. 
The preceding 2022 class is already off to a good start, but the way to win at a consistently high level is to stack talented class after talented class. At all times you need young players developing, creating competition, and providing valuable depth before becoming quality starters. 
The top 5 contending 2023 class is just what Texas needed after the top 5 2022 class.
In the lead-up to NSD1, Inside Texas will offer profiles of each member of the 2023 signing class.
Next up, Trevor Goosby.
The Player: Trevor Goosby, Melissa (Texas), 6-foot-6, 280 pounds
The Rating: 88.50, On3 Consensus three-star
The Ranking:
The Recruitment: Goosby originally committed to TCU on April 26th. To that point Texas had been in contact but didn't offer until June 10th. Texas pushed to get him on an official visit with the timing on June 24th coinciding with the Arch Manning commitment the day before. Goosby was part of a wave of commitments and picked Texas on June 26th.
The Projection: Goosby is a good basketball athlete with length, bend, feet, and frame to grow into a left tackle. In fact, out of all the players currently on campus or in the 2023 class, he is the most likely to replace Kelvin Banks after Banks' assumed three-year career. Goosby has a lot of work between now and then, but he'll mature by leaps and bounds physically, mentally, and technically in the next couple years.
The Reasoning: "My mom's whole side of the family went there, so I grew up a Longhorn fan my whole life and the coaching and relationships I built with the coaches are amazing."
The Relationship: "Over the last couple of months, Coach Flood and I have really grown our relationship from a coach trying to recruit a kid, to a coach and his player chopping it up. I really like coach Flood and think very highly of him."
The Education: "I'd like to study business or something business related in the McCombs School of Business."
The Final Word: Between the last cycle and this one, Texas will have signed 12 offensive linemen, though only two project cleanly at left tackle: freshman All-American Kelvin Banks, and Trevor Goosby. This was a match you could see coming from a mile away in the early spring.
Series:
Connor Stroh, OL, Frisco (Texas) Wakeland
Johntay Cook, WR, Desoto (Texas)