GIF Analysis: Texas' passing game versus Arkansas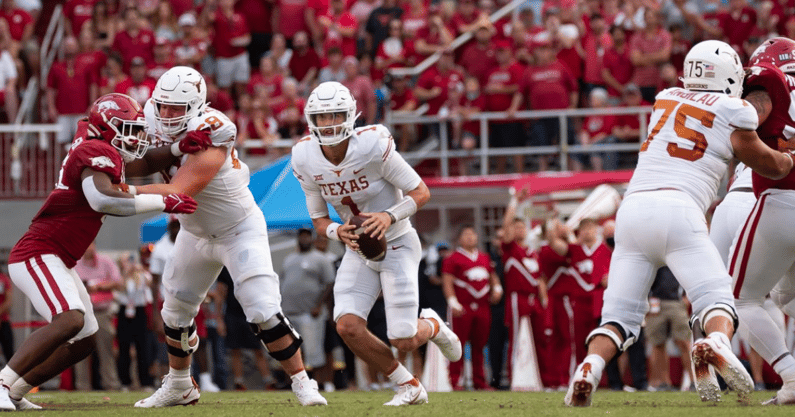 The Longhorn offense struggled mightily in Fayetteville, amassing 256 total yards against the Razorbacks. The Texas passing game was 13-for-23 for 118 yards and no touchdowns, those numbers split between Hudson Card and Casey Thompson.
Razorback defensive coordinator Barry Odom deployed a drop-eight, rush-three defense against both quarterbacks on passing downs and utilized it often. Arkansas kept most of its top defenders in the game until late.
This week's edition of GIF Analysis looks at every play where either Card or Thompson were aiming to pass, whether the play resulted in a completion, incompletion, sack, or rushing attempt.
Q1 12:35: 3rd & 11 (-25)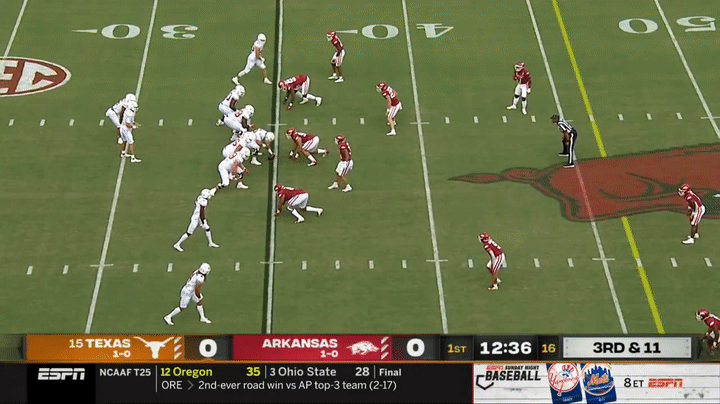 At the top of his drop against a three-man rush, Card begins to roll out to his right. He appears to eye Cade Brewer, but seeing him covered he tucks the ball and runs upfield. He gains a few yards and avoids a tackle but the safeties crash and bring him down short of the first down.
Since Brewer is followed across the formation it's safe to assume the out-of-picture Xavier Worthy is also facing man coverage at the bottom of the screen. Bijan Robinson leaks out upon seeing a three-man rush but is pseudo-covered by the linebacker, though it doesn't matter considering Card's roll.
Q1 8:17: 3rd & 4 (-31)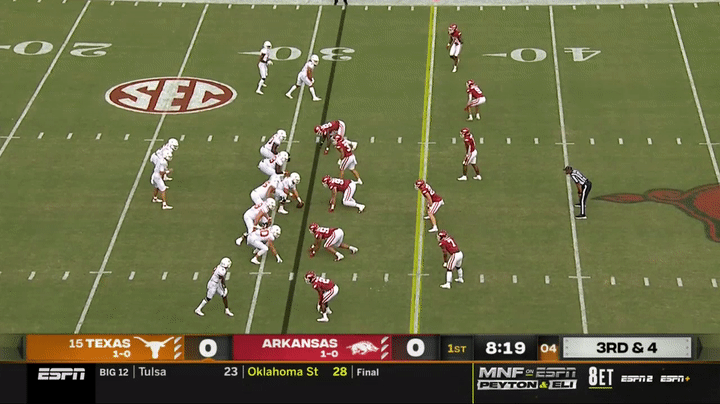 This play is over before it even starts as the protection fails to pick up pressure in the A-gap. Card is sacked and Texas records another three-and-out.
Q1 2:03: 1st & 10 (-25)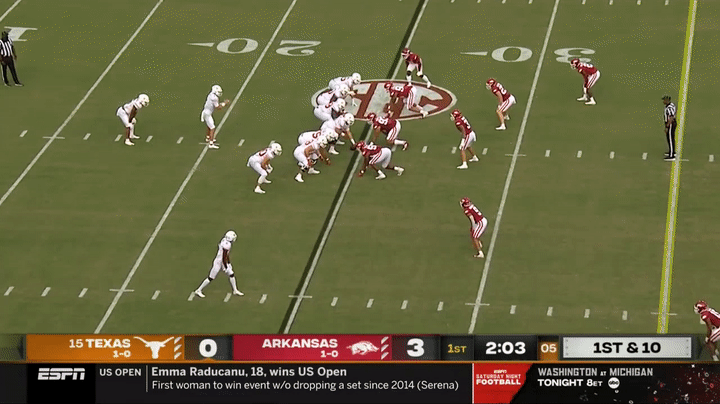 Texas deploys 12 personnel and leaves Brewer in to block. The linebackers fall for the play fake, but Derek Kerstetter can't block his man and Card is flushed from the pocket.
Another play with no replay, but there are likely just two receivers on the right side of the field for Card to target after his roll. He picks up one yard with his legs.
Q1 1:27: 2nd & 9 (-26)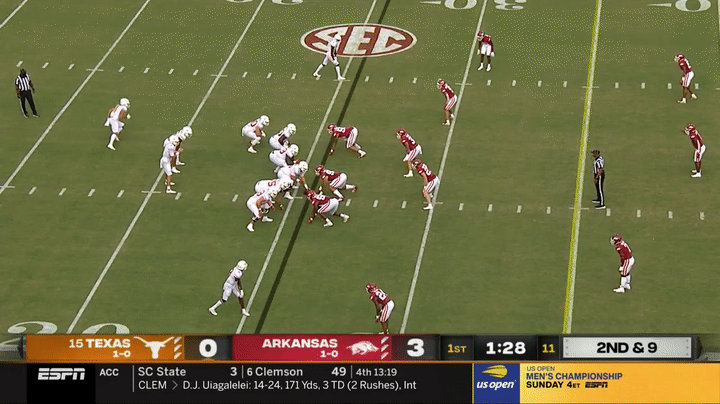 Card play fakes and rolls to his left with a pulling guard there for added protection along with Brewer. There are two routes on the left side of the field with Jordan Whittington staying behind the line of scrimmage and Joshua Moore running deep.
Moore appears to be the first option based on where Card is looking, but Card elects not to throw his way. He works back to his right.
Robinson's status as a check down attracts the attention of the corner, who passes him off to the safety. Worthy finds space in between the two, hauls in the pass, avoids a tackle, and moves close to midfield.
Q1 0:30: 1st & 10 (+29)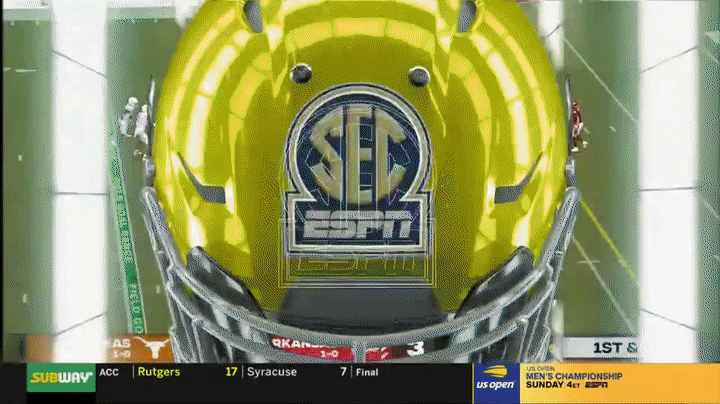 Texas' five-man protection blocks Arkansas' three-man rush. Card goes through his progression and looks like he wants to hit Robinson on the check down, but the Razorback linebacker swarms to him. Card rolls and takes a few yards on the ground.
Q2 15:00: 2nd & 5 (+24)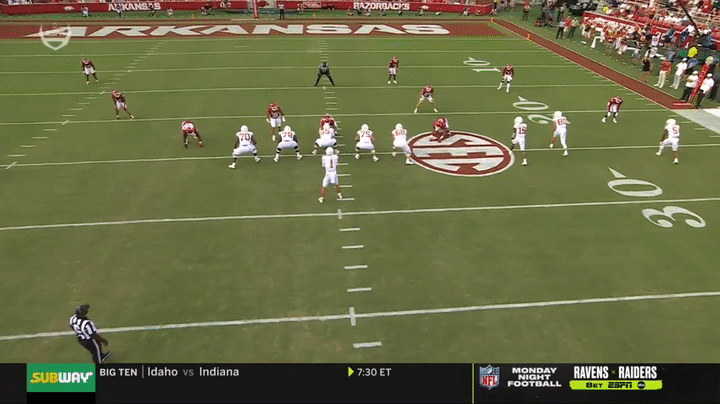 With an empty set, Texas appears to fake a screen to the right side. The tell is Marcus Washington feinting a block before continuing to run his route. Those three players occupy two of the Arkansas safeties, leaving Whittington one-on-one with the remaining safety.
Whittington starts to turn his route toward the front pylon as he sees Card start to try to roll left. Denzel Okafor goes to help Christian Jones at the same moment Majors gets beat by the defensive tackle. Bang-bang decision for No. 78, but No. 65 missing his block put a defender in Card's grill.
Q2 13:57: 3rd & 15 (+34)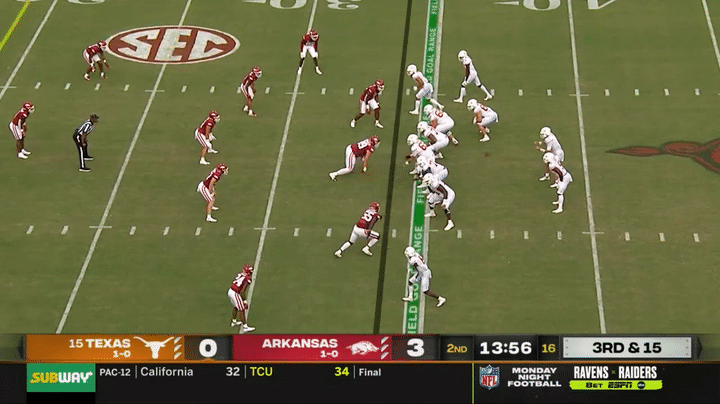 After a delay of game, Texas is backed up. Card brings Robinson into the formation, and feels the need to step up.
He sees Whittington breaking past his man and throws on the run. The pass could have been more accurate, as it forces Whittington to have to fully turn around. It still hits him in his left hand before it falls to the ground.
Cameron Dicker misses the 52-yard field goal attempt wide right on the next play.
Q2 9:07: 3rd & 11 (-16)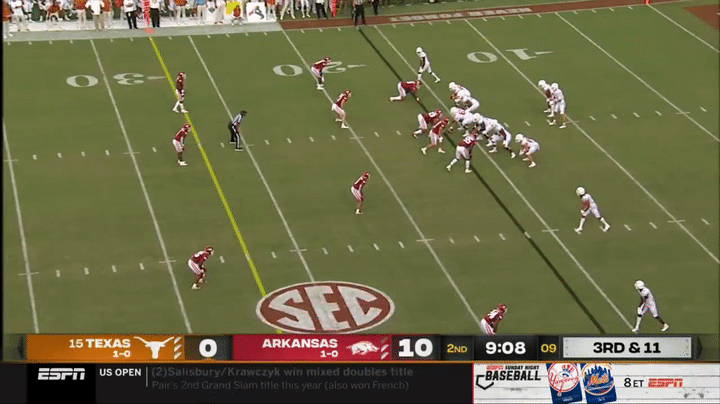 A six-yard gain and a two-yard loss on Robinson carries lead into a false start on Whittington. Facing 3rd & 11, Card once again stares into a drop-eight defense and feels the need to roll left. He can't find anything on the scramble and another Texas drive ends without much progress.
The Dicker drop and blocked punt occurs on the following snap.
Q2 7:02: 2nd & 8 (-32)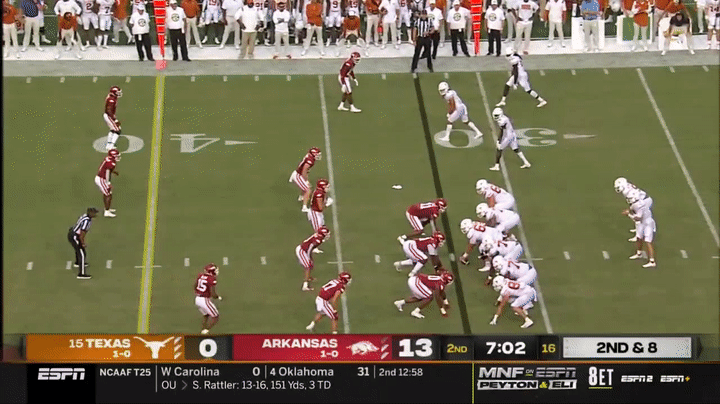 6-foot-4, 226-pound Juan Davis gets his first career reception on a screen pass and has the 6-foot-1, 160-pound Worthy blocking for him.
Q2 6:15: 3rd & 8 (-32)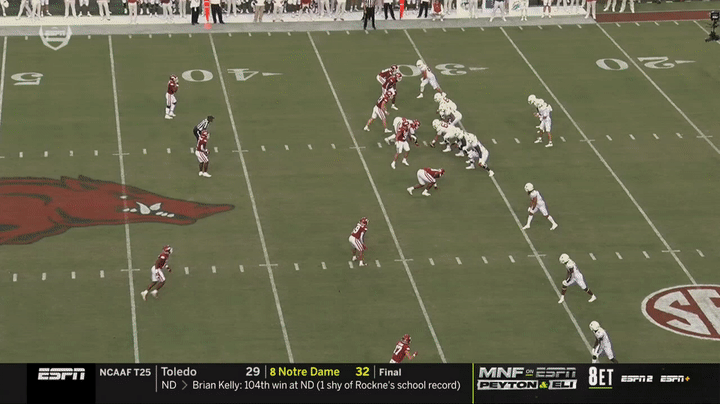 Card looks for Worthy against a seven-man coverage. Worthy finds space in the defense but Card's pass is deflected at the line of scrimmage, forcing another punt.
Q2 2:33 2nd & 4 (-31)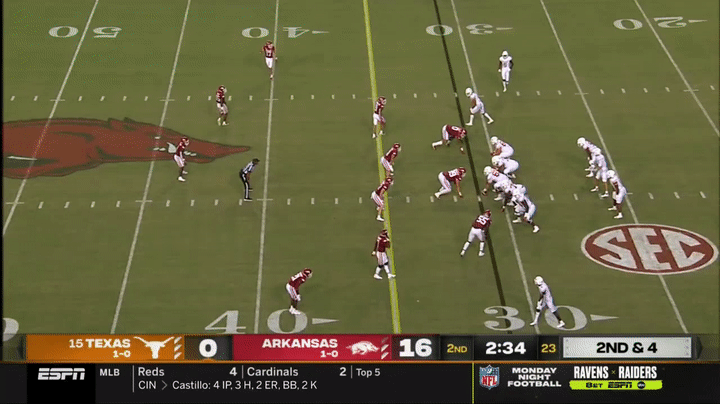 In a 20 personnel set, Card step up in the pocket and rolls left after Jones gets bulldozed. Robinson and Moore run short routes but are covered.
Card moving up and rolling brings attention to him, and Johnson has a little bit of space in the flat. He catches and runs for a first down and Texas is at least in position to attempt to score before halftime.
Q2 1:40: 2nd & 9 (-38)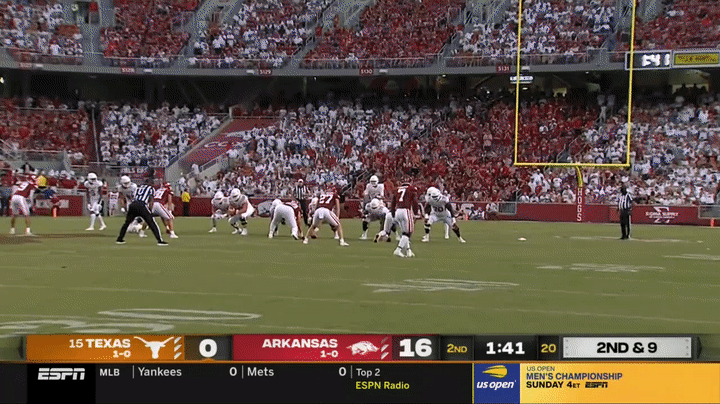 Brewer runs to the flat, occupying the cornerback and keeping him near the line of scrimmage. Moore's intermediate route draws the attention of the left safety and brings him toward the sideline. That gives Whittington room to operate against middle safety Jalen Catalon. Whittington gets open, and Card throws to the numbers on the opposite side of the field.
Whittington gets two hands on the football but drops it. It's almost intercepted by Arkansas but it is not caught cleanly by the defender.
Q2 1:32: 3rd & 14 (-33)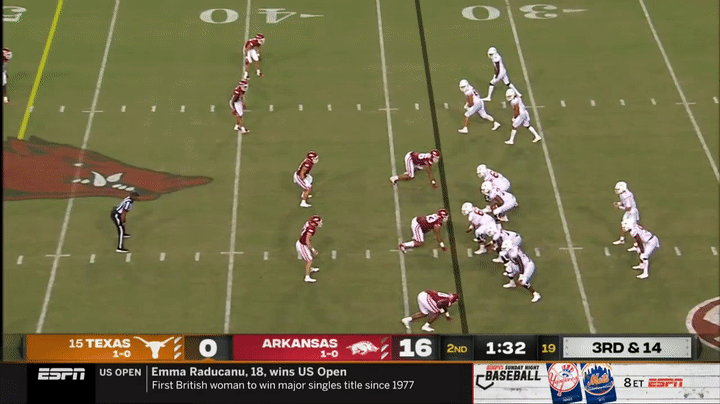 After a false start penalty on 3rd & 9 to undo any momentum from the completion to Johnson, Texas once again has to try to convert on third down from behind the chains.
He finds Whittington underneath, who seems to settle in and prepare for a throw upon noticing the defenders drop well off of him and carry deeper routes from Brewer and Moore.
It's short of the first down, and Texas enters halftime without a point.
Card's halftime stat line: 4-of-8 39 yards
Q3 14:34: 2nd & 6 (-28)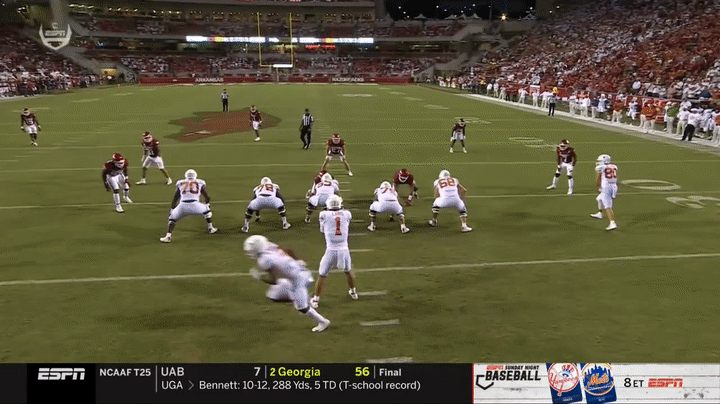 Texas runs motion to the sideline with Robinson, trying to deceive the Razorback defense to thinking the screen is being set up for him. It's actually being set up for Whittington.
Arkansas linebacker Grant Morgan doesn't bite on Robinson, instead seeing the play develop and crashing down toward Whittington. He beats Okafor to the spot, and the play goes for a loss. Morgan did his homework, reacted to what he was seeing, and made a play.
Q3 13:56: 3rd & 8 (-27)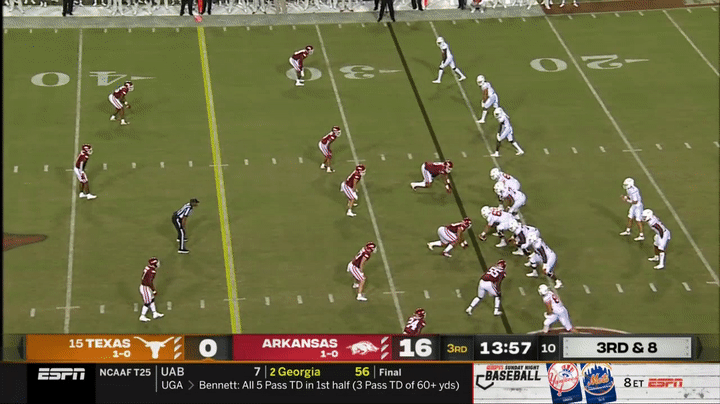 Arkansas drops eight yet again, and Card settles for the short completion to Whittington. He's immediately tackled and the Longhorns' first drive of the second half goes three plays and out.
The clip of Sarkisian yelling about the quality of his team's opening drive comes following this series.
This play also indicates how Arkansas stopped Robinson on many plays, even pass plays. They emphasized defending Robinson and swarming to him to get him to the ground, as Hayden Henry mentioned following the game. Henry can be seen on this play rotating toward Robinson in the flat in an attempt to limit yards gained on a potential check down.
Q3 11:31: 2nd & 7 (+11)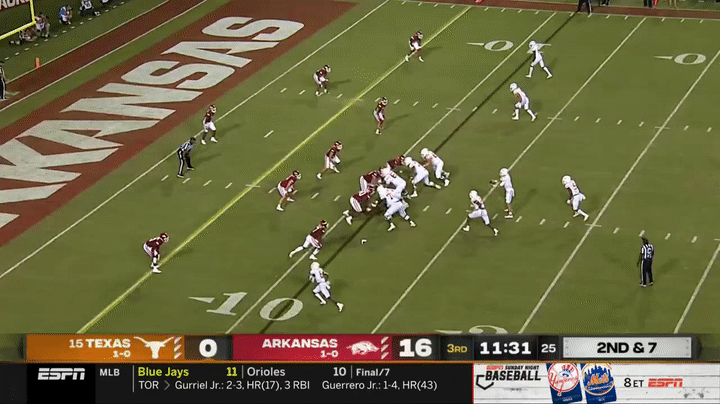 After BJ Foster's interception, Texas moved inside the red zone and threatened to get on the scoreboard. Card keeps on what looks to be an RPO, and sets up a throw in the flat to Johnson.
The pass is covered, and Card picks up two with his legs.
Q3 10:51: 3rd & 5 (+10)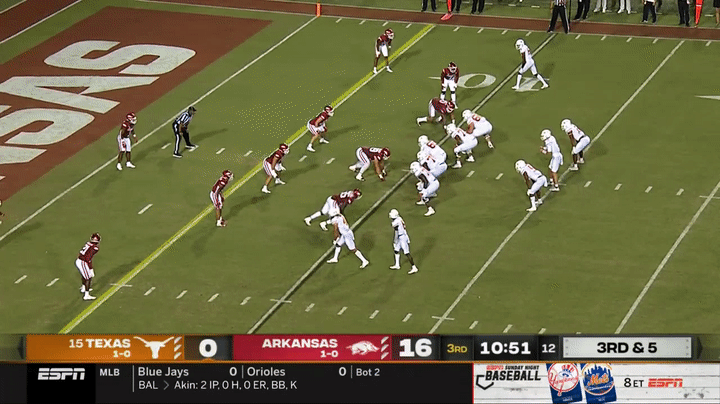 Card goes through his three-receiver progression and doesn't find a throwing window between the eight in coverage. He throws right to Johnson on the check down, who gets the first down and is pushed out inches short of the goal line.
Texas scores on the next play to make it 16-7.
Q3 8:11: 1st & 10 (-23)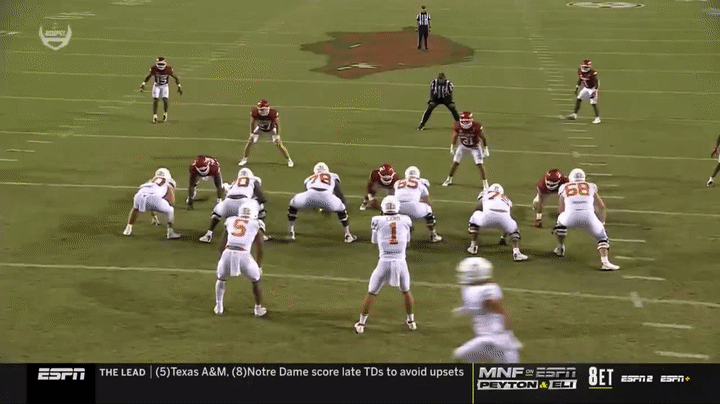 In 12 personnel, Texas opens with a play action fake that catches the attention of much of the defense. Card makes a long throw trying to hit Worthy but it is well off target and falls to the ground.
This was a case of Texas trying to throw over the drop-eight coverages it saw during most passing downs. The play fake grabbed the attention of the defense, but Card couldn't connect.
Q3 8:03: 2nd & 10 (-23)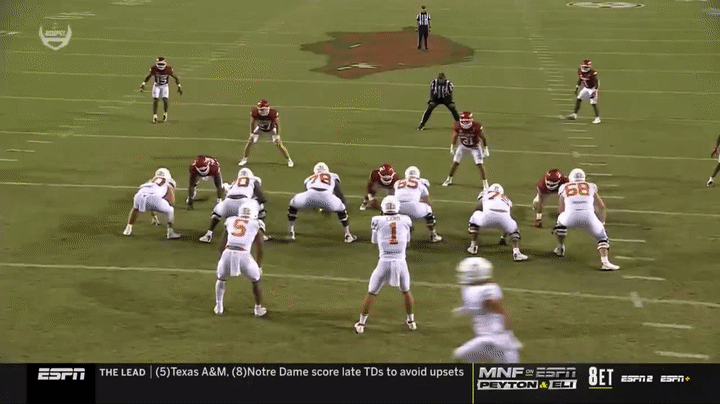 The very next play in 11 personnel, Texas tries to get the attention of the Razorback linebackers with motion. However, the Arkansas defense communicates well as it did most of the night and stays true.
Moore runs a double move and it appears Card releases his throw toward one spot on the outside at the same moment Moore cuts toward the inside. Moore cant re-adjust his route quickly enough and the ball falls incomplete.
Q3 7:56: 3rd & 10 (-27)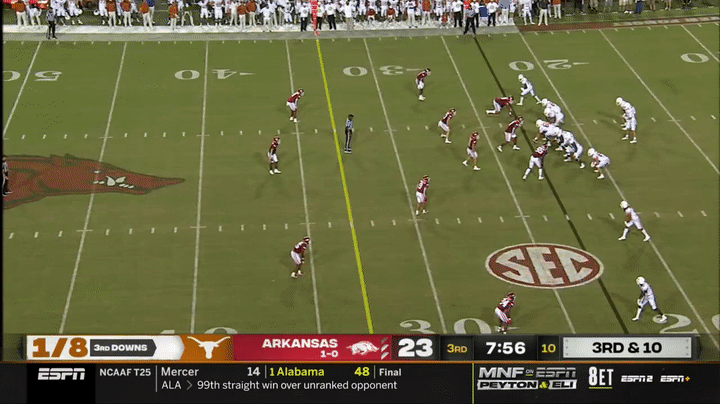 The third straight pass play, and Kelvontay Dixon is the only receiver on the weak side. Arkansas drops eight and rushes three, and Card moves out of the pocket.
Robinson's location draws the attention of the Arkansas corner, creating some room in the defense for Dixon to settle. Card quickly fires and hits Dixon, who makes the reception for a first down.
Q3 7:03: 2nd & 4 (-40)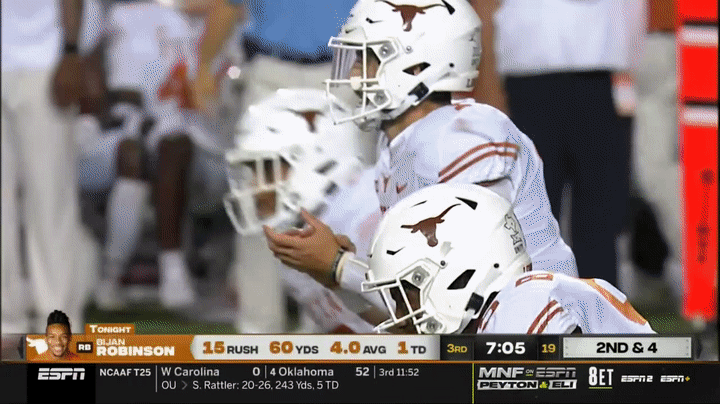 Majors gets beat and neither of the backs make contact with the nose tackle, so Card has to roll right almost as soon as the ball as snapped. He finds Whittington near the sideline and hits him in the hands again, but Whittington cannot bring the ball in and Texas faces another third down.
Q3 6:56: 3rd & 4 (-40)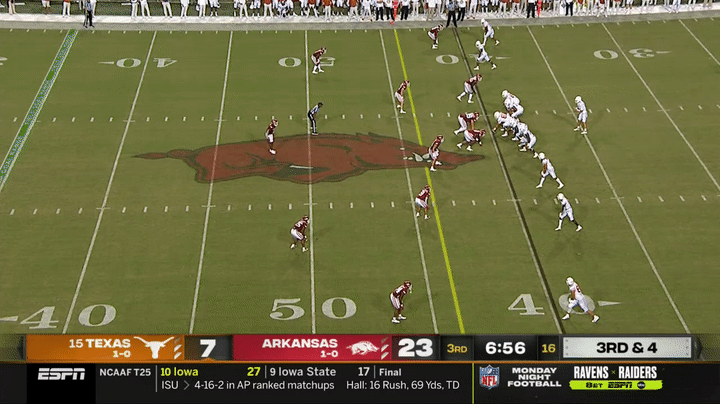 Another three-man rush. All three of the short routes are covered, one deep route is not an option after Card's rollout, and the other deep route is off screen.
Card rushes but is tackled short of the first down. The following play, Texas is unsuccessful in converting a 4th & 1. The Longhorn defense held Arkansas to a field goal despite the short field.
Q3 2:08: 1st & 10 (-25)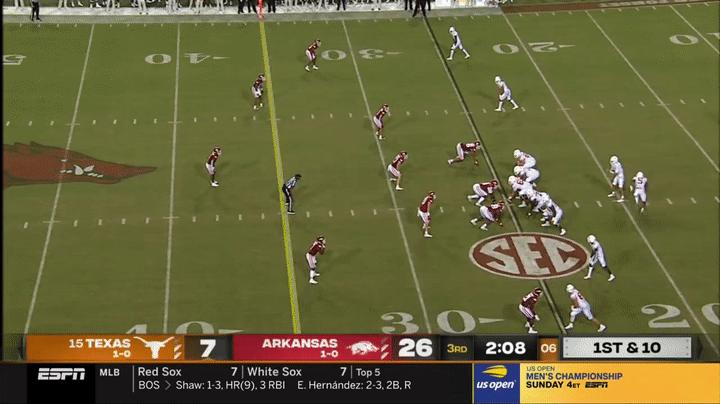 Card's final play of the evening at quarterback. Again, drop-eight coverage. Again, flushed out of the pocket.
He looks toward Moore on the far sideline, but the ball is knocked out of his hands by Zach Williams during his wind up. It's a fumble, and Card brings down Greg Brooks.
Casey Thompson would enter the next drive.
Card's final line: 8-of-15 passing for 61 yards, 8 rushes for 13 yards and one fumble.
Q3 1:50: 1st & 10 (-25)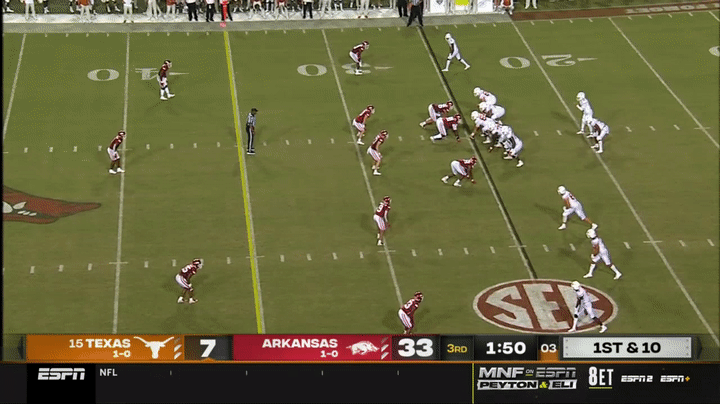 Thompson's first play is a screen pass to Whittington and is a quick, easy throw for a quarterback's first play of the game.
Brewer and Worthy do a good job of getting in position and giving Whittington room to try and make defenders miss. He gets upfield for a good first down gain.
Q3 1:07: 1st & 10 (-37)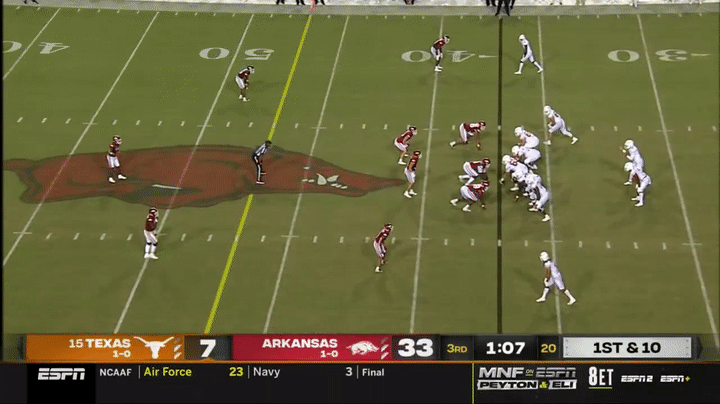 Thompson takes the checkdown to Robinson, who picks up a few yards on the play. Arkansas is issued a penalty for unnecessary roughness on the tackle, and Texas moves into Razorback territory with under a minute to play in the quarter.
Q3 0:49: 1st & 10 (+44)
Like Card, Thompson faces a three-man rush and elects to leave the pocket. Unlike Card, Thompson gets upfield immediately as opposed to rolling out and continuing to look for downfield targets.
His efforts pick up six yards, and Robinson picks up a first down on the very next play.
Q3 0:07: 1st & 10 (+33)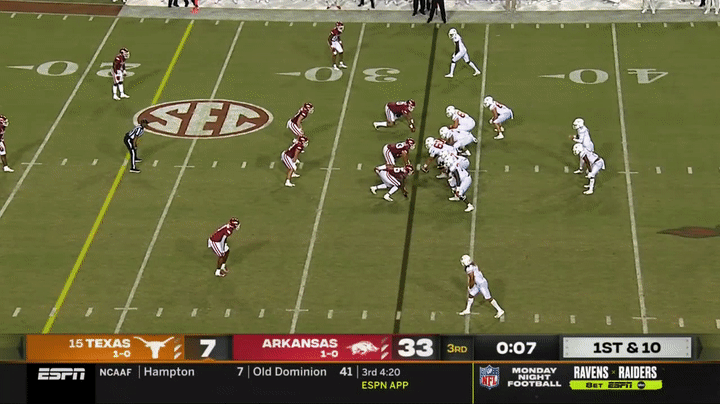 After Robinson's run, Texas elects to take a shot at the end zone before the quarter ends. Moore runs past the corner and gets a matchup with the left safety.
Thompson throws to the end zone, and safety Joe Foucha knows he's been beat. He turns and knocks Moore off his route because he sees he was beat deep, but is not called for any sort of foul. The pass falls incomplete and the quarter ends.
Q4 14:28: 3rd & 9 (+32)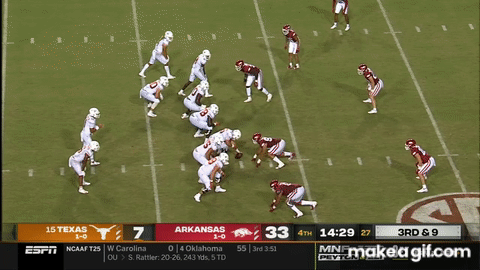 Thompson looks for Brewer underneath, and delivers an accurate pass. Brewer never gains control and almost bobbles it into the defender's hands.
This would have resulted in a fourth down were it not for a roughing the passer penalty committed by one of the three rushing Razorbacks.
Q4 14:22: 1st & 10 (+17)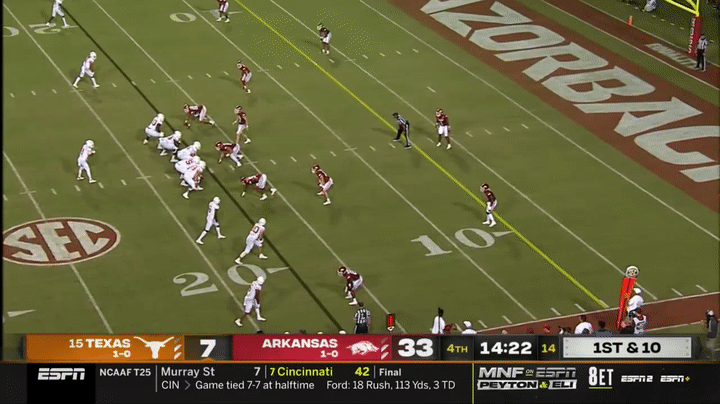 After the penalty, Thompson drops back in a five-wide formation. Majors once again is beat by the nose tackle, and Thompson heads upfield instead of rolling out and looking for receivers.
He gains eight or so yards before being brought to the ground. He runs it in for a touchdown on an option keeper the very next play.
Q4 8:02: 2nd & 4 (-31)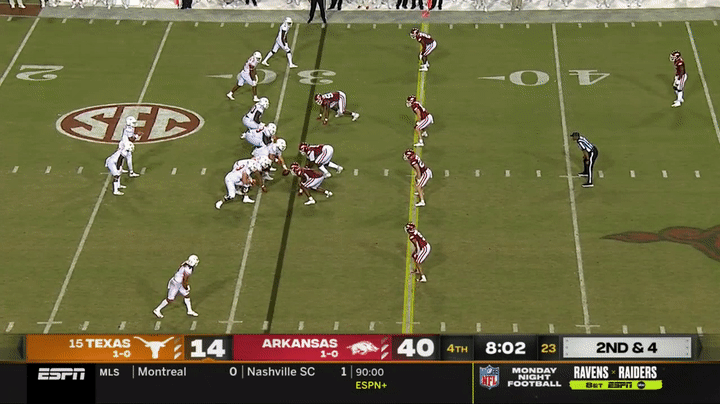 Facing what appears to be a majority of Arkansas first-stringers still playing a rush-three, drop-eight defense, Thompson is forced out after feeling pressure from his backside.
He finds Whittington, who Thompson hits in the hands with a slightly high throw. Once again, Whittington cannot come up with it.
Q4 7:55: 3rd & 4 (-31)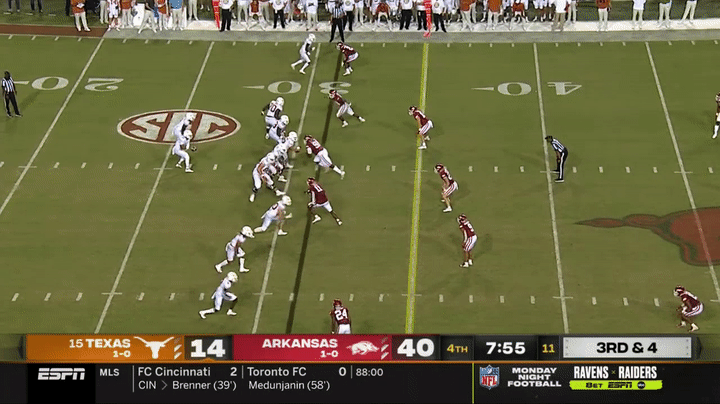 Watch Brewer on this play. His route draws two defenders, clearing a throwing lane for Thompson to hit Whittington.
Whittington hauls this one in, and tries to get to the corner against the three Arkansas safeties. He gets an extra yard or two, but Texas gets the first down. The design opened things up for Thompson even against drop-eight coverage, and Whittington made the catch for the first.
Q4 7:35: 1st & 10 (-46)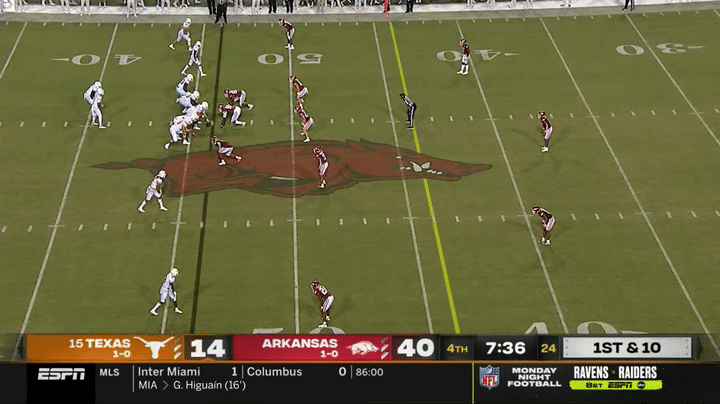 More three-man rush. Thompson doesn't see anything downfield and starts rushing forward.
He runs tough and doesn't shy away from contact, picking up nine yards in the process.
Q4 6:30: 3rd & 2 (+45)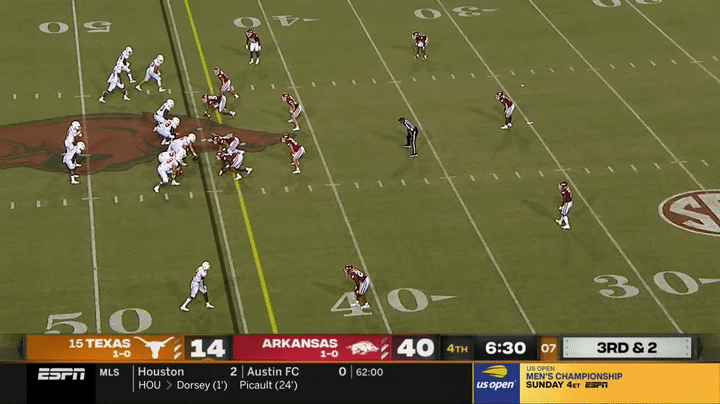 Thompson finally gets a pocket that allows him to stand and read through his progression. It looks like he goes through two receivers before reaching his third option in Worthy. The linebacker is preoccupied with Dixon, and the corner is preoccupied with Keilan Robinson, creating a throwing lane to Worthy.
He puts some mustard on the pass to get it past the linebacker and pick up the first down. Well-executed throw with good protection from the O-line.
Q4 6:07: 1st & 10 (+30)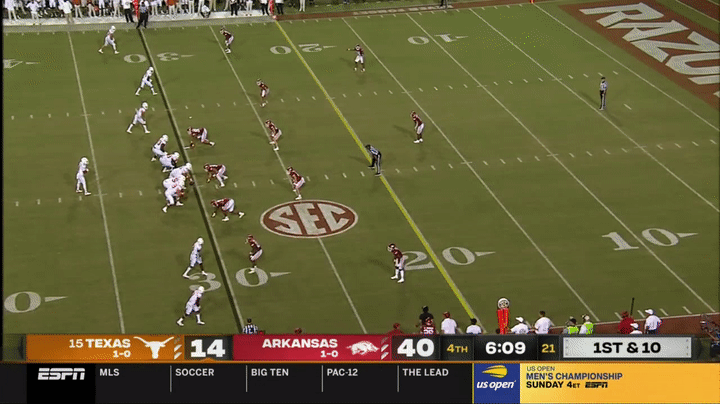 Thompson, like several other of his dropbacks, doesn't see a throw and scrambles to the right side for nine yards. Arkansas starters still appear to be in the game.
Q4 5:13: 1st & 10 (+16)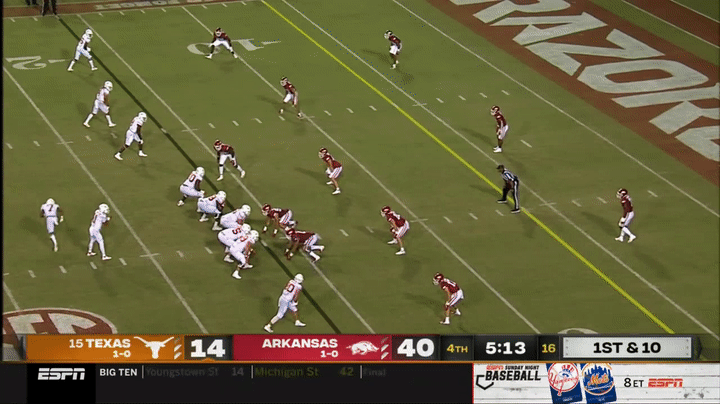 Credit again to Arkansas, everything is covered well including Dixon's route toward the back pylon.
Al'vonte Woodard fakes a screen, and starts running up field. Maybe if he were to look back at Thompson a throw is there, but he does not. Thompson is forced to roll out and tries to find Dixon in the back of the end zone but overthrows his target.
Q4 5:04: 2nd & 10 (+16)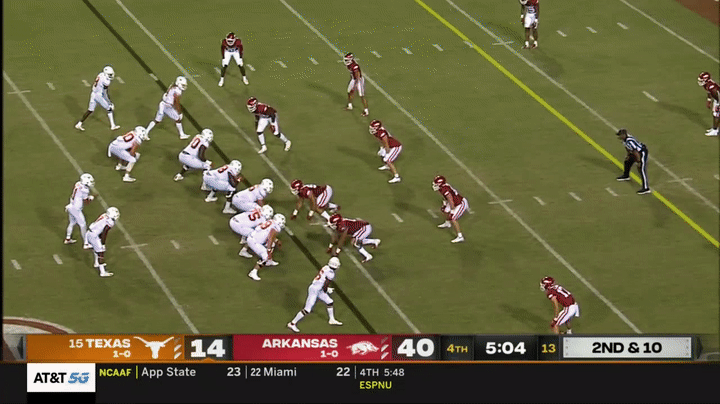 From a tightly-bunched formation against a three-man rush, Thompson drops back and goes through his progression. He eventually lands on Dixon and fires through the lane made by the corner respecting the check down to Keilan Robinson.
Dixon makes the catch and falls into the end zone, but replay rules him just short.
Q4 2:34: 4th & goal (+2)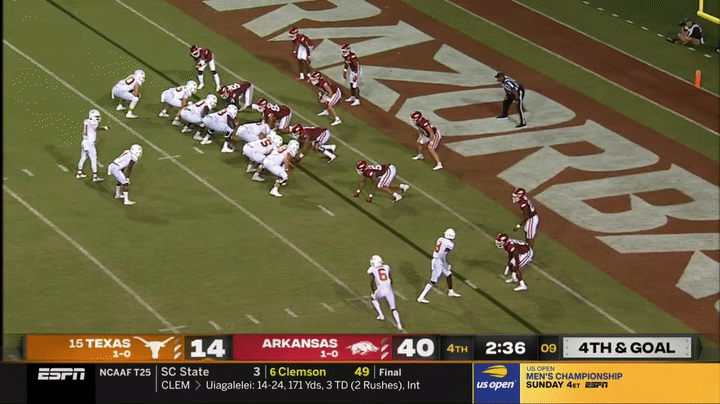 Texas was stopped on its first three goal-to-go attempts, and a fourth down stuff by the Razorback defense would have added to the Longhorn suffering on the evening.
Sarkisian calls a pass play with Moore motioning across the formation. The protection on the left side fails, and Thompson is flushed to his right.
Robinson blocks two players, taking away two of the defenders trying to pursue Thompson. He cuts upfield and runs through contact to reach the end zone for Texas' third score.
Thompson's final line: 5-of-8 for 57 yards, 7 rushes for 44 yards and two touchdowns.
Discuss this story and other topics on Inside Texas Members Only