Hartzell, Del Conte remain confident in the future of Texas football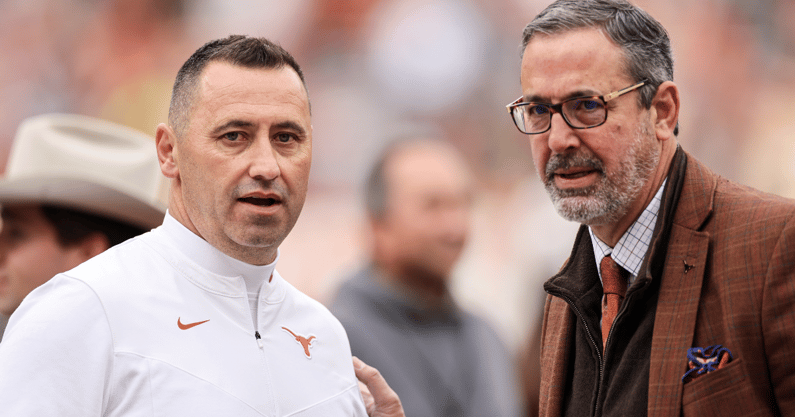 Texas' athletic department won Directors' Cup in 2021, signifying it was tops in Division I for the 2020-21 academic year. The Longhorns are in strong contention to win the award again with no thanks to the football program.
[Get a FREE 7-day trial of Inside Texas Plus!]
Texas' 5-7 record and lack of a postseason appearance in 2021 hampers efforts to repeat as Directors' Cup champions in 2021-22. More importantly, it was a dismal showing by the athletic department's most important venture.
Even with the program's fifth sub .500 season since playing for a national championship in 2009, hopes are high for Steve Sarkisian's football program both in the Tower…
"You always want to be great across the board," UT president Jay Hartzell said Thursday. "The coaching change we made almost a year and a half ago was recognition of that. It's a process, and there are a lot of indicators beyond just a binary win-loss record or outcome of a game you can look at. I really am excited about where we're headed."
… and in Bellmont.
"I'm really confident about what Steve is building," Texas vice president and athletic director Chris Del Conte said Thursday. "We've had a lot of transition. Remember, if you go back and look at those recruiting classes of '17, '18, and '19, we lost 35 guys off those teams. Steve at one point in time had 54 guys on scholarship this year, maybe 64. Think about who we had in terms of top recruiting classes who came and left, then we got hit by injury. I don't know the exact number, but whatever the returning (number) was plus all the new kids, it was a really low number."
Del Conte continued: "The thing about it is we knew where we were deficient but offensively, we were in games, and we kind of went through it. I felt we could have won nine games last year and we didn't. As Steve said, last year, as much as it sucked, it exposed where we were weak at, and we've got to move forward in a different direction. That's good learning. I anticipate us being significantly better. So does he."
One of the areas Texas was weak was along the offensive line. In response, Texas signed seven offensive linemen in its 2022 class. Two of those seven, Kelvin Banks and Devon Campbell, were rated as five-star prospects according to the On3 Consensus. It's a class that Sarkisian touted often during the recent Texas Exes Texas Fight Tour.
That was just a small part of the roster overhaul undertaken by Sarkisian and his staff. Thirty-five players who were not on the roster last season are in summer workouts.
Developing freshmen offensive linemen takes time, but time isn't a luxury often afforded to UT football coaches. Del Conte understands that notion and seemingly agrees with it. He knows the football program must be better in 2022.
"I'm a lot more patient because I look at it and say here's our window," Del Conte said. "You all aren't patient, but we shouldn't be either. That's what Texas is all about. That's why you come here. Straight Bengay at all times, constant heat."
Sarkisian's 5-7 season assuredly put pressure on him to perform this year, but his higher-up and his higher-up's higher-up believe there will be progress made in the win column.