Heisman Hopeful? Bijan Robinson isn't even thinking about it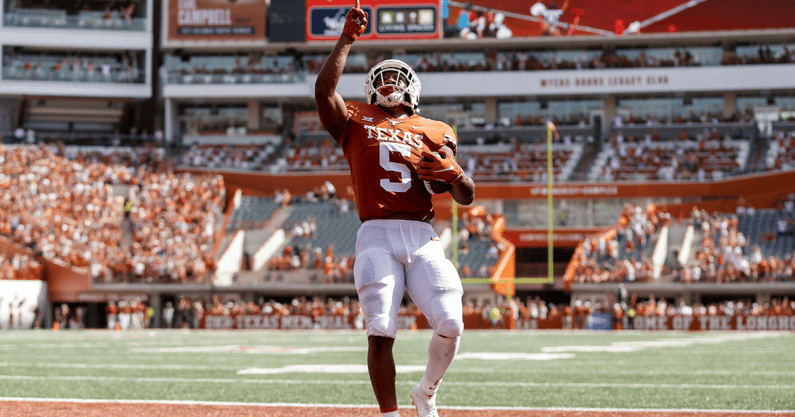 The Texas Longhorns have two Heisman Trophy winners in school history, with Earl Campbell taking home the honor in 1977 and Ricky Williams striking the stiff-arm pose in 1998. There have been other Heisman hopefuls in burnt orange, including a handful of notable snubs, but Texas hasn't had someone be so much as a top-10 vote-getter since D'Onta Foreman in 2016.
[Get a 50% off an Inside Texas Plus subscription!]
Foreman finished eighth despite rushing for over 2000 yards, a consequence of being on a 5-7 team. UT hasn't really had anyone that fit into the category of Heisman hopeful until Bijan Robinson came along. After a solid debut season in 2020 and a fantastic 2021 that was shortened by injury, Robinson presents the Longhorns' best chance to join the company of the Darrell K Royal – Texas Memorial Stadium playing surface's namesakes.
Is that on his mind? Not at all.
"I don't really think about stuff like that," Robinson said on Thursday. "I really put that stuff in God's hands, but if that's God's plan for me, I'm all for it. I'm going to work extremely hard to get my team to a level of winning. All the awards and everything that comes with that (are) off of team success."
That sentiment is similar to one Robinson offered at Big 12 Media Days almost a month ago. Despite having +2000 odds on Bovada, fourth-best behind Alabama's Bryce Young, Ohio State's CJ Stroud, and USC's Caleb Williams, Robinson, the Big 12 preseason offensive player of the year, has no focus on the prestigious honor.
Robinson will be featured in Texas head coach Steve Sarkisian's offense. He averaged over 20 touches per game in 2021, including a 37-touch game versus TCU where he essentially carried Texas to a win in Fort Worth. That usage trails behind Campbell's 25 touch-per-game average in 1977 and Williams' whopping 35 touch-per-game mark in 1998, but it should still result in Robinson being a key component, if not the key component, of the Longhorn attack.
That includes being used in multiple ways, not just receiving handoffs.
"We're going to put me at receiver, slot, running back," Robinson said in July. "I'm trying to play every position that I can to help this team win on offense."
As Robinson mentioned, team success is a key component to winning the Heisman. The top two players in Heisman voting last year, Young and Stroud, were on teams that won at least ten games. Young's Crimson Tide won the SEC title and a College Football Playoff semifinal game. Stroud's Buckeyes won the Rose Bowl. Without good years from whoever is the starting quarterback, Xavier Worthy, Isaiah Neyor, the offensive line, and even the Longhorn defense, Robinson won't be making an early December trip to New York City.
The O-line in particular will have a significant say in Robinson's Heisman chances. Even though Robinson was the first Longhorn rusher since Foreman to eclipse the 1000-yard mark, the O-line had plenty of struggles last year. Ahead of this season, offensive line coach Kyle Flood has to replace mainstay Derek Kerstetter and several other seniors who exhausted their eligibility.
There are seven talented freshmen now on the roster who are pushing incumbent starters like Christian Jones, Jake Majors, and Junior Angilau at various positions. Whether those freshmen crack the lineup or the old heads keep their spots, Robinson has seen across the board improvement from all of the players paving a way for him.
"They've been working extremely hard on different things, on how to make the run game that much better, setting up holes, setting up angles," Robinson said Thursday. "I see a lot of angles that are setting up to create open space. Even just in these two practices, I know they're not in pads yet, but I've seen so much improvement on the offensive line."
Robinson believes individual awards come from a team effort, and he's undoubtedly correct. Just ask Foreman, who despite rushing for the second-most yards in a season in school history couldn't land an invite to Manhattan.
The O-line improving will help Robinson's already stellar game. Will it be enough to put him in contention to win the third Heisman in school history? There are 12 games, maybe more, that will determine that. Those games are where Robinson has his focus though, as opposed to any individual honors.