How Gary Patterson ended up at Texas, where he's been 'an awesome addition'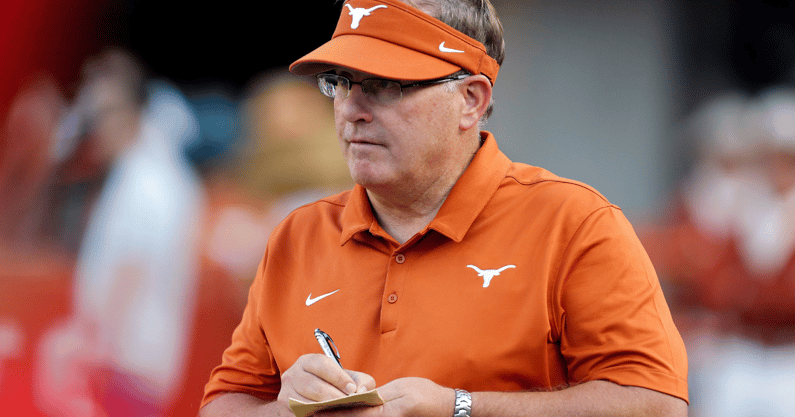 Gary Patterson and TCU parted ways on October 31, 2021. The longtime head coach of the Horned Frogs who had been a thorn in the Texas Longhorns' side for much of TCU's time in the Big 12 would no longer roam the sidelines at Amon G. Carter Stadium. He would no longer be able to "beat better with less" while wearing TCU purple and white, as he said in the midst of a 50-7 win over Texas in 2015.
[Get a FREE 7-day trial of Inside Texas Plus!]
He didn't want to completely give up coaching for music, and after a few talks with Texas head coach Steve Sarkisian, Patterson decided he wanted to assist a program he had been successful in defeating for over a decade.
Patterson was officially announced as a special assistant to the head coach on January 21, a role where he serves as another set of eyes and a sounding board for Sarkisian and other members of his staff.
"He's been a tremendous addition," Sarkisian said in Dallas on May 11. "He's got really good rapport in the building and with our players as a natural guy that people like to connect to and talk to. I couldn't be more pleased with the addition of Gary."
An addition like Patterson harkens back to Sarkisian's time spent at Alabama. Crimson Tide head coach Nick Saban has long made use of former head coaches as analysts or quality control coaches within his football program. Sarkisian was once one himself before returning to Tuscaloosa as offensive coordinator. Even Charlie Strong was a Saban analyst after his dismissal from Texas.
It's a move Texas made in the past as well. Several former head coaches were analysts for Tom Herman, including one-time Texas State head coach Everett Withers and former North Carolina head coach Larry Fedora.
To add the former TCU head coach seemed like a no-brainer, especially with his former boss, Texas athletic director Chris Del Conte, in Austin. But as Del Conte claimed last week, he had little to do with it.
"When he came to me and said 'do you think Gary would be interested in coming here,' I said 'talk to him,'" Del Conte said June 2 in Irving. "'It won't be me involved. You need to do that.'"
So what did Sarkisian do?
"I went to Fort Worth and I ripped the purple shirt off the guy that hikes his shorts up all the time, and I hired Gary Patterson from TCU," Sarkisian said at the Touchdown Club of Houston on May 18.
According to Del Conte, Sarkisian and Patterson were in discussions for over a month before the two decided on an off-field role. The Texas athletic director likened Patterson's addition to when Sonny Dykes, then just fired by Cal, joined Patterson's TCU staff as an offensive analyst in 2017.
In any case, the addition of a former head coach has been a help for Sarkisian in multiple ways. Sarkisian mentioned during various speaking engagements that head coaches take a different view of a roster compared to position coaches, who utilize a micro viewpoint as opposed to a macro one. Those viewpoints help Sarkisian, who returned to the head coaching ranks last year for the first time in six seasons.
Plus, after adding two young assistant coaches in Brennan Marion and Tashard Choice to replace experienced instructors Andre Coleman and Stan Drayton, Sarkisian wanted a veteran eye to help him and his younger staff's efforts to rebound from a 5-7 season.
"I want to make sure I have people on our staff that, if we're going to be younger, I need a set a set of eyes that are an expert at what they do," Sarkisian said.
Patterson is limited in how much coaching of individual players he can do by the NCAA. What he did on a day-to-day basis coordinating the Horned Frog program in Fort Worth for over 20 years isn't what he'll be doing in Austin. His ability to interact recruits will be much more limited. His gameday responsibilities won't look anything like what they were as a head coach, as evidenced during the Texas spring game when he was spotted roaming the end zones with a small notebook in hand and no headset on.
He's in Austin to be a special assistant and offer his 40 years of experience in college football for whatever Sarkisian needs. His $150,000 per year salary is steep by off-field coach standards. For Sarkisian, it's worth every penny.
"He's been an awesome addition," Sarkisian said. "I love Gary."