How the Longhorns fared recruiting On3's top 2023 prospects in Texas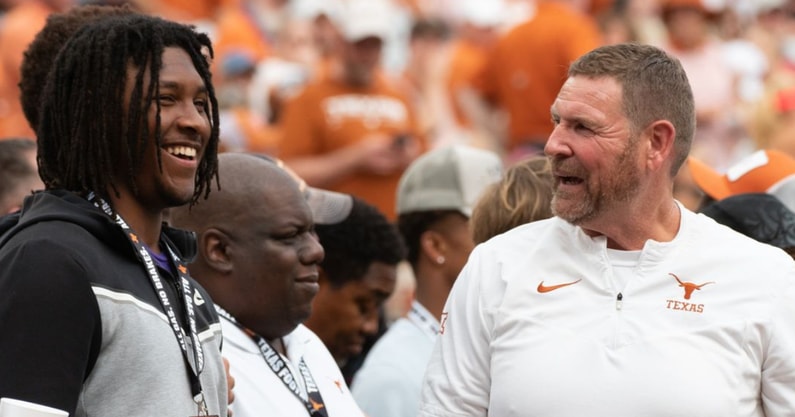 The February addition of 2023 Red Oak (Texas) safety Warren Roberson puts a bow on the Texas Longhorns' in-state signing class. While Steve Sarkisian and company might not be finished with this cycle considering the continued pursuit of Phoenix (Ariz.) Pinnacle five-star tight end Duce Robinson, the Longhorns coaching staff is through with recruiting current high school seniors from the state of Texas.
[Get Inside Texas Plus until the start of the 2023 season for $29.99!]
As it stands, Texas has the No. 3 recruiting class in the nation behind only the Georgia Bulldogs at No. 2 and the Alabama Crimson Tide at No. 1. Both of those SEC programs have well-established footprints in the southeast in addition to their nationwide reach. And while both try to pilfer Texas from time to time, it's not where they make their hay.
The opposite is true for Texas. Recruiting and keeping the best Texas high school football talent inside state lines is key for the UT program. So how did Texas fare in that regard in 2023?
First, a couple of caveats are worth mentioning. The Longhorns didn't end up signing the No. 1 quarterback or running back in Texas per On3's internal rankings. However, the two players Texas signed at those positions were ranked higher than the No. 1 products in Texas. New Orleans (La.) Isidore Newman quarterback and Five-Star Plus+ prospect Arch Manning was the No. 2 quarterback in the On300, one spot ahead of Denton (Texas) Guyer quarterback, Five-Star Plus+ prospect, and Oklahoma early enrollee Jackson Arnold.
At running back, Texas nabbed Orlando (Fla.) Edgewater running back and five-star prospect Cedric Baxter. He's the No. 1 running back in the nation per On3, one spot ahead of El Campo (Texas) tailback and Texas A&M enrollee Rueben Owens in the running back position rankings.
Now, to the in-state landscape.
Texas only signed one top-10 prospect in Texas according to the On300 in Waco (Texas) Connally LB/ATH Jelani McDonald. A late add to the class, Texas beat TCU and Oklahoma State for the super-versatile McDonald's signature.
At various stages, Texas was involved in the recruitments of Peyton Bowen, David Hicks, Rueben Owens, Braylan Shelby, Cordale Russell, and Jalen Hale — all ranked as top-10 prospects in-state.
Though Texas didn't sign but one top-ten player, the Horns did particularly well inside state lines. Thirty-five prospects from the Lone Star State were ranked as one of the top 200 players in the nation, and 63 were ranked as On3 four-stars or better.
[Sign up NOW for the Inside Texas newsletter for Texas Longhorns daily updates and breaking news in your inbox!]
Of the 35 top-200 players from Texas, the Longhorns inked 11: Jelani McDonald, Johntay Cook, Anthony Hill, Malik Muhammad, Derion Gullette, Colton Vasek, Ryan Niblett, Jaydon Chatman, Warren Roberson, S'Maje Burrell, and Trevor Goosby.
From that group of 35, Oklahoma signed three, Alabama signed two, Texas A&M signed four, USC signed one, TCU signed four, Arkansas signed one, LSU signed two, Notre Dame signed one, Ohio State signed one, Michigan signed one, Ole Miss signed one, and Oregon signed three.
No program signed more of the top players from Texas than Steve Sarkisian's program. Not even the combined total of any two programs reaches the double-digit number signed by Texas.
When looking ahead to the 2024 class, On3 has 40 Texas-based prospects ranked as top-200 players. The 2024 On300 is due another update in the month of February, and a re-assessment will be worthwhile.
Texas already has a commitment from one of the top 40 players in-state in Houston Clear Lake ATH Hunter Moddon. A cursory glance at the rankings indicates Texas is in contention for no fewer than half of the prospects in the top two-thirds of the On300 from within the state's borders.
Stacking successful in-state classes is key to success in Austin, and the Longhorns' 2023 class was a step in the right direction in that process.