Inside Texas Answers: 2021 Longhorn season predictions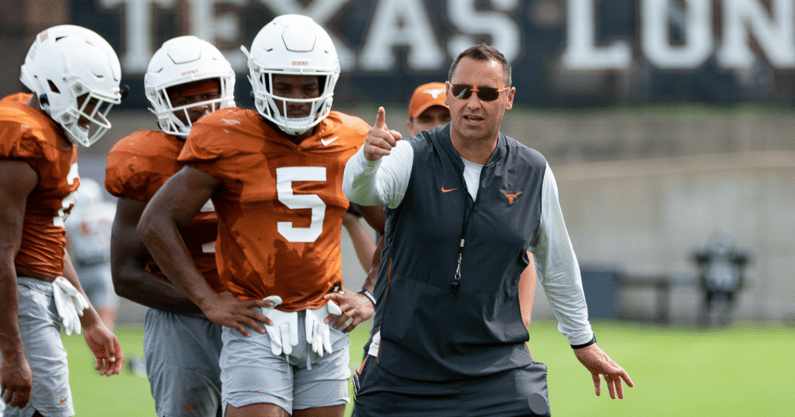 Inside Texas already offered predictions on the first play call and final result of Saturday's game versus the Louisiana Ragin' Cajuns. But what about predictions for the 2021 season? IT gives predictions for the 2021 Longhorn football record.
2021 Longhorn record prediction
Eric Nahlin – 10-2.  For the first time in a long time, I feel confident Texas will have the advantage on the headsets in most games it will play. That, along with a deep, experienced roster, are reasons for optimism heading into the season. The foundational pieces for a consistently solid offense are in place with Bijan Robinson serving as a force multiplier. The defense will go as far as the D-line and corners can take it, which should be pretty far in the Big 12.
Ian Boyd – I think 9-3. The non-conference looks a little less imposing on closer look and a 6-3 finish in Big 12 seems fairly modest. I've generally had this team pegged as being just a little short of appearing in the Big 12 Championship game. I think their floor is reasonably high though (7 wins) and they could win 10 if things break right.
Joe Cook – Everyone is thinking 8.5-3.5, I bet. So I'll round up in the win column and say 9-3. I don't see Texas faltering during the non-conference, and anticipate them going 6-3 in conference and winning No. 10 in the bowl. Then we'll see what this staff is really made of in November, December, and January. 
Justin Wells – 9-3. The Oklahoma and Iowa State games will be battles. Oklahoma State is tricky. TCU is TCU. Kansas State will be well-coached. I think I like Baylor's defense. Texas Tech still misses Mike Leach. If Texas goes 3-0 in non-conference, they'll have the confidence to make a legit run at the Big 12 Championship game.
Gerry Hamilton – 9-3, if the offensive line stays healthy and Hudson Card plays at a nine-win level. The schedule is difficult, even the anti-Big 12 fans have to admit. The Longhorns face some very well-coached teams this season, and the Longhorns aren't simply talented enough to win with a "B game." Having a full spring with the new staff is huge in the grand scheme of things after not getting those practices a year ago. This staff will place players in the best position to be successful, and the confidence from the players knowing it will propel to a good first season in Austin for Sarkisian. 
Hudson Standish – 9-3. Losses to Oklahoma, at TCU, and a shocker at WVU.
Bobby Burton – 8-4. While many rightfully expect offensive fireworks from Steve Sarkisian, the truth is the Longhorn defense should carry the season. The Horns are extremely deep on the DL and relatively so in the secondary. Those units help a team hold up over a long season. Expect an offense that will be a work in progress, likely with fits of both excellence and inconsistency. With Bijan Robinson as its focus, the offense will sometimes have to rely on the arm of Hudson Card when teams stack up against the run. Will he be up to the task? Sometimes yes. And sometimes no.
Paul Wadlington – 9-3. I wrote 45,000 words explaining why.  This team projects to have strong coordination on both sides of the ball. That should address some schematic and gameplanning deficits that limited upside during the Tom Herman regime. 
What are your predictions? Offer them on the Inside Texas Members board.