Inside Texas Answers: Louisiana game score, Sarkisian's first play call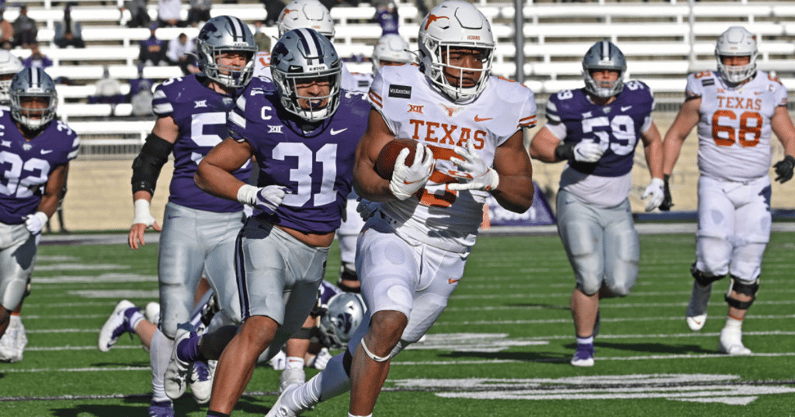 The Steve Sarkisian era of Texas Longhorn football kicks off at 3:30 p.m. this Saturday when the Louisiana Ragin' Cajuns arrive in Austin. The Inside Texas staff tries to gaze into the future to predict the final score of Game 1, plus Sarkisian's first offensive play call wearing burnt orange.
Texas vs. Louisiana score
Hudson Standish – 31-20, Texas. Second half offensive adjustments get the passing game going, which in turn opens up lanes for Bijan Robinson to carry the squad on his back.
Eric Nahlin – 27-13, Texas. I think it'll be one of those, 'not as close as the score indicates' games, but UT will play far from perfect on offense.
Joe Cook – 35-17, Texas. For all the recruiting consternation that has been justified in recent months, this staff still has a lot of good expertise on the headsets. Plus, the team is talented, and hasn't seen an exodus like some other places going through Year 1. Past performance doesn't indicate future results. Enjoy your Saturday.
Justin Wells – 28-16, Texas. The Horns could lean heavily on the backfield of Bijan Robinson and Roschon Johnson until the downfield passing game starts to materialize. UT's athleticism and defensive front should win it in the trenches against some scrappy Ragin' Cajuns.
Gerry Hamilton – 34-23, Texas. Coaching matters. Players believing in the coaching may matter more. Entering the season, Texas has the best of both worlds for the first time in more than a decade. Texas is more talented. Bijan Robinson is the best player in the game. With that said, the play of Christian Jones and Hudson Card will be huge for the Texas offense. After a slow start, the offense kicks it in gear in the second half. The defensive line must be a dominant force in this game. There is both a size and athleticism advantage. Excited players that have complete buy in, an excited fan base and a home field advantage will loom large. 
Paul Wadlington – 25-17, Texas. The Horns start slow and choppy on offense, but the defense holds the line. If Texas executes at a high level on offense, the Horns have a chance to run away with it. If they don't, it might get interesting. 
Ian Boyd – 31-13, Texas. I think the Longhorns play a clean enough game for their talent advantages to wear out the Cajuns.
Bobby Burton – 20-18, Texas. Sark's debut is messy. But the bones are there, especially on defense where big plays spark the win. 
Steve Sarkisian's first play call
Hudson Standish – 22 personnel. Fake outside zone with Bijan to the strong side sets up a screen with Keilan Robinson for a chunk play to start off the game.
Eric Nahlin – It's hard to say any run call to Bijan is applying brakes, but it isn't gas either. I'll go with play action bootleg as Card looks deep to Moore on the post first then TE second. 
Joe Cook – Outside zone… to the right.
Justin Wells – Handoff to Bijan off right tackle.
Gerry Hamilton – Simple. Outside zone for Bijan Robinson. Let your best player have the ball to start the season, and not place Card in position to make a play with his arm on the first snap.
Paul Wadlington – An outside zone run with Bijan.
Ian Boyd – Play-action shot from 12 personnel with Joshua Moore running a deep post
Bobby Burton – Bubble to Jordan Whittington or Xavier Worthy off of backfield motion.