Inside Texas - Texas Longhorns National Signing Day HQ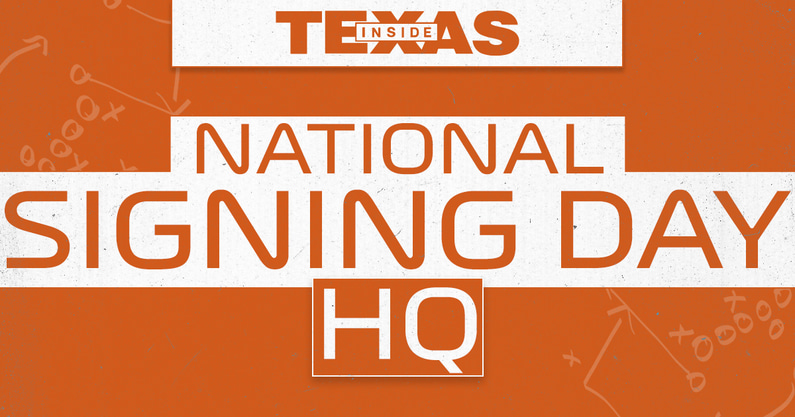 As his first national signing day as head coach of the Texas Longhorns program begins, Steve Sarkisian enters the day with a 2022 recruiting class ranked sixth in On3's rankings
[Subscribe to Inside Texas right now and get a 7-day FREE trial!]
Texas' class currently has 23 commits, with 15 calling the state of Texas home, plus transfer quarterback Quinn Ewers. We'll track signings, flips, decisions, and more on this page.
Track national recruiting storylines with On3's 2022 live blog.
Join the conversation on Inside Texas Members Only and stay up to date on the latest recruiting news with our Moderators Only update thread.
NSD decisions Inside Texas is watching
Denver Harris, CB, Houston (Texas) Galena Park North Shore
Time: NOT SIGNING ON WEDNESDAY
On3 Consensus ranking: No. 17
On3 Consensus ranking in Texas: No. 5
Finalists: Texas, Texas A&M, Alabama
Kam Dewberry, OL, Humble (Texas) Atascocita – SIGNED WITH TEXAS A&M
Time: 3 p.m. Central
On3 Consensus ranking: No. 64
On3 Consensus ranking in Texas: No. 12
Finalists: Texas, Texas A&M, Oklahoma
Armani Winfield, WR, Lewisville (Texas) – SIGNED WITH BAYLOR
Time: 4 p.m. Central
On3 Consensus ranking: No. 224
On3 Consensus ranking in Texas: No. 40
Finalists: Texas, Baylor
Larry Turner-Gooden, DB, Playa Del Rey (Calif.) Bishop Alemany
Time: SIGNING TOMORROW, ANNOUNCING JANUARY 8
On3 Consensus ranking: No. 244
On3 Consensus ranking in California: No. 20
Finalists:
Malik Agbo, OL, Federal Way (Wash.) Todd Beamer – SIGNED WITH TEXAS
Time: 4 p.m. Central on CBSSportsHQ
On3 Consensus ranking: No. 356
On3 Consensus ranking in Washington: No. 5
Finalists: Texas, Auburn, Miami, Oklahoma
Savion Red, ATH, Grand Prairie (Texas) – SIGNED WITH TEXAS
Time: 2 p.m. Central
On3 Consensus ranking: No. 1281
On3 Consensus ranking in Texas: No. 196
Finalists: SMU, Texas
Potential flips Inside Texas is watching
Evan Stewart, WR, Frisco (Texas) Liberty
(Texas A&M commit)
Time: N/A
On3 Consensus ranking: No. 4
On3 Consensus ranking in Texas: No. 2
Finalists: Texas, Texas A&M
Terrance Brooks, DB, Little Elm (Texas) – SIGNED WITH TEXAS
Time: 8:45 a.m. Central on Stadium
On3 Consensus ranking: No. 42
On3 Consensus ranking in Texas: No. 8
Finalists: Texas, Ohio State
Bryce Anderson, DB, Beaumont (Texas) West Brook – SIGNED WITH TEXAS A&M
Time: N/A
On3 Consensus ranking: No. 53
On3 Consensus ranking in Texas: No. 11
Finalists: Texas, Texas A&M
Ethan Burke, EDGE, Austin (Texas) Westlake – SIGNED WITH TEXAS
Time: 8:30 a.m. Central
On3 Consensus ranking: No. 538
On3 Consensus ranking in Texas: No. 81
Finalists: Texas, Michigan
Xavion Brice, DB, Arlington (Texas) Seguin – SIGNED WITH TEXAS
Time: 7 a.m. Central
On3 Consensus ranking: No. 685
On3 Consensus ranking in Texas: No. 100
Finalists: Oklahoma, Texas, Texas Tech
2022 Texas commits
Quinn Ewers, QB, Southlake (Texas) Carroll via Ohio State – SIGNED WITH TEXAS
On3 Consensus ranking (2021): No. 1
On3 Consensus ranking in Texas: No. 1
Highlights
Kelvin Banks, OT, Humble (Texas) Summer Creek – SIGNED WITH TEXAS
Time: Whenever he sends it in while on vacation in Cancun.
On3 Consensus ranking: No. 15
On3 Consensus ranking in Texas: No. 4
Highlights
Brenen Thompson, WR, Spearman (Texas) – SIGNED WITH TEXAS
Time: 11 a.m. Central
On3 Consensus ranking: No. 52
On3 Consensus ranking in Texas: No. 10
Highlights
Neto Umeozulu, OL, Allen (Texas) – SIGNED WITH TEXAS
Time: N/A
On3 Consensus ranking: No. 96
On3 Consensus ranking in Texas: No. 19
Highlights
Jaray Bledsoe, DL, Marlin (Texas) – SIGNED WITH TEXAS
Time: N/A
On3 Consensus ranking: No. 113
On3 Consensus ranking in Texas: No. 22
Highlights
Bryan Allen Jr., DB, Aledo (Texas) – SIGNED WITH TEXAS
Time: 8 a.m. Central
On3 Consensus ranking: No. 123
On3 Consensus ranking in Texas: No. 23
Highlights
J'mond Tapp, EDGE, Napoleonville (La.) Assumption – SIGNED WITH TEXAS
Time: N/A
On3 Consensus ranking: No. 144
On3 Consensus ranking in Louisiana: No. 11
Highlights
Jaylon Guilbeau, DB, Port Arthur (Texas) Memorial – SIGNED WITH TEXAS
Time: N/A
On3 Consensus ranking: No. 149
On3 Consensus ranking in Texas: No. 27
Highlights
Justice Finkley, DL, Trussville (Ala.) Hewitt-Trussville – SIGNED WITH TEXAS
Time: 2 p.m. Central
On3 Consensus ranking: No. 154
On3 Consensus ranking in Alabama: No. 6
Highlights
Jaydon Blue, RB, Houston (Texas) Klein Cain – SIGNED WITH TEXAS
Time: N/A
On3 Consensus ranking: No. 176
On3 Consensus ranking in Texas: No. 33
Highlights
Maalik Murphy, QB, Gardena (Calif.) Junipero Serra – SIGNED WITH TEXAS
Time: N/A
On3 Consensus ranking: No. 192
On3 Consensus ranking in California: No. 15
Highlights
Kristopher Ross, DL, Houston (Texas) North Shore – SIGNED WITH TEXAS
Time: 11 a.m. Central
On3 Consensus ranking: No. 196
On3 Consensus ranking in Texas: No. 136
Highlights
Austin Jordan, DB, Denton (Texas) Ryan – SIGNED WITH TEXAS
Time: N/A
On3 Consensus ranking: No. 233
On3 Consensus ranking in Texas: No. 41
Highlights
Aaron Bryant, DL, Southaven (Miss.) – SIGNED WITH TEXAS
Time: N/A
On3 Consensus ranking: No. 302
On3 Consensus ranking in Mississippi: No. 7
Highlights
Derrick Brown, EDGE, Texarkana (Texas) Texas High – SIGNED WITH TEXAS
Time: N/A
On3 Consensus ranking: No. 318
On3 Consensus ranking in Texas: No. 47
Highlights
Cameron Williams, OL, Duncanville (Texas) – SIGNED WITH TEXAS
Time: N/A
On3 Consensus ranking: No. 396
On3 Consensus ranking in Texas: No. 58
Highlights
Cole Hutson, OL, Frisco (Texas) – SIGNED WITH TEXAS
Time: 8 a.m. Central
On3 Consensus ranking: No. 407
On3 Consensus ranking in Texas: No. 60
Highlights
Trevell Johnson, LB, Arlington (Texas) Martin – SIGNED WITH TEXAS
Time: 10 a.m. Central
On3 Consensus ranking: No. 451
On3 Consensus ranking in Texas: No. 66
Highlights
Connor Robertson, OL, Austin (Texas) Westlake – SIGNED WITH TEXAS
Time: N/A
On3 Consensus ranking: No. 473
On3 Consensus ranking in Texas: No. 68
Highlights
Zac Swanson, DL, Phoenix (Ariz.) Brophy College Prep – SIGNED WITH TEXAS
Time: 2 p.m. Central
On3 Consensus ranking: No. 513
On3 Consensus ranking in Arizona: No. 6
Highlights
Anthony Jones, ATH, Las Vega (Nev.) Liberty – FLIPPED TO OREGON
Time: N/A
On3 Consensus ranking: No. 562
On3 Consensus ranking in Nevada: No. 9
Highlights
Ronald Lewis, DB, New Orleans (La.) Warren Easton
Time: SIGNING DELAYED UNTIL FEBRUARY
On3 Consensus ranking: No. 901
On3 Consensus ranking in Louisiana: No. 39
Highlights
Will Stone, K, Austin (Texas) Regents School – SIGNED WITH TEXAS
Time: N/A
On3 Consensus ranking: No. 1791
On3 Consensus ranking in Texas: No. 248
Highlights
Lance St. Louis, LS, Gilbert (Ariz.) Williams Field – SIGNED WITH TEXAS
Time: N/A
On3 Consensus ranking: No. 1837
On3 Consensus ranking in Arizona: No. 35
Highlights