Inside Texas Today: How did Longhorn newcomers fare in day one?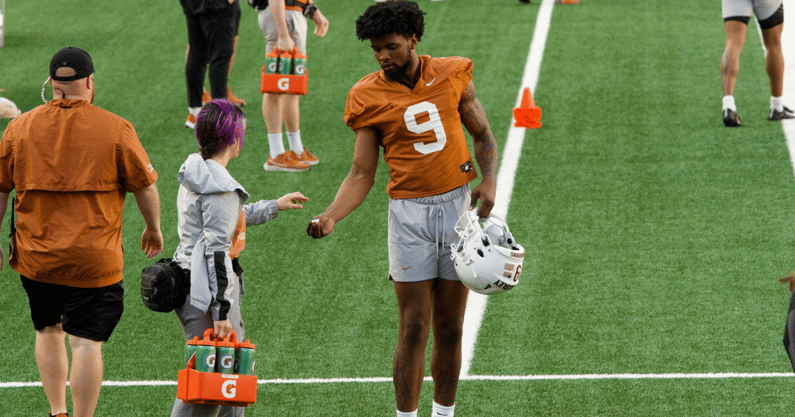 Welcome to Inside Texas Today! Each weekday morning, Inside Texas Today will provide the latest news and notes from around the Forty Acres, including notable events, player honors, and where to watch Texas Longhorns sports that day.
Here's the Wednesday, March 23, 2022 edition.
[Get four months of Inside Texas Plus for just $1]
Newcomers get their first taste of Texas football
During the winter, Texas head coach Steve Sarkisian mentioned how over 30 new players could join his roster between the end of the 2021 season and the beginning of the 2022 season. While that number may have seemed a bit shocking, it made a lot of sense. Between a high school class of 28 signees and four transfers, 32 new players will join the Longhorns in the coming months.
Fourteen of those players are already on campus. The four transfers — Quinn Ewers, Jahleel Billingsley, Isaiah Neyor, and Ryan Watts — enrolled in January. Ten signees — Terrance Brooks, BJ Allen, Justice Finkley, Jaray Bledsoe, Jaylon Guilbeau, Jaydon Blue, Maalik Murphy, Aaron Bryant, Larry Turner-Gooden, and Cole Hutson — did the same.
So how did day one of spring practices go for that group?
"It's a lot of guys to try to assess them all just from looking at it live, I don't get to hit the rewind button out there on the field," Sarkisian said Tuesday. "I thought Jahleel was really natural, comfortable for him. Obviously, systematically, it was a good fit for him."
"I thought Isaiah looked comfortable at wideout. Was good to get Blue out there playing football again. He hasn't played football in over a year, so I thought that was good for him."
"It's hard to tell with Cole Hutson at the line of scrimmage, or Jaray Bledsoe and Aaron Bryant. Those guys are tough to tell, you've got to look at the tape on that."
"I thought Terrance Brooks had a good day. Ryan Watts had a good day. Larry and BJ, I think in the back end — again looking at the tape, I don't know at all exactly were they seeing the right keys and were their eyes in the right spots. We'll have to assess that."
"I though Guilbeau looked good. I thought he settled down. He was pretty excited early on."
"All in all, for those guys' first practice, new routine, new practice structure — we try to get a lot done in two hours, so it's a lot of moving parts there that they'll only get more and more comfortable with as we move forward."
94th Clyde Littlefield Texas Relays set to begin
The Texas Relays are back in full-form this weekend, beginning today with the collegiate women's heptathlon and collegiate men's decathalon. Wednesday's events will be broadcast on tape delay on Longhorn Network.
The event will include high school, University and professional athletes from across the country.
Heat sheets for day one can be found here.
Texas viewing for 3/23
No. 1 men's swimming and diving – NCAA Championships – McAuley Aquatic Center – Atlanta, Ga. – 5 p.m. – Inside Texas official thread – ESPN3
No. 16 softball – at Texas State – Bobcat Softball Stadium – San Marcos, Texas – 6 p.m. – ESPN+