Inside Texas Today: How low spring O-line numbers affect practice, baseball injury notes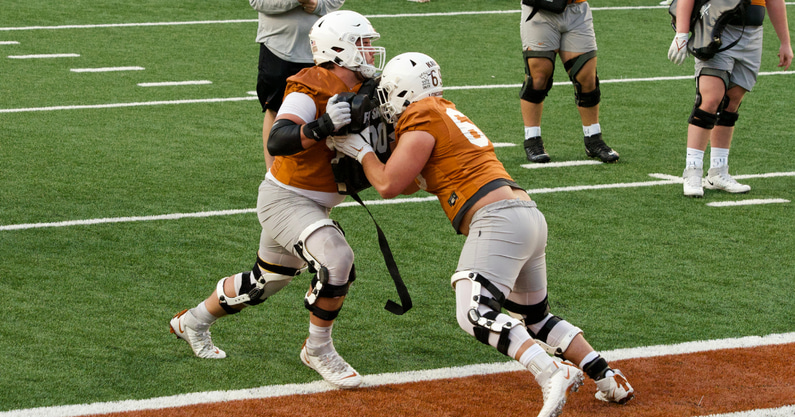 Welcome to Inside Texas Today! Each weekday morning, Inside Texas Today will provide the latest news and notes from around the Forty Acres, including notable events, analysis, and where to watch Texas Longhorns sports that day.
Here's the Friday, March 25, 2022 edition.
[Get four months of Inside Texas Plus for just $1]
Sarkisian "had to adjust some" for O-line drills
Texas head coach Steve Sarkisian and offensive coordinator Kyle Flood brought in a plethora of "big humans" in the class of 2022 to play offensive line for the Texas Longhorns. Humble (Texas) Summer Creek offensive tackle Kelvin Banks and Arlington (Texas) Bowie offensive guard Devon Campbell headlined a seven-man class with an average On3 prospect score of 92.7.
But only one of those seven, Cole Hutson, enrolled early. Texas didn't make any offseason additions via the transfer portal, and in fact lost one in Rafiti Ghirmai. Tope Imade, Derek Kerstetter, and Denzel Okafor all exhausted their eligibility.
As a result? There are only 13 offensive linemen listed on the roster. Hutson, Sawyer Goram-Welch, Jake Majors, Andrej Karic, Christian Jones, Logan Parr, Isaiah Hookfin, Junior Angilau, Hayden Conner, Jaylen Garth, and Max Merril are on scholarship.
But Goram-Welch is a converted defensive lineman, and Hookfin is out for the spring following a December motorcycle accident.
Non-scholarship options? Michael Balis and Chad Wolf.
Considering the number crunch at the position until six other "big humans" complete their senior year, Sarkisian said Tuesday they've had to modify practice plans.
"Generally in spring practice, when we do a lot of our team stuff, we like to two-spot so that everybody's getting reps," Sarkisian said Tuesday. "We're just not able to do that right now with the number at the line position."
Two-spot is analogous to cross-training at multiple positions. So for Flood, this spring the tackle candidates are primarily repping at tackle at this juncture, and the interior offensive linemen only on the interior.
Low numbers doesn't mean low quality, though, at least after Tuesday's practice.
"That affects us some in the style of practice that we want to have, but that's okay," Sarkisian said. "We got really quality work today, but we definitely had to adjust based off the numbers there."
Baseball injury notes
Texas begins Big 12 conference play in Lubbock this weekend with a matchup versus the Texas Tech Red Raiders. On Wednesday, Longhorns head coach was asked about Tanner Witt and Austin Todd, two Longhorns with significant injuries.
Witt, who the program recently announced had a UCL injury that required Tommy John surgery, hasn't been seen in the typical bulky, post-surgery brace. Inside Texas asked Pierce when the procedure is set to take place.
"Original surgery is March 28," Pierce said Wednesday. "We tried to push it earlier, but I think it's still set for March 28."
With the length of time it takes to rehab Tommy John, it's unclear how soon he'll be able to throw another pitch in burnt orange.
The update regarding Todd was more positive. Pierce said Todd has hit without pain off the tee and in soft toss, and is progressing much quicker than they thought.
Throwing may not be an option for Todd this season, but his bat could find a place in the Longhorn lineup.
"I don't know if we'll ever see him back in the outfield really cutting it loose, but who knows?" Pierce said. "I know he's going to go through his rehab, and (assistant athletic trainer) Tom (Mendez) and he are doing a really nice job of going through it, trying to expedite it, and get his bat going first. Not going to say he won't, but the odds of him really cutting it loose and playing right field, it's going to be tough right now. We'll see."
First pitch in Lubbock on Friday is at 6:30 p.m.
Texas viewing for 3/25
No. 12 women's golf – Liz Murphey College Classic – University of Georgia Golf Course – Athens, Ga. – Live stats
No. 1 men's swimming and diving – NCAA Championships – McAuley Aquatic Center – Atlanta, Ga. – 9 a.m./5 p.m. – Inside Texas official thread – ESPN3
No. 6 women's tennis – at No. 11 Oklahoma State – Greenwood Tennis Center – Stillwater, Okla. – 5 p.m. – Live video
No. 16 softball – at Kansas – Arrocha Ballpark – Lawrence, Kan. – 6 p.m.
No. 2 women's basketball – No. 6 Ohio State – NCAA tournament Sweet 16 – Spokane Veterans Memorial Arena – Spokane, Wash. – 6:00 p.m. – ESPN2
No. 2 baseball – at No. 16 Texas Tech – Rip Griffin Park – Lubbock, Texas – 6:30 p.m. – ESPN+