Inside the gameplan: Longhorns in the Texas 6A State Finals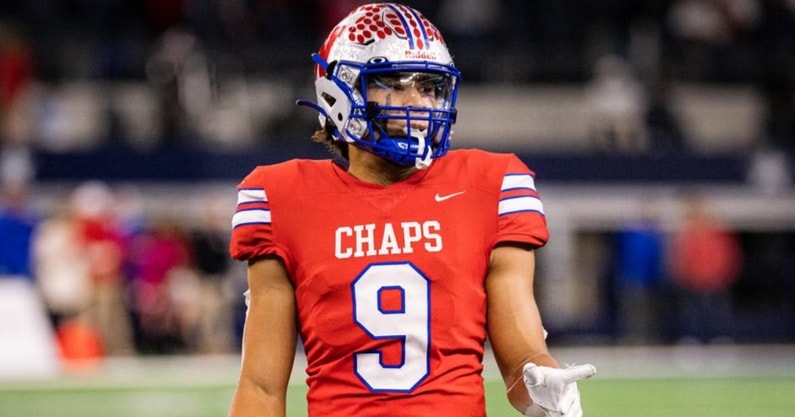 The Texas State Championships are one of the more enjoyable football events at any level of the game. It's hard to beat the passion and stakes as local communities get a small taste of the gridiron glory they watch in Cowboys' stadium on Sundays. You get intense play, wild emotional swings, and then there are always the stars of tomorrow on the field.
There were a number of signed Longhorns involved in the 6A Championships between Duncanville and North Shore and Westlake and Denton Guyer.
In the Division 1 matchup between Duncanville and North Shore, signed Texas offensive tackle Cameron Williams and defensive tackle Kristopher-Ryan Ross squared off while Westlake vs Denton Guyer included Texas offensive guard Connor Robertson and defensive end Ethan Burke from Westlake along with 2023 target Jaden Greathouse.
There were other prominent recruits playing as well of course. Guyer has a number of Power 5 signees while North Shore had 5-star cornerback Denver Harris, Duncanville had 4-star defensive end Omari Abor, and Westlake was quarterbacked by now 5-star ranked Cade Klubnik.
I've always believed the best way to get a sense of who these players really are is to watch how they fit into their team's concept in full games. Here's what could be gleaned from doing so for these players.
Duncanville vs North Shore
This was the third part in a trilogy of Duncanville vs North Shore battles, interrupted in 2020 by Southlake Carroll and Westlake. Unlike your typical fight trilogy, this has been a clean sweep. North Shore edged out Ja'Quinden Jackson in 2018 on a last minute Hail Mary by sophomore Dematrius Davis with time expiring. In 2019 Jackson tore his knee in the semifinal and the D-Vile Panthers missed out on a chance for revenge when they had to start a freshman quarterback in his place.
This looked like a great year for Coach Reginald Samples and the Panthers to finally overthrow the Mustangs' rule.
North Shore had a clearly strong, veteran offensive line but without a Power 5 star among them and then freshman quarterback Kaleb Bailey at the helm. Duncanville had seniors Jaylen Early (Ohio State) and Cameron Williams (Texas) at tackle, seniors Omari Abor and Quincy Wright (Arkansas) on the D-line, and seniors Solomon James (quarterback) and Malachi Medlock (running back) in the offensive backfield.
However freshman Kaleb Bailey out-played his senior counterpart. He was 10-13 passing, including a deep post to David Amador for a touchdown which made the game 17-10. He threw for 107 yards at 8.2 ypa with two touchdown passes and zero picks to go along with 54 rushing yards at 3.9 ypc (including three sacks).
On Duncanville's drive after the long touchdown pass, James was picked while under pressure trying to respond. The Duncanville passing game offered them next to nothing in this game. They had 191 yards of total offense on the day against North Shore's aggressive press-quarters scheme and 112 of those were from running back Malachi Medlock, seen below running outside zone behind Williams.
James was 10-18 on the day for 74 yards at 4.1 ypa with zero touchdowns and the late pick along with three rushing yards (sacked three times and had nine other carries).
The disparity there was essentially the game, although Duncanville threw in consecutive bad penalties on punts late in the game to help ice it for North Shore. Here's how North Shore often lined up in their scheme: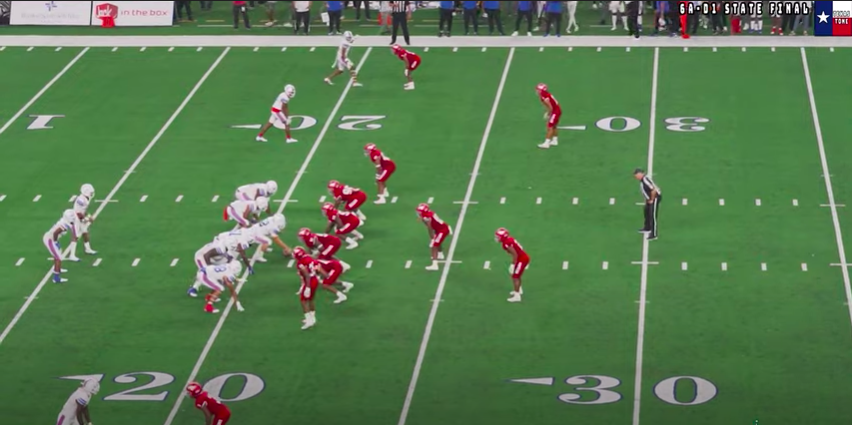 The outside linebackers are on the edge boxing everything in, the safeties are just six yards deep, and the cornerbacks are in press-man. You're not making headway unless you can run on an eight-man front or can beat them in coverage outside.
Future Longhorns Williams and Ross both had solid days but neither could control the game. Ross helped bottle up the interior Duncanville run game while runs behind Williams made up the majority of Duncanville's offense.
Currently 6-foot-3, 280 pounds, Ross looks like a future nose tackle with a solid first step and then a ton of power and motor for battling double teams and constricting interior rush lanes. As a pass-rusher he can push the pocket some but he won't be confused with Aaron Donald. Williams at 6-foot-5 and 350+ pounds is good at leaning on defenders in the run game but isn't particularly explosive there. He's shockingly nimble in pass protection and could consequently play sooner than later in college at tackle despite the concerns about his conditioning.
This game mostly came down to North Shore having veterans in the trenches who could hold their own against Duncanville's massive and talented lines combined with the Mustangs having good quarterback play and some pass game production whereas the Panthers did not.
The next time Duncanville takes on their bitter rival from H-town while fielding the better quarterback will be the first time.
Westlake vs Denton Guyer
Westlake's three-peat run has ended with showdowns against Denton Guyer on two of the three occasions. The non-Guyer matchup was sandwiched in between their battles with the Wildcats in 2020 and featured them upsetting the normal balance of power in the Division 1 bracket by defeating North Shore in the semifinal to prevent a three-peat (four-peat now) by the Mustangs and then taking down Southlake Carroll in the final.
In the 2019 battle with Guyer, the Denton squad lost their starting quarterback Eli Stowers early in the game and Westlake shut them down. This time, Guyer had quarterback Jackson Arnold and leaned on him heavily throughout the contest.
The 4-star 2023 prospect looks bigger than his 6-foot-1, 187 pound listing and needed all of his size to grit out a game in which he had 32 rushing "attempts" and 27 passing attempts. Here's how his numbers shook out:
23 carries for 56 rushing yards at 2.4 ypc, two rushing touchdowns.
18-27 passing for 183 yards at 6.8 ypa with one touchdown and zero interceptions.
Nine sacks for -39 yards.
He's similar to Sam Ehlinger with a quick release and strong arm to go along with a thick frame and more than enough quickness to put it to use in the run game.
Those numbers really tell the story of the whole game. Guyer's offense all year was heavily reliant on Arnold, who distributed to a strong receiver group while also getting regular action in their power run game on direct snap runs. Neither option was efficient enough for the Wildcats in this game and Westlake dominated the game off-tackle where their pair of 6-foot-6, 230 pound ends Burke and Colton Vasek (2023) were stationed.
Colton Vasek won defensive MVP but it was his pairing with Burke and Westlake's zone coverages which allowed the Chapparals to limit the Guyer offense. Burke and Vasek both tend to somewhat follow normal 4-down rules for defensive ends against power-option football, but both had a tendency to be ultra-aggressive. Burke, for instance, would often have a 3-technique tackle inside of him and would get to "box" plays inside and set a hard edge. He often took advantage of that already fairly upfield assignment to try and go wide and around before diving and using his length to try and trip ballcarriers as they ran inside of his long, arcing path.
Westlake's safeties, often deployed in inside robber alignments, would correct his over-aggression by filling downhill and cleaning up plays when he got too far upfield. At other times, he'd do the defensive backfield a favor by diving inside to the interior gaps (his timing is impeccable) while they came off the edges on the blitz. The Chaps' weak safety Will Courtney and linebackers Jacob Leopold and Byers Petty combined for five of the team's nine sacks while Burke added two more, defensive tackle Nate Weyand one, and Vasek three.
They've often been a Tampa 2 team under defensive coordinator Tony Salazar while also mixing in some robber coverages. Here's a couple of snaps in Tampa 2 with Burke doing his thing as the left defensive end.
Between the two clips you have a good illustration of why this game was so hard for the Wildcat offense. The first clip is a 6-yard gain on a downhill, quarterback power run against Tampa 2 with the Mike linebacker (#46 Byer Petty) back-pedaling at the snap.
If you are using the quarterback as a battering ram between the tackles on a 5.5 man box (the half-man is cornerback Denim Collins #24 joining late on bottom) and six-yards is the result, you're not making much of a profit. Clip two demonstrates the ultimate futility of it all. Picking up six yards only when heavily involving the quarterback means you're having to sustain long drives. If you're having to hold the ball on long drives you need to be able to protect and convert third downs, but on clip two they not only fail to protect Arnold but yield a turnover when he's stripped by Burke.
Guyer was doomed.
Westlake had a very disciplined defensive backfield but it was the domination of Burke and Vasek which made their defense work. They could set the edges when defensive coordinator Tony Salazar called Tampa 2, shoot inside when he called blitzes, and rush the passer on third down whether they called blitzes or not.
On the other side of the ball, Texas' other commit Connor Robertson was also heavily involved. Westlake has a power run game with a few varieties of inside zone and counter but perhaps their favorite play was to pull senior right guard Michael McKelvey over to the left side where seniors Robertson and Bray Lynch would routinely open up holes.
Robertson is pretty good on the move but at this level is an absolute mauler who can turn shoulders and cave in fronts with angle or inside zone blocking.
Ultimately Westlake clinched the game on a six play sequence. They took the lead coming out of the half only to relinquish it and get down 21-20 for their second possession of the third quarter. This possession ended with a 53-yard field goal attempt, which they remarkably converted to retake the lead 23-21. Guyer took over and ran power at Vasek but were stopped from behind by a missed defensive tackle. Then Vasek sacked Arnold on a tackle-end stunt and Guyer threw a check down on third and long before punting for field position.
The next Westlake snap on their own 30 saw Klubnik find Jaden Greathouse facing 1-on-1 coverage and leading him behind the Guyer defense for a 70-yard scoring strike. The corner tried to tackle him from behind but fell off Greathouse's thick lower body. The game was essentially over from this point.
Greathouse had seven catches on the day for 236 yards and three touchdowns to dominate the day and ultimately create a 40-21 margin in what once looked like a defensive struggle. He was one of the more intriguing prospects coming out of the game.
This pass went about 50 yards in the air and lead Greathouse perfectly, marking some of the promise with Klubnik, but what was fascinating was how Greathouse routinely pulled away from Duncanville's defensive backs.
He opened the game against the 6-foot-1, 175 pound 4-star Ryan Yaites, but after beating him deep a few times drew sophomore Eli Bowen (LSU offer) only to beat him deep as well. Greathouse is listed at 6-foot-2, 219 pounds and is every bit of it (perhaps heavier) yet has some breakaway speed out on the edge.
From looking at him you'd have him pegged as a flex tight end/H-back and that's still his most likely designation, but at the very least he might be fast enough to regularly flex outside like a Kyle Pitts and generate grievous matchup problems for defenses who don't have safeties fast enough to run with him nor corners big enough to tackle him.
Klubnik is an interesting prospect but has a similar profile as he did as a junior. There's no questioning he has some plus speed (they regularly run inverted power-option schemes where he has to win the edge after executing a mesh) and he showed off some arm in this game. Westlake is rarely pressured though and he was relatively untested this year. In this very game the few times Klubnik was pressured generated some iffy decisions, including an interception on his own side of the field.
Going into this game, Westlake was rolling through the high school level because of their size. Their offensive line is massive with three Power 5 prospects, their defensive line is big with the two 6-foot-6 ends, and their receiving corps was also large with Greathouse, fellow 6-foot-3 outside target Keaton Kubecka, and 6-foot-1 tight end Bryce Chambers. However, it was Greathouse's pure speed which ultimately crushed Guyer's own athlete-rich defense and punished them for trying to load the box from a flyover defense to account for the Westlake power run game.
The Texas high school teams at this level are loaded, sometimes boasting more blue chip starters than a non-Texas/Oklahoma Big 12 depth chart. Texas' incoming big bodies from these squads were among the cream of the crop. When combined with Quinn Ewers, who would have been the best quarterback at State had he been around to lead Southlake Carroll against Duncanville, it should offer an exceptional foundation for Longhorn teams.
Meanwhile at the 6A level, it'll be interesting to observe next season whether the departure of Todd Dodge from Westlake opens anything up.