Is the Big 12 "wide open" in 2022?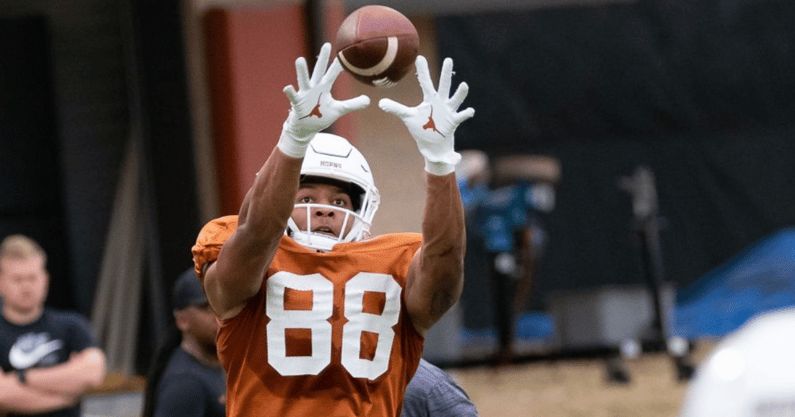 Bud Elliott, noted and successful college football gambling enthusiast, recently made some projections on the coming Big 12 season you can see below:
The implicit takeaway is the common perception the Big 12's top team (Oklahoma) has lost something with all those transfers and coaches leaving and are close to falling into a massive middle class within the league. He's got eight of the 10 teams within two total wins of each other with only one outlier in the entire group, Kansas.
Is that an accurate impression? Is Oklahoma the favorite? Is there a favorite in the Big 12?
Here's a few win totals which stood out to me.
Oklahoma at nine wins
It's hard for most people to imagine Oklahoma winning less than nine games, partly because the schedule doesn't set up to be terribly difficult for them, partly because you look at their roster and it's still loaded with former blue chip recruits.
Here's something though, what happens if Dillon Gabriel is injured? Right now what it would almost definitely mean is that Oklahoma would collapse. I'm sure they'll aim to keep him safe and upright to the best of their abilities, but there are a number of potential scenarios where this one injury means OU could lose to anyone in the Big 12.
Then there's Brent Venables and the defense. No one will be shocked if Oklahoma plays solid defense next year BUT they are losing all of the good players from the 2021 defense save for Jalen Redmond. No one else who was relied on to produce in a significant way returns. When Brent Venables took over Clemson in 2012 he inherited a substantial number of returning contributors, including some very good defensive backs and D-linemen. What if this team needs a year before they play good defense?
To me, there are a lot of things which can go wrong for the Sooners and with first-year head coaches Murphy's law can be pretty powerful. I don't think Bud totally disagrees and he's been vocal about his concerns on Oklahoma's behalf, but nine wins is still a pretty good result even if would make many a Sooner fan cringe.
Baylor at seven wins
Bud had a good insight on this one:
Additionally, there's this…
What happens when run heavy, defensively great Baylor is locked in a close game with another middle class Big 12 team and Gerry Bohanon or Blake Shapen drop back and Tyquan Thornton isn't racing open with his 4.2 speed?
Baylor avoided many two-minute drills or important late drives last season. Their big close game they won against Oklahoma State in the Big 12 title came down to Dave Aranda daring the Cowboys to repeatedly march down the field and convert in the red zone. They wanted little to do with trying to be in the same position themselves.
Against TCU when the Bears did need to try and orchestrate a winning drive in the fourth quarter, Bohanon threw picks.
Anyone remember when I insisted last year that Iowa State was a very good team who could keep games close and control opponents only for them to repeatedly lose close games? Here was their doom last season:
16-10 win vs Northern Iowa
29-31 loss to Baylor
24-21 win vs Ok State
31-38 loss to West Virginia
38-41 loss to Texas Tech
21-28 loss to Oklahoma
13-20 loss to Clemson
Seven one-score games and they were 2-5 in those seven. The year before? They were 4-2 in one-score games. What changed? Nothing obvious, they were just a little less lucky.
The way you consistently maintain a place at the top is by winning a lot of games by safer margins, which is hard to do without explosive dimensions to your offense, as Iowa State has learned. Baylor just lost the most explosive dimension to their offense, so if they fall back in the standings despite continuing to play great defense and running the ball, it shouldn't be shocking. I think it's possible to believe seven wins is a good number for Baylor, yet that they will not face a significant decline in actual quality.
A schedule with Albany, @BYU, and Texas State as the non-conference slate may mean eight is a better number than seven. If they were 2-3 in one-score games you're at 9-3 assuming they don't lose any games by more than one score, which with this defense and offensive style isn't insane.
Texas at seven wins
I think Texas is head and shoulders above the rest of the league in offensive skill talent for 2022. Normally, this is not the case. Texas has not been overflowing with skill talent in the 2010s, as remarkable as that is given their privileged access to a skill talent-rich state in recruiting.
The best trio of skill players we've seen at Texas this decade?
2012/2013: Jonathan Gray/Malcolm Brown, Jaxon Shipley, Mike Davis. Texas went 9-4, 8-5.
2014: Jonathan Gray/Malcolm Brown, Jaxon Shipley, John Harris. Texas went 6-7.
2018: Tre Watson, Lil'Jordan Humphrey, Collin Johnson. Texas went 10-4.
2019: Keaontay Ingram, Devin Duvernay, Collin Johnson. Texas went 8-5.
None of those are really dazzling, you don't see a list of names that would have put the fear of God in opposing defensive coordinators.
For 2022?
Bijan Robinson, Xavier Worthy, and Isaiah Neyor OR Jordan Whittington with Roschon Johnson and a few receiving tight ends looming as potential weapons. The particular challenge of trying to deal with Neyor and Worthy on opposite perimeters without giving away a friendly box to Bijan Robinson is a real conundrum. It reminds me of the 2014 West Virginia Mountaineers who had Mario Alford and Kevin White on opposite ends with Rushel Shell and Clint Trickett in the backfield. Trickett was solid and missed the end of the season with concussions and the Mountaineers still went 7-6.
The years above in which Texas had better receiver play, they didn't have a running back like Bijan Robinson, and they didn't really have receivers this good in any of those seasons. We can all name question marks for the Longhorns but their potential offensive firepower under the direction of Steve Sarkisian is vastly greater than I'm seeing most pundits acknowledging.
West Virginia at six wins
I'm still hesitant to bury the Mountaineers, even after losing Akheem Mesidor.
They're going to have a much, much better offensive line than they have in the past, they have Graham Harrell helping to put it together on offense and raise their level of quarterback play (a longtime achilles heel for Neal Brown), and they still have Dante Stills and a lot of defenders who always seem to know their jobs.
They have a pair of rivalry games in the non-conference slate in Pitt and Virginia Tech that will make for an interesting season. Why is West Virginia not in the ACC again?
Is the league wide open?
Bud seems to think so. I had this debate with Kegan Reneau recently over text when he declared the league was wide open and contrar-Ian could only quibble with the meaning of "wide open."
My quibble was that perhaps the more precise description is that the 2022 Big 12 appears to lack a frontrunner. I don't think it's wide open in the sense that just anyone can win the league. Bud is probably right about there being a cluster of 7-8 win teams, that's how it normally goes. I suspect rather that there are 3-4 teams who could win, and only 1-2 will have the lucky breaks which make it truly possible. Those 1-2 teams will win 10 games or more.
The teams who I think could actually win the league? Texas, Baylor, K-State, and Oklahoma State. I can foresee the Sooners winning nine games next season with luck, but I just can't see them winning the Big 12.
This is all pretty normal for the Big 12, what's abnormal is Oklahoma not being one of the teams expected to pull away from the rest of the pack. They haven't had major coaching transition since 1998. Seeing Baylor as one of the teams in the running has become pretty normal, for Texas to be there is what everyone has been anticipating or mocking for several years now. If Texas can't put it together and Oklahoma has some transition struggles, then the league certainly becomes more "wide open" in the sense there won't be any contenders with obvious talent/resource advantages. Typically Baylor has done the best job of taking advantage in such seasons.
Are there any strong favorites for the Big 12 in 2022? Discuss for free on the Flyover Football board!