Isidore Newman's Nelson Stewart talks Arch Manning, Steve Sarkisian, and more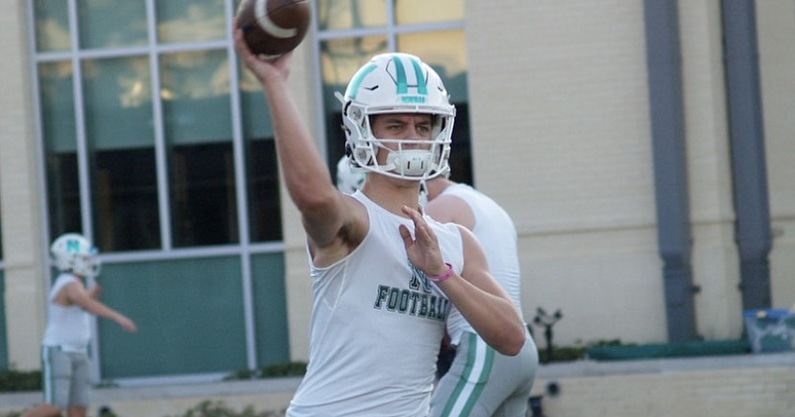 You know the Manning family is happy when Peyton's former Isidore Newman teammate and current head coach, Nelson Stewart, is calling the shots. Football is trust in the Manning household and Stewart owns plenty of it. 
After watching Arch Manning grow up, now he gets to coach the 16-year-old prodigy at the place he learned to play the sport. After Manning's 11-of-11 passing, six-touchdown performance in a 70-0 win over Fisher, it's easy to see why coaching the youngest Manning is so special. 
"He's just awesome to coach," said Stewart. "I mean, I think that even tonight (Fisher) ran coverages we hadn't seen in a front, and you know you kind of worry 'okay, what if they don't do exactly what they've shown' and they didn't right away so they dropped eight. (Arch) didn't panic. He had a great scramble, he took his check downs. I thought he was great with the football, even on the iPad with him, he understood things and communication was great. And I think what people don't understand is, you know, it's a rarity that, you know he likes to look at practice groups, he helps gameplan and I send him the game plan on Sundays."
[Subscribe to Inside Texas right now and get 50% off an annual or monthly membership!]
Manning is unique in that he starts game-planning with the Newman staff on Sundays. It's all a part of the maturation for one of the nation's top quarterback prospects. 
"You look at those things and how he plays football, and I love working with him," Stewart explained. "We have a great staff but even it just you know, he's really good, he's got ideas, and understands what they're giving him. And I think he did that tonight. You know obviously, he throws with great accuracy, he runs the ball well, ball distribution was great, I mean you know all those guys and how inclusive he was, and know he's a special kid and he's still growing. He's still just a teenager, so I know there's a lot with him. My job is to continue to foster that growth and work as hard as I can with him. It's very rewarding but, you know, he's really improved and it's just every week, you can see him. He's just growing more and more and more." 
Manning's grasp of the signal-caller spot is beyond his years. From equal distribution to helping the backups when they get playing time, he's a coach's dream. 
"(Arch) actually said to me, 'I'd really like to get my completion percentage up,'" said Stewart. "He's right below 70%, but it improved tonight. I think when you see a team with a fierce competition, sometimes we take some shots when we make a mistake. He'll have chances to show how much maturity he has and to just take what you have and make the best of it. He's one of the captains, you know, I think that it's a tremendous amount of maturity that he's not throwing haymakers. He understands that when the corners are eight-to-ten yards off, he'll take what's there, understand the protection, and understands his role. And if you watch, he celebrates with his teammates, and as he runs off the field, he goes right to the monitor (in Louisiana, you can watch replays during games). He's just a student of the game, but that's why he's a captain and that's why I think we're all grateful. His physical attributes are obviously great. But it's the mental aspect, And really, the maturity and the biggest thing to me, I think is you look at his pocket presence, you know, he's able to step up in the pocket. He's got a very calm mind out there while processing."
[Subscribe to Inside Texas right now and get 50% off an annual or monthly membership!]
Stewart and Manning used the pandemic to get a better handle on the colleges currently lined up for his services and what their offenses do. It's allowed Stewart to help Manning's process, while learning new schemes himself. 
"I think we've tried to use it together, his recruitment, during the pandemic," said Stewart. "He's eager to really learn what they're doing, and what they're asking of their quarterbacks, because I think that if you don't, then he's not going to be in position for success at the national level. I'm always trying to learn and he has too. You know, he talked about those guys. (College OCs) will tell you, and I think the game has evolved. I think, you know what they're asking quarterbacks in terms of memorizing scripts and coverages and whatnot. I think, to help develop in it is to be investing in it. It's a joint effort but I do say this it's his journey and his decision, and I'm there to help if he needs me. He's a real smart kid and I know he'll make a great choice." 
Those choices are nationwide. From Georgia, Alabama, Clemson, and Ole Miss, the coaches line up at an opportunity to talk to the junior five-star. But one coach has separated from the pack. 
"(Sarkisian's) far and away the most authentic," said Stewart. "He's one of the most authentic coaches I've ever talked to. I think when you talk about all the Zooms all the time, he's really the only head coach that I remember the first time I saw him. He's always available for questions, for texting, and he formulated a real relationship with Arch. You know, he is to me a quarterback genius, just the things he notices from footwork to drops and his passion, his attention to detail, even talking to him about play-calling. Even how he controls the pace and all the things that he does, he's definitely one of the top offensive minds in the country and he's also a really good quarterback coach. I've enjoyed getting to know AJ Milwee as well. I just think that (Texas) has something really special there. You know the way they're building it fast. And I think Sark has everything. I just think that it speaks volumes when the head football coach in Texas takes time, and he's always there to answer questions, and like he said to me, 'whether we get this kid or not, the fact that I got to spend an afternoon and coach him during camp was worth every minute and that was pretty powerful. It's awesome. 
[Subscribe to Inside Texas right now and get 50% off an annual or monthly membership!]
What about UT corners coach Terry Joseph? Joseph and Stewart go way back. 
"I love Terry Joseph," said Stewart. "He's lucky we've been going all the way back to the Manning camps. You know what's neat about him? He's using a little in terms of connection but he's really handed the ball off since from day one, I've talked to TJ periodically, but it's really more Sark and AJ formulating a relationship with Arch. I think early on, it was good for the connection. TJ has known the Mannings. He's a heck of a football coach." 
The strongest vibe from the Newman Football team is ownership. Arch Manning, Will Randle, Kai Donaldson, and others have taken the role of leaders and try to make Stewart's job easier, on and off the field. The other vibe is All Gas No Brakes; it's the mantra Stewart adopted after meeting Sarkisian and it's sprinkled throughout the stadium. Just like the numbers on the back of Newman's helmets are identical size and font of the Texas Longhorns helmet. The subtleness of UT is all over this private school in New Orleans. 
Sarkisian and Milwee will be in attendance for the Isidore Newman game on Thursday, then Manning and Randle will head to Austin. If you need a textbook on building relationships with elite quarterbacks and coaching staffs, Sark is currently writing a masterpiece.