IT Today: Chris Beard on Dylan Disu, search for a new assistant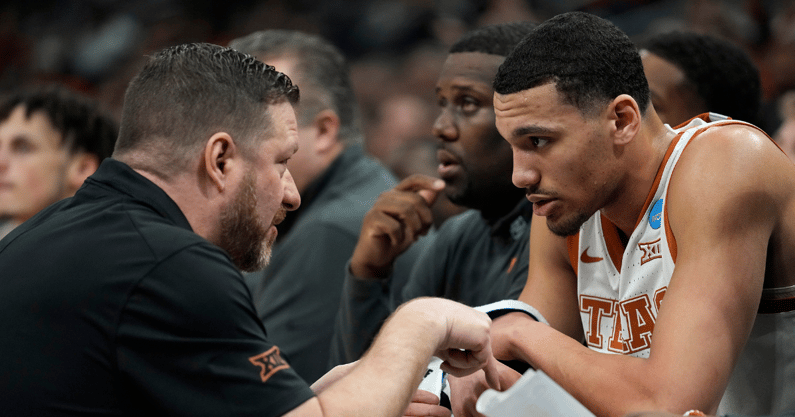 Welcome to Inside Texas Today! On weekdays, Inside Texas Today will provide the latest on Texas Longhorns sports from around the Forty Acres. This morning, Chris Beard updates his communications with forward Dylan Disu, and his search for a new assistant to replace Ulric Maligi.
Here's the Thursday, May 12, 2022 edition.
[Get a FREE 7-day trial of Inside Texas Plus!]
Speaking at the Dallas leg of the Texas Exes' Texas Fight Tour, Longhorn men's basketball head coach fielded a handful of questions from reporters before speaking with Texas athletic director Chris Del Conte and Texas football head coach Steve Sarkisian to a gathered crowd at the Northwood Club.
One of the questions Beard received was regarding Dylan Disu. A 6-foot-9 forward from Vanderbilt via Pflugerville (Texas) Hendrickson, Disu was limited in 2021-22 as a result of a knee injury suffered playing for the Commodores. He played in 26 games last year for Texas, averaging 3.7 points and 3.2 rebounds in 10.9 minutes per game.
To date, Disu has not made a decision regarding his future with the Longhorn program. His choices are likely return to Texas or seek professional opportunities.
Beard revealed Disu, who was not invited to the NBA draft combine, is in Memphis, Tenn. working out with former NBA player Mike Miller, currently the head coach at Germantown (Tenn.) Houston. Beard said he has been in regular contact with Disu, and supports him no matter what his decision is.
"Dylan's in a little bit of a unique situation because he wasn't able to go through the process last year because of injury and because of COVID," Beard said Wednesday. "His circle, which is obviously his parents and family, and then our circle, his college coaches, we all support him doing this."
Texas currently covets a big for the 2022-23 season, and Disu would help address the need at that position.
"If he chooses to come back to college, we're ready to roll," Beard said. "If he has a great opportunity in pro basketball, that's his decision as well. We'll support him not matter what he decides."
Another question Beard fielded was regarding his current assistant coaching vacancy. Ulric Maligi officially joined Jerome Tang's Kansas State staff on April 1, and Beard said he has worked on finding the right assistant to replace him every day since then.
"It's a priority, but I just think with so many things changing right now in college basketball I think there's some value in being patient," Beard said.
Beard hinted he could look at internal candidates to join Rodney Terry and Jerrance Howard with him on the bench, but admitted even if he were to promote from within they would likely need to hire someone from outside the program.
What does Beard want in his assistants, aside from being winners first and foremost?
"I think in those specific assistant spots, I've always tried to hire future head coaches," Beard said. "A lot of people really value the recruiting or really value the on-court teaching. I think at a place like Texas, you get both. The guys at our spot should be future head coaches. I think that's what we have right now with our guys, and I look forward to the new additions."
Texas viewing for 5/12
No. 16 softball – Big 12 Tournament – Texas Tech – Oklahoma City, Okla. – OG&E Energy Field – 6 p.m. – ESPN+