IT Today: Quarterback competition to carry on, Ochaun Mathis sets decision date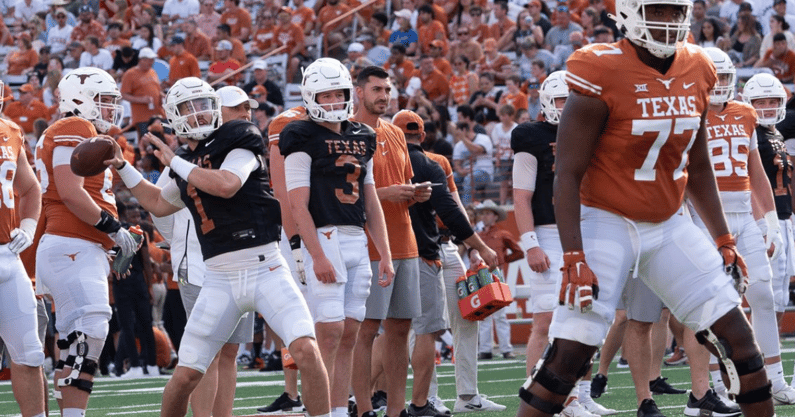 Welcome to Inside Texas Today! Every weekday, Inside Texas Today will provide the latest from around the Forty Acres. This morning, what Texas head coach Steve Sarkisian said about the quarterback competition between Hudson Card and Quinn Ewers, plus a decision date is set for TCU transfer defensive end Ochaun Mathis.
Here's the Monday, April 25, 2022 edition.
[Get four months of Inside Texas Plus for just $1]
QB1 was not named
Steve Sarkisian was asked point blank following the Orange-White Game whether he had seen enough to name a starter. The short answer was no. The long answer?
"I think it's going to go, I think, to be fair to both those guys," Sarkisian said. "You probably saw tonight, both guys really had some flash plays, some really cool plays. Whether it's throwing down the field, orchestrating drives, in the red area, and I think we saw some plays both guys would like to have back.
"That's part of the position. Sometimes you can't control some of the other things going on around you. But I like where these guys are at. If I could have said that they would play this good after 15 practices this spring, or if one of them would have, I'd be ecstatic. I'm really happy with the growth where they're at. I think we're at a really good spot at that position.
Now, we've got to continue to grow. We can't settle. We've got to take these guys to new heights. We've got to get Maalik (Murphy) going, and get Maalik healthy. This summer is going to be big for him to put himself in position for fall camp as well."
Ochaun Mathis sets decision date
One of the biggest transfer targets for Sarkisian, defensive coordinator Pete Kwiatkowski, and the Longhorn football program is former TCU defensive end Ochaun Mathis.
Mathis, a product of Manor High School from just outside of Austin, entered the transfer portal on January 12. He announced a top five on February 17 of USC, Texas, Ole Miss, Penn State, and Nebraska.
After taking a visit to Nebraska on April 8-9, seeing Texas on April 16, then returning to UT for a trip during the Longhorns' spring game, Mathis has set his decision date for April 30. He made the announcement in a video posted to his YouTube channel.
Texas viewing for 4/25
No. 6 men's golf – Big 12 Championships – Whispering Pines Golf Club – Trinity, Texas – 8:45 a.m. – Live Stats