IT Week in Review: Chris Jackson's first assignment, baseball begins practice, one more signing day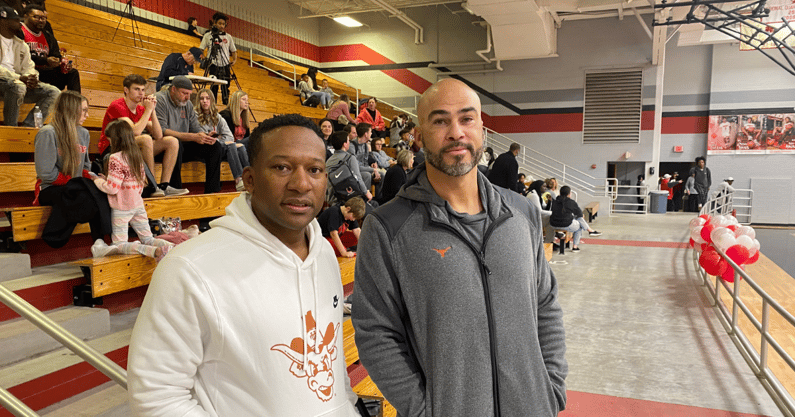 The Inside Texas Week in Review looks at new Longhorns wide receiver coach Chris Jackson's first recruiting trip, practice starting for the 2023 Texas baseball team, and a look at the second national signing day.
[Get Inside Texas Plus until the start of the 2023 season for $29.99!]
Chris Jackson
Chris Jackson was officially announced as Texas wide receiver coach and passing game coordinator on Tuesday, January 24 after a successful stint in the NFL coaching the same position for the Jacksonville Jaguars.
With the 2023 high school receiver class of Johntay Cook, Ryan Niblett, and DeAndre Moore Jr. signed and Georgia transfer AD Mitchell in the boat, Jackson could quickly turn his attention toward top prospects in the 2024 class and the task of building the relationships needed to sign top players.
So what did he do with his first opportunity? He ventured up IH-35 with secondary coach Terry Joseph to see Temple (Texas) Lake Belton five-star wideout Micah Hudson hoop it up versus Waco High.
Hudson was on the Forty Acres during the junior day the weekend prior to Jackson's announcement. Whether Hudson, the No. 5 player in the 2024 On3 Consensus and the state's top player in the same rankings, was informed Jackson was the pick for receivers coach on the visit may never be known.
How highly Texas thinks of him, however, was made apparent by Jackson's visit to Central Texas. There may be no higher priority in the 2024 class than Hudson, who with his tools would likely become one of the top targets for whoever is Texas' quarterback during his freshman season.
There are more receivers for Jackson to target and recruit, including one-time commit Aeryn Hampton, Freddie Dubose, and Parker Livingstone, as well as the other out-of-state offers.
But he did the right thing during his first week on the job, and made the needed introduction with the state's top player on Friday night.
Baseball
Texas began in-season practices on Friday for the 2023 baseball campaign, where a new-look coaching staff under seventh-year head coach David Pierce will seek to make a third-consecutive trip to Omaha.
"It's going to be a very different team," Pierce said on Friday. "A lot of new faces, but I like this team. I think there's a great balance in our position players."
Despite the significant amount of turnover, with three infielders, a catcher, and a Friday night starter off to professional opportunities, Pierce is optimistic about what he has this year. He likes his depth in the infield, led by veteran middle infielder Mitchell Daly plus standout freshmen Jalin Flores and Jared Thomas on the respective left and right corners. He also likes the experience in the outfield with Eric Kennedy, Dylan Campbell, Porter Brown, and Ace Whitehead.
There's still a lot to replace from a 2022 squad that set offensive records, and that'll be a process that carries on throughout the non-conference schedule that is nowhere near as difficult as slates in years past.
"We're trying to replace 105 home runs and two corner guys who were really good in Skyler (Messinger) and Ivan (Melendez)," Pierce said. "We understand that. We don't have the luxury to have five, six, 10 years with our guys."
That's just part of the turnover. Two mainstays on the mound, Pete Hansen and Tristan Stevens, have completed their time at the Disch. Lucas Gordon is back, but someone from what was an up-and-down pitching staff has to step in and assume a role without much starting experience.
Pierce has optimism, but these weeks before the start of the season will help him and his new assistant coaching staff make a significant number of decisions ahead of an intriguing 2023 campaign.
"We built a very good culture, and the guys that are returning are excited about that culture and teaching that to other players," Pierce said.
Look for more from the Disch on Inside Texas in the coming days.
The uneventful second signing day
A side effect of the first national signing day being in December is that all the prospects who have made up their mind make their decisions final 1.5 months before the traditional first Wednesday in February signing day. All commits in Texas' 2023 class have signed or are enrolled in classes. Even Waco (Texas) Connally athlete Jelani McDonald, who announced his commitment on January 7 at the All-American Bowl, had signed during the early window. McDonald and the school agreed to keep the signing private until he made his announcement on national television.
There isn't a ton of late-cycle drama for the Longhorns like there was during the Charlie Strong years, but Texas remains after two targets and has good chances with one of them.
2023 Red Oak (Texas) defensive back and TCU commit Warren Roberson is the main prospect to track during the final days of the cycle. After committing to the Horned Frogs in October, Roberson elected not to sign during the early window and has welcomed overtures from Texas and USC, among others.
Roberson, a 6-foot-0, 190-pound On3 Consensus four-star prospect, recently had an On3 Recruiting Prediction Machine flip pick entered by our own Gerry Hamilton. A few other On3 writers made similar picks.
An addition of Roberson would give Texas its second high-school safety in the class along with New Iberia (La.) Westgate four-star Derek Williams, and would provide the Longhorns with one of the top football players in the DFW Metroplex.
Oh yeah, it would be at the cost of a team it could face next season.
The only other unsigned recruit the Longhorns are interested in is five-star tight end Duce Robinson, though Texas appears to be fading in the final stretch in this one.
Long gone are the days of the February signing day being the watershed moment for high school football recruiting. That day now comes in a jam-packed December along with conference championships, bowl games, the coaching carousel, and the new transfer portal window. It's no doubt an important event, but there's far less oxygen for a story like the Longhorns signing the No. 3 class in the country to consume.
Did you know Alabama signed a class this cycle that rivals the one Texas A&M signed in 2022, which some publications had ranked higher than any other group inked in the recruiting era? Probably not, because college football media was too busy paying attention to what often amounted to portal pyrite. Same with the coaches, who had to divide their limited attention among other topics as opposed to celebrating foundational or foundation-busting classes.
There are still storylines to pay attention to on Wednesday, such as the two recruitments related to Texas and where several highly rated prospects like Nyckoles Harbor and Jaden Rashada could end up. We'll also have a complete sense of the final class and player rankings and player before the focus shifts to 2024. In addition, Steve Sarkisian should be available at the mic to touch on any new additions, plus any other pre-spring football storylines.
But that's what the second signing day has become, functioning more often as a checkpoint between the end of the season and the beginning of spring football. Recruiting is the stated focus, but that's tough to dive into when most of the class was signed last year, and many are already on campus.
If it goes back to the old way, or if the system changes and the first signing period is shifted, then this day may regain its lost luster. For now, it's not much more than an opportunity to receive a quick check-in with the head coach ahead of spring football.