Jaydon Chatman talks offer from the Texas Longhorns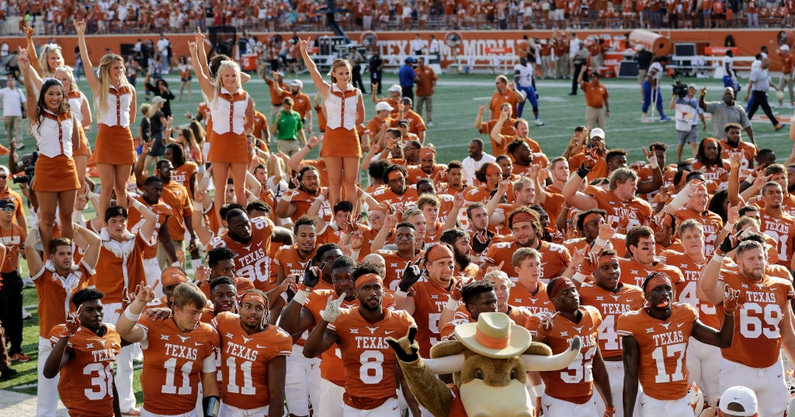 The Texas Longhorns staff extended an offer on Saturday before the 58-0 beatdown of Rice. 
Steve Sarkisian and Kyle Flood had offered six in state offensive linemen in the class of 2023 prior to Saturday. Now that number is seven. 
The Longhorns became the first program to offer junior left tackle Jaydon Chatman (Killeen, Texas/Harker Heights). 
"It means a lot to get my first offer," Chatman told On3. "Especially coming from such a big school. I wasn't really expecting it," 
Chatman made the short trip to Austin Saturday with his mother and father. After checking in and eating, the 6-foot-4, 290-pounder was called to offensive line coach Kyle Flood's office. 
"When we first got there, we checked in and went to get something to eat. They (Texas support staff) came and got me, and told me Coach Flood wanted to talk to me. We talked about my season, the game and how it was going to go. He told me to keep playing hard, and Texas likes me a lot."
It was the next brief meeting when Chatman received the good news. 
"The head coach came to speak to me after I talked to Coach Flood. It was a pretty quick conversation. He said I fit the system, and that Texas was offering me a scholarship."
Not a bad result for the first time to ever step foot on campus in Austin. 
Along with Texas, Chatman is hearing from Baylor, Oklahoma and Texas Tech. He camped at Baylor in June. 
Chatman's uncle Jasion Williams played wide receiver at Oregon from 2004-08. Chatman was born in California, but grew up in Killeen. 
The Longhorns previously extended offers to six in state offensive linemen. Harris Sewell (Odessa Permian), Isaiah Robinson (Arlington Lamar), Texas A&M verbal Colton Thomasson (Smithson Valley), T.J. Shanahan (Austin Westlake) and Andre Cojoe (Mansfield Timberview). Texas has also offered OT/DL Markis Deal (Garland Naaman Forest), who prefers defensive line.