Jordan Addison on an official visit to Texas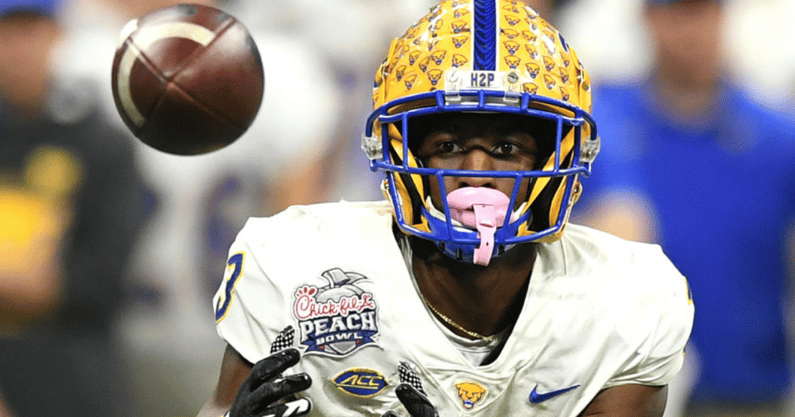 One of the hottest transfer portal prospects available, former Pitt wide receiver Jordan Addison, is in Austin, Texas on an official visit to the Longhorn football program, Inside Texas has learned. Addison, the winner of the 2021 Fred Biletnikoff Award, is ranked as the No. 1 available portal prospect according to On3.
[Get a FREE 7-day trial of Inside Texas Plus!]
Addison won the 2021 Biletnikoff Award, given annually to the nation's top wide receiver. With first-round pick Kenny Pickett as his quarterback, Addison caught 100 passes for 1593 yards and 17 touchdowns. He added a rushing touchdown on the ground as well during his sophomore season with the Panthers, who won the 2021 ACC championship.
He appeared in the portal on May 3 after reports from Pittsburgh stated he was considering leaving the program. Previous reports indicated USC and Alabama were other schools thought to be associated with landing the AP first-team All-American wideout.
His connection to the Texas program comes in the form of Longhorns wide receivers coach Brennan Marion, who was at Pittsburgh for the 2021 season. Marion came to Texas as a replacement for former wide receivers coach Andre Coleman.
Addison is yet another wide receiver transfer target for the Longhorns, who picked up commitments from former Wyoming Cowboys wideout Isaiah Neyor and former Alabama Crimson Tide receiver Agiye Hall.
Other transfers to join the Longhorn program following the 2022 season include former Ohio State quarterback Quinn Ewers, former Ohio State cornerback Ryan Watts, and former Alabama tight end Jahleel Billingsley.
The Texas wide receiver room includes sophomore Xavier Worthy, who received first-team All-Big 12 honors at wide receiver. Worthy was also named the Big 12 offensive freshman of the year following his season that saw him haul in 62 passes for 981 yards and 12 touchdowns. Also in Marion's room is Jordan Whittington, ranked as one of the top 40 players in the 2019 class according to the On3 Consensus.
This is a developing story and will be updated. Stay up to date with the latest on Texas Longhorns news on the Inside Texas Members Only message board.
Want more transfer portal information? Keep track of all the comings and goings with On3's College Football Transfer Portal Wire.