LIVE UPDATES: Steve Sarkisian recaps Wyoming, previews the start of Big 12 play versus Baylor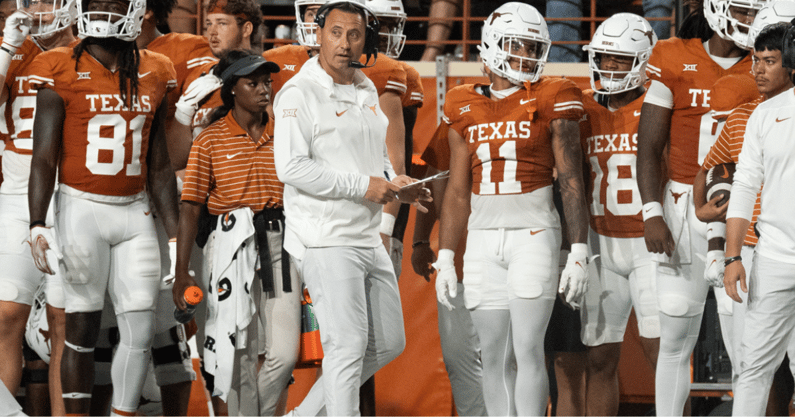 Texas head coach Steve Sarkisian will be available to the media today around 11 a.m. Central to recap the No. 3 Longhorns' 31-10 win over the Wyoming Cowboys and preview this Saturday's start of Big 12 play versus the Baylor Bears in Waco.
[Join Inside Texas and get ONE MONTH of Longhorn intel for just $1!]
The press conference will air on Longhorn Network. It will also be available on TexasSports.com and on AM 1300 The Zone in the Austin media market.
Updates from Steve Sarkisian
Steve Sarkisian: "I do think it was a versatile team win. I've been talking a lot about this with the team that we can win games in a multitude of ways, and I think Saturday night really showed that. We were really sound on special teams. We got two explosive returns out of (Xavier) Worthy in the punt return game, (Ryan) Sanborn punted the ball extremely well, our kickoff coverage unit continues to be tremendous."
Steve Sarkisian said there were three plays on defense that frustrated him: the long run, the pass that went through Kitan Crawford's hands, and another in the third quarter: "Outside of that we played pretty sound defensively and I thought the adjustment on some of those quick out route throws showed up when Jerrin Thompson inevitably jumps the route, gets the interception and returns it for a touchdown."
Steve Sarkisian: "The Big 12 doesn't care that we're 3-0. The Big 12 doesn't care that we're ranked No. 30 in the AP poll. We are 0-0 in Big 12 play."
Steve Sarkisian on Quinn Ewers: "Every aspect of the passing game needs to improve. It felt like we just weren't sharp."
Steve Sarkisian on the Big 12: "I know we've got good coaches, there's good players, and there's tough environments to play in. Sometimes we assume certain teams are supposed to be good. But I look up and Kansas is 3-0."
Steve Sarkisian on his defense, says they are playing together with good communication and that they've mostly avoided catastrophic busts. He also has seen the effort he desires. Texas is also affecting the quarterback at a good level: "I think all those things add up to we're playing a style of football that's fast, that's aggressive, that's physical, and it's smart. If we can keep going down that path, we're going to be okay."
Steve Sarkisian on if he wants to play former SWC teams in non-conference: "That's always a hard one. The moment you play one of them, the other one's going to be upset." — "All I can do is focus on the teams we play. I recognize these are great rivalries and games that have been played for a long, long time."
Steve Sarkisian on the defensive line: "We came into the season, like everybody, wondering where were we going to get that pressure from on the quarterback. We knew a year ago that we applied pressure on the quarterback but we didn't get the numbers on getting them on the ground. I think it's a credit to Coach Bo and PK in being creative in their ways to get pressure on the quarterback and trusting the depth that we have on that defensive line. Now to think we're getting it from a variety of people whether it's the interior defensive line with Sweat and Murphy, Alfred collins and Vernon (Broughton) and that crew. Or you get to the edge position with Ethan Burke, Barryn Sorrell getting him one the other night. We've been using Kris Ross more. Justice Finkley has been showing up, and then the utilization of Anthony Hill. That ability to play depth and letting guys rush the passer fresh has been helpful where a year ago some guys were on that field for a lot of snaps and then it came down to critical third downs. They just didn't have enough juice in their tank to go get the quarterback on the ground."
Steve Sarkisian on embracing the hate ahead of Big 12 play: "I think we need to understand what we're walking into. We're going to go into Baylor here Saturday night on the road. It's been well documented, as of right now, this is the last time we're going to go there. So we understand the environment we're walking into, so we can't be fearful of that."
Steve Sarkisian: "We can't sit here and be a punching bag. We have to walk in there, be in attack mode, and make sure that we're built for the environment."
Steve Sarkisian on Gunnar Helm: "I've been trying to praise him as much as I could. Gunnar's had a great training camp, and he's started the season well for the first three weeks. He's a very intelligent player. I think he's got a workmanlike mentality. He's a blue collar guy that I think is a really nice compliment to (Ja'Tavion Sanders) with all JT can do in the passing game. I think that those two work really well together." — "We're lucky to have him. I think he's an asset for us."
Steve Sarkisian calls Jahdae Barron the glue of his defense: "One of the higher football IQs on our team. His ability to diagnose what's coming and then trust his instincts and go make plays really shines through."
Steve Sarkisian on DJ Campbell: "There's been some really good moments, and there's been a handful of plays each game and we watch with him, and there's a level of frustration of 'you're better than that.'"
Steve Sarkisian on guys who may have opportunity in Kris Ross' absence: "Justice has been playing, now there's just more opportunity for us. I think that he can be impactful for us, and he's a really good first and second down player. Hopefully we can get a little bit more there on third down where he can impact the passer."
Steve Sarkisian says Barryn Sorrell attacked the weight room last year and had good results because of it as a sophomore: "Going into year 3, more physically mature, more mentally mature, really approaching the game and understanding the game plan." — "I think the credit for Barryn is last week he played within the scheme and made his plays."
Steve Sarkisian on the 90-yard drive: "You try to play the mind game of anticipation of what you think the call is going to be from the defense. If they're intent of keeping the ball in front and they're not going to put an extra hat in the box, we have to have the ability to run it and have to give our players that confidence that they can run it."
Steve Sarkisian said CJ Baxter practiced today: "We've got to keep monitoring him throughout the week and see how he responds from day to day."