Longhorns answer several questions in 38-18 season-opening win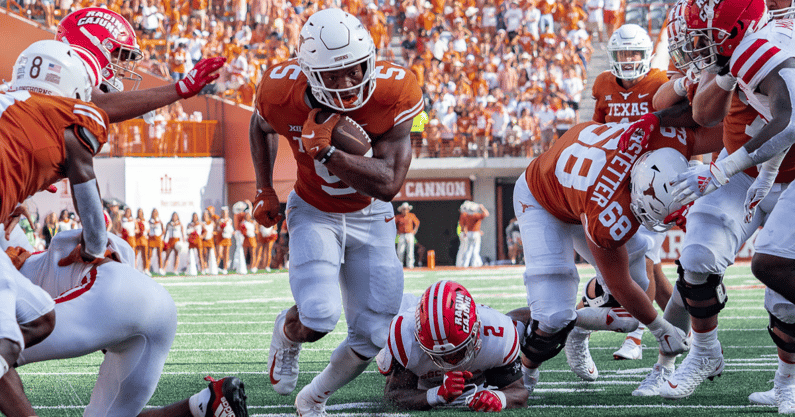 There is always a significant amount of uncertainty ahead of any head coach's debut at a new program. New play callers, new players (new quarterbacks specifically), and new ways of doing things can lead outside observers to wonder what the on-field product will look like.
Against the No. 23 Louisiana Ragin' Cajuns, that uncertainty was accentuated for Texas. Not only did the No. 21 Longhorns have to answer all those questions for a fanbase hungry for a winner, but they had to do so against a ranked team that returned double-digit starters on both sides of the ball. They answered those questions in a comfortable 38-18 win to begin the Steve Sarkisian era 1-0.
"We knew this was a veteran team, very well-coached," Sarkisian said after the game. "We wanted to possess the ball, we wanted to control the line of scrimmage. We felt the run game was going to take a minute because they were a veteran defense, they were good. Over time, if we could extend our drives and keep them off the field, that would be a huge component. Then getting off the field."
Texas rushed for 170 yards on 42 carries, led by Bijan Robinson's 20 attempts for 103 yards and one score. He also added four catches for 73 yards and a score – the first of the Sarkisian era.
Robinson was the focal point of the offense, amassing 24 touches over the course of the game. Despite an awkward landing in the second half that inflicted what Robinson described as a stinger, he played the entirety of the game as Texas' lead back.
"I feel fine," Robinson said. "Whatever I can do to help this team the most, whatever kind of touches I get whether it's receiver or running back, I feel that whatever can help this team the most I'm good with."
Sarkisian had set a target of around 20 touches per game for Robinson. Twenty-four touches for 176 yards and two scores?
"That's a good day of work," Sarkisian said. "That's utilizing him."
RECAP: Texas tops Louisiana in Sarkisian's first game at Texas
Another major question Sarkisian needed to answer wasn't so much related to the team, but to one player. Hudson Card received the start at quarterback, and his first drive ended after three plays and a punt.
His second drive was an 11-play, 70-yard march that took 5:43 off the clock, ending with a touchdown pass to Robinson on a wheel route.
Card played well throughout the course of the game, protecting the ball and even converting a few third-and-long opportunities. His favorite target was Jordan Whittington, who caught several third-down conversions as part of his seven catches for 113 yards and a score.
Card even rushed one in himself, a three-yard score in the third quarter that made it a two-possession game. He finished 14-of-21 for 224 yards with two passing touchdowns and the rushing score.
"It's pretty special," Card said about starting. "It's something I've dreamed about ever since I was a kid. Just to be able to come out here and actually live it and take it all in, it's pretty surreal."
Keeping his word, Sarkisian played junior quarterback Casey Thompson for much of the second half. He finished 4-of-5 for 41 yards with a touchdown pass to Whittington. Sarkisian spoke postgame about how important it was to get both quarterbacks experience.
"I thought both guys played very efficiently," Sarkisian said. "I thought both guys, for the most part, took advantage of their opportunities when they got them and made their plays."
The defense and special teams, led by Pete Kwiatkowski and Jeff Banks respectively, answered their questions, too. Kwiatkowski's unit held Louisiana to a 4-of-13 mark on third down and forced a turnover. Louisiana struggled to get first downs on offense, and their defense had trouble getting the Longhorns off the field on third down.
"We want the offense to keep the ball, we want the defense to take away the ball, and going out there and executing that against a good team like Louisiana, that's big," linebacker DeMarvion Overshown said. "Hopefully just keep it going all throughout the season."
The only blemish for Banks' unit was a missed field goal by Cameron Dicker. The special teams were quality elsewhere as they blocked one point after attempt and recovered two onside kicks, including one surprise kick.
Overall, it was a first game with plenty for the Longhorns to learn from, but plenty to look at and be pleased about ahead of a trip to Arkansas to re-unite with an old Southwest Conference rival in the Razorbacks.
And for Sarkisian, it was an enjoyable experience for his first time walking the sidelines at Darrell K Royal – Texas Memorial Stadium.
"I loved it, man," Sarkisian said. "There's nothing like winning, I'll tell you that much."