Longhorns get right by rushing over Rice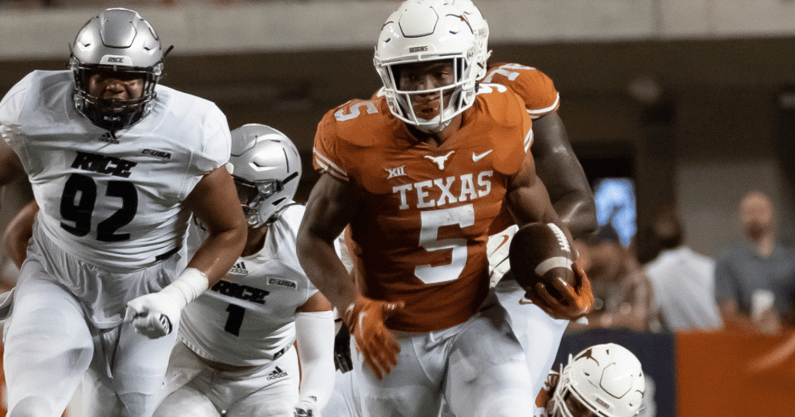 A humbling loss to a former conference rival is a tough pill to swallow for any football program. So, what better way for the Texas Longhorns to bounce back from their loss to Arkansas with a game against the 0-2 Rice Owls? What better way to make up for the dismal display in Fayetteville with a dominating performance in all three phases?
From the very beginning of Saturday's contest, Texas was in complete control against the Owls primarily due to the Longhorn running backs. Texas ran 41 times for 427 yards and six touchdowns, averaging a whopping 10 yards per carry. Bijan Robinson led all rushers with 13 carries for 127 yards and three scores, while Texas' defense kept Rice off the scoreboard in a 58-0 win.
Robinson's 14 total touches included a six-yard touchdown run on the game's opening drive, a seven-yard rush in the second quarter, and a 62-yard breakaway carry to make it a three-possession contest after 18 minutes of game time.
The rest of Stan Drayton's running back room had stellar days, too. Roschon Johnson rushed only three times, but made the most of his opportunities tallying 112 yards and a score on a 72-yard rush. Not to be outdone by the top two at the position, Keilan Robinson added a 65-yard scoring jaunt where he broke away from opponents on his way to the end zone.
"He was like a rocket ship on the touchdown run," Texas head coach Steve Sarkisian said.
Even true freshman Jonathon Brooks notched his first score as a Longhorn on a 17-yard scamper in the third quarter to cap the scoring.
"I love the way that, obviously, we were able to run the football," Sarkisian said. "I thought all four backs ran really well. Obviously, Roschon and Bijan kicked everything off in the first half. I thought we blocked the run well. They hit the holes well. We challenged the guys to really strain to finish in the run game to sustain our blocks. Then, obviously Keilan coming in and doing his thing."
Where the offense succeeded, so too did the defense. Rice trotted both Luke McCaffery and Wiley Green out to play quarterback for the Owls, and both were limited in what they were able to do against the Longhorn defense. Eventually, Texas roughed up both signal-callers to a point where neither could continue, and third-string Weber State transfer Jake Constantine was thrown to the wolves.
Sarkisian said he believed his team did a solid job of stopping the run on early downs, forcing the Owls into difficult situations. Rice had 13 third-down opportunities and only converted five of them. When they did move down the field and into the red zone, they could not add points to the scoreboard.
One Owl red zone failure was a missed field goal early in the game. The other was at the very end when DJ Harris sacked Constantine to finalize the shutout. Thirty-one different defenders recorded a tackle on Saturday, led by Luke Brockermeyer's six stops.
Quarterback Casey Thompson, making his first career start as a redshirt junior, was efficient in his performance. He was 15-of-18 for 164 yards and two touchdowns. He threw one interception when the protection broke down around him and he tried to make a throw downfield as he was hit.
After the game, he recognized the rushing attack was critical for his success.
"Those guys rushed for over 400 yards, which is unreal," Thompson said. "We used four running backs, so that's good to see. The running back is definitely the heart and core of our team. They're really good guys led by a really good coach. Coach Stan Drayton is a really good leader."
Thompson connected on one touchdown pass with Xavier Worthy, who finished the game with seven catches for 88 yards and one score. With seconds remaining in the first half after Jerrin Thompson forced an Owl fumble and Josh Thompson recovered the football, Casey Thompson found Worthy with a back-shoulder throw to make it 44-0 at the intermission.
The only drive with Thompson at the helm that didn't end in a touchdown was the interception. After the game, Thompson's performance led Sarkisian to say, "there's something about him when he gets in the game, the ball moves down field."
A non-running back crucial to helping move the ball down the field was Worthy. The footspeed of the freshman from California is impressive, but another aspect stood out to Sarkisian about the receiver he said "showed up."
"He has some physicality about him," Sarkisian said. "He had a couple of times on the sidelines where I think a lot of guys might have stepped out of bounds. He dropped the shoulder and finished the run, and that's a quality and trait that we try to preach here about contact courage, and he definitely exuded that."
Texas exits non-conference play 2-1. The Longhorns play host to Texas Tech next week to open the Big 12 slate, and Sarkisian recognizes the importance of the arrival of the Red Raiders.
"Next week, the regular season begins with Big 12 play with Tech coming into town at 11 a.m.," Sarkisian said. "This creates a new challenge. Where last week we had a bad taste in our mouth and we had to get back to work and really dig in and have really good intent, this week is no different. We're going to really challenge the players on, we can't relax. Now's not the time to just relax and take a step back."