New Orleans tight end Will Randle commits to Texas (w/ quotes)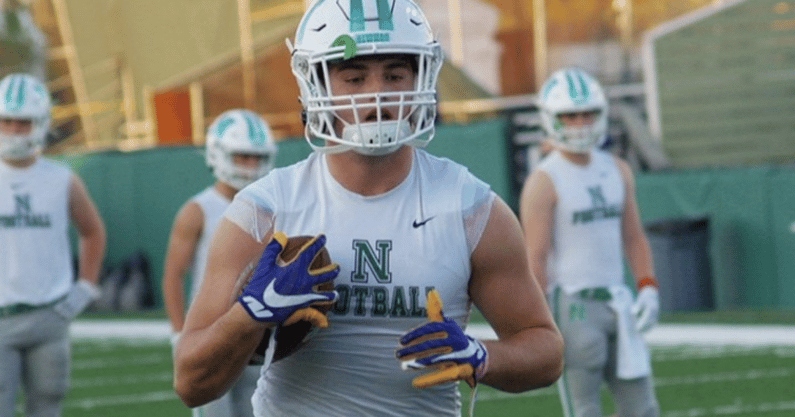 Texas has been a mainstay at New Orleans (La.) Isidore Newman over the past year, recruiting several high-profile prospects. Today, one of them made the call for the Longhorns, rewarding Jeff Banks' effort.
2023 tight end Will Randle committed to Texas, choosing the Longhorns over double-digit offers including LSU, Tulane, Alabama, and Florida State.
"The first time I went to Austin, it felt like home," said Randle. The facilities are ridiculous. They were under construction when I first came, and getting to see the finished product is actually cool. I love coach (Steve) Sarkisian and coach (Jeff) Banks. Coach Sark is everything I want in a coach. I love the work ethic and culture. I love the offense. I want to be a part of Coach Sark's culture and what he's building."
Between Sarkisian, Banks, offensive coordinator Kyle Flood, and quarterback coach AJ Milwee, Randle feels very comfortable with his future coaches.
Our Justin Wells entered an RPM pick of Will Randle to Texas back in March.
[Get a FREE 7-day trial of Inside Texas Plus!]
How he fits at Texas:
Randle has a pretty significant role at Isidore Newman where he was the most talented skill position player in 2021 on a team with Arch Manning at quarterback. In big playoff games Newman would move him to the point of attack as a flex tight end in the passing game or as a backfield blocking escort for the quarterback power run game they mixed in with Manning. He's similar to Cade Brewer in that he's skilled in both arenas but isn't particularly explosive in either. He'd be a good H tight end who could move out to run routes or slide into the point of attack from the backfield as a lead blocker, just as Brewer or Andrew Beck did in previous seasons. – Ian Boyd 
Coach Says:
Strengths – Good size frame for H-back/TE. Room to add in the lower body. Good wingspan. Straight line acceleration is good and top end speed appears a little deceiving. As a receiver, shows ability to run a fairly varied route tree, but appears most effective slipping out into the flat and short passing game. As he's gotten older, his hands seem to be softer and has some nice catches with extended arms. As a blocker, appears more than willing. Good feet out of his stance and few missteps as he pulls. Used a lot as a split zone blocker and works generally well with that leverage. Most highlights are at H-back or flex-Y.
Areas for Improvement / Concerns – Would like to see more lower body /hip flex. Routes are getting better, but he still rounds off quite a few breaks. Loses a lot of speed on change of direction. Opponent film suggests he needs work on the scramble drill. Should take better care to anticipate the defender attacking the catch. Opponent film shows him getting upright as a blocker and letting defenders get into his frame and under his pads.
Randle is the nation's No. 25-ranked tight end and No. 501 player in the country, according to the On3 Consensus, a complete and equally weighted industry-generated average that utilizes all four major recruiting media companies. On3 tabs Randle as the No. 43-ranked tight end and No. 35 overall prospect in Louisiana.
He is the seventh member of Texas' 2023 class.