On Texas Football: 2023 Spring Preview - Wide Receivers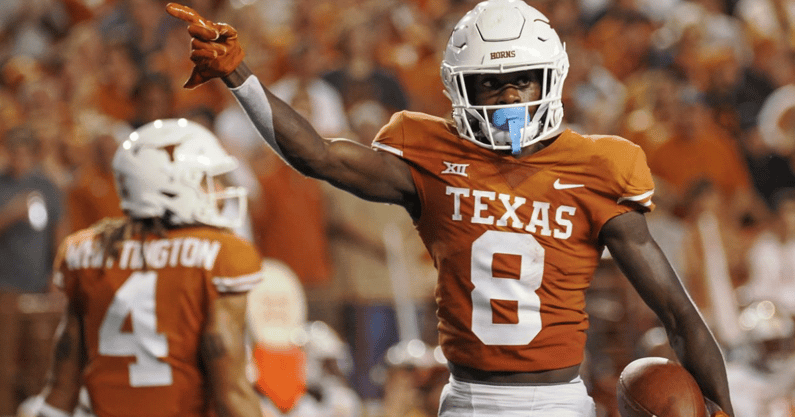 From Xavier Worthy to Jordan Whittington, Inside Texas' Justin Wells and Joe Cook discuss the Texas Longhorns' wide receiver position in the spring positional preview. The room is more stocked than ever for Steve Sarkisian's tenure on the Forty Acres.
[Get Inside Texas Plus until the start of the 2023 season for $29.99!]
In this episode, Joe and Justin discuss:
Joe and Justin open with the Texas Longhorns' wide receiver room this spring. Texas returns most of its production from 2022 with Xavier Worthy and Jordan Whittington leading the way. The duo combined for 110 catches, 1,412 yards, and 10 touchdowns last season. Other returners include Casey Cain and Brenen Thompson, who is participating in track for UT this spring. The infusion of new wide receiver coach Chris Jackson has already paid dividends, on and off the field.
Joe and Justin look at the incoming prospects like Johntay Cook and DeAndre Moore, and one Georgia transfer in AD Mitchell. All three are enrolled this spring and look to solidify a spot in the rotation early. Cook has the best technique, but needs strength and conditioning. Moore has the physical traits, but needs skill and technique work. Mitchell brings a wealth of experience and big-time production in the biggest games, with touchdown catches in the SEC Championship and College Football Playoff last year.
Joe and Justin talk finish up with departures and Savion Red, who moved from receiver to running back this month. Texas loses Tarique Milton, Agiye Hall, and Gabe Sulser, whose production at Texas was less than ideal.
[Sign up NOW for the Inside Texas newsletter for Texas Longhorns daily updates and breaking news in your inbox!]
Follow along with Inside Texas media content
Inside Texas is a vibrant community and one of the most active message boards in college sports. You can be a part of that if you sign up now where you get Inside Texas+Plus through 8/31/23 for only $29.99.
Subscribe to our YouTube channel for live podcasts, content from the entirety of our staff, Texas football and recruiting and more.