On Texas Football - Lunch with the Coach: The good and bad from the Longhorns' win over Wyoming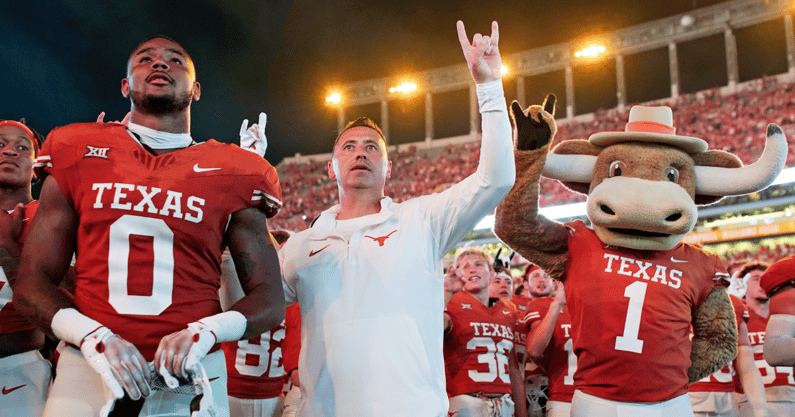 In the latest episode of On Texas Football, Bobby Burton and two-time state champion head coach Bryan Erwin discuss the positives and negatives from Texas 31-10 win over Wyoming.
[Join Inside Texas and get ONE MONTH of Longhorn intel for just $1!]
Erwin and Burton begin their overall perspective on Texas' 31-10 over the Wyoming Cowboys.
"With the offense, we're just struggling with this odd 3-3-5 Flyover defense where they're not letting us throw it deep, they're playing soft, they're daring us to run the ball against a light box, and we're just struggling even versus a light box," Erwin said. "I know we ran the ball well overall, but still in the first half we were in idle, we were struggling, and maybe not 100 percent committed to running the ball. We have got to figure out something out versus that defense because we have struggled last year and the year before against this type of defense."
The next thing Erwin noticed was how Texas didn't show up "ready to play" from kickoff. He wondered if Texas read the press clippings, or just didn't think it needed to work as hard against Wyoming after the standout performance versus Alabama.
Erwin was critical of that aspect of the program, and it carried over to his comments about the defense.
"What I saw, even though we were productive on defense from a scoring standpoint, I saw some guys not charged up and ready to play," Erwin said. "I saw some guys not running to the football and standing around a little bit."
Erwin said the third quarter that featured over 10 minutes of possession for Wyoming and the fourth quarter that saw the Cowboys end the game with ball in hand was a bit of a downer as well.
On the positive front, Erwin liked how Texas ran the ball.
[Sign up NOW for the Inside Texas newsletter for Texas Longhorns daily updates and breaking news in your inbox!]
"Jonathon Brooks, I've been high on him, he had a great game," Erwin said. "I think our running game took a step forward, and that's a positive thing because we're going to need that running game to carry us in games like this."
Erwin noted how big deep pass plays may not be a common occurrence versus Flyover teams, sometimes all it takes is a quick strike to Xavier Worthy, who can house anything.
"He was competing all night," Erwin said.
Erwin and Burton discuss Cedric Baxter and the run game, the effectiveness of Texas' Wildcat package with Savion Red, the Longhorns' goal line touchdown pass to Byron Murphy, Anthony Hill's best use and correcting his mistakes, and the overall maturation process of a program that was 5-7 two years ago.