On Texas Football - State of the Program: Spring football, basketball and a big recruiting weekend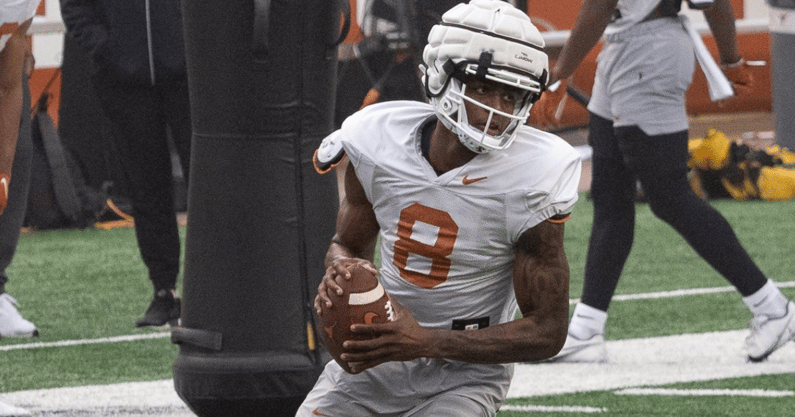 In the latest edition of On Texas Football's State of the Program, Bobby Burton and Joe Cook of Inside Texas discuss observations from the Longhorns' first football practice after returning from Spring break, players and how they stood out, and the Texas basketball team as its prepares for a big game on Friday.
[Get Inside Texas Plus until 8/31 for just $29.99!]
Cook, the Inside Texas beat writer for football, basketball and baseball, said he was impressed with what he saw from quarterback Maalik Murphy, who was getting his first real reps of the Spring after missing the first week of drills with an ankle injury suffered in his final game of his high school career.
"We saw a lot of why Steve Sarkisian raves about (Murphy) so much," Cook said. "He's got the biggest frame of any of the quarterbacks – he's listed at 6-foot-4 or -5 and 230 pounds. So he's got a little bit of size on even someone like Arch Manning. And he's shown an ability to have a compact growing motion.
"That's the biggest change you see from when he was in his high school days or when he was even going through practices last year to now," Cook added. "He was a big guy with big arm and took a little bit to get going but they reworked him over the course of the past 12 months and you know he looks like the prospect that Sark thought he was getting when he went out to California to sign him. So, exciting to see him back."
Cook said Isaiah Neyor, who's returning from a knee injury that kept him out all of last season, looked confident and was moving well in his first action of the Spring.
"Neyor was at the boundary wide receiver position and he's already thrust himself into that spot," Cook said. "They were always really excited about what he could provide because he had that over-the-top ability that you saw at Wyoming so often. But he also had a 6-foot-3, almost 200-pound frame and you don't see that too often.
"When Steve Sarkisian starts looking for wide receivers, he prefers elusive guys because he runs routes that kind of speak to his preference of not throwing the stationary receivers. But Neyor is able to do a lot of the things needed in a Sarkisian offense even with that size, so it's good to see him get back."
Safety Jalen Catalon, who was signed from the transfer portal after a starring, but much-injured, career at Arkansas, was not at practice. Texas coach Steve Sarkisian said Catalon recently went under the knife "to clean some things out," but would not be more specific about any injury.
"Whatever it takes, we want to have Catalon healthy because they believe in him as an experienced player, as All-American," Cook said. "Even though it's a different system from what Barry Odom was running at Arkansas, there's gonna be a lot of crossover and what they are able to do."
Burton asked Cook about the early enrollees and how he felt those players were impacted by forgoing their last semester of high school to start college early and to try to work themselves up the team's depth chart.
The pair switched lanes to talk about the Texas basketball team as it prepares to play Xavier in the NCAA Tournament's Sweet 16 on Friday in Kansas City. Cook said he's reminded of Creighton when he watches Xavier and looks for how the Longhorns will attack the third-seeded Musketeers.
The Longhorns' players spoke about TCU when they were comparing opponents.
"This team has played so many different styles and because of how experienced and even versatile most of those guys are, they've been able to adapt on defense," Cook opined. "And if they already have a comparison to create one to TCU in their minds, that makes me think they know what they're going to be looking for."
[Sign up NOW for the Inside Texas newsletter for Texas Longhorns daily updates and breaking news in your inbox!]
Cook will a part of the team that will covered this Friday and Saturday's big recruiting weekend, in which the players will come to Austin for the Longhorns' coaches and players will help build relationships with the recruits.
There's plenty of other info to be gleaned from the video, so go take a look at it.