On Texas Football takes a look at the Longhorns' basketball team and position questions for football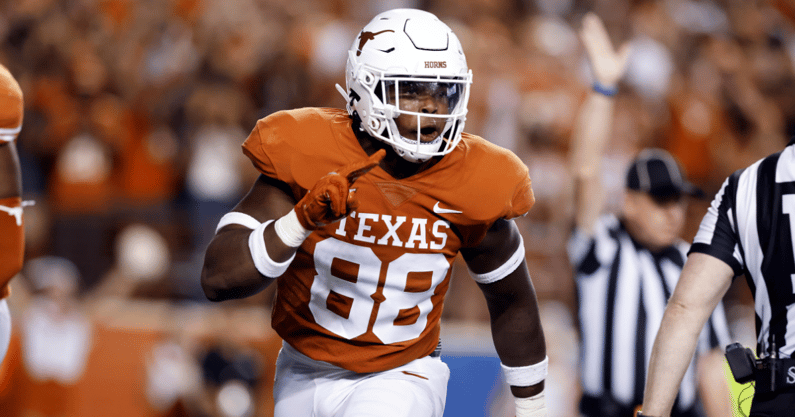 On the latest video episode of On Texas Football, Bobby Burton and Paul Wadlington of Inside Texas talk about the Longhorns' game in the NCAA Tournament against Penn State, and debate the EDGE position for the Longhorns' football team.
[Get Inside Texas Plus until 8/31 for just $29.99!]
Wadlington said Penn State is dangerous for the Longhorns because its coach Micah Shrewsberry thoroughly outcoached Texas A&M's Buzz Williams in the Round of 64.
"I think you're missing out but I just thought Micah Shrewsberry put together a masterful game plan (against Texas A&M)," Wadlington explained. "Hey, you know, coaches come up with great game plans in their mind all the time, but he was able to teach it and his players were able to implement it. And he just exposed Texas A&M.
"It was a coaching clinic put on and Buzz Williams tried to play Penn State like they were another SEC team that can't shoot. Penn State said we're not going to have a defensive game plan for your individual players, we're going to attack your entire style of play. 
"So Shrewsberry told his defense, 'don't foul,' and they didn't. Penn State committed 11 fouls the entire game. No Penn State player had more than two. That was the plan.
Burton opined the watching Texas A&M's loss to Penn State was akin to schadenfreude, in other words watching a car wreck happen. "I was looking at it through a different lens, not so much that analytical, as, this basketball game versus that basketball game."
Wadlington said Texas is in a great position because the Longhorns have a multi-faceted offense.
"Penn State can't just slap together some basic rules for your team defense to follow as they did against A&M now," Wadlington said. "Ultimately they're gonna have to get out and defend Texas players. Texas might want to play small ball and I don't think Texas minds playing small ball. Then (Texas) can introduce four or five minutes stretches of big ball where we can punish them."
Switching lanes, Burton and Wadlington turned to Longhorns' football and a discussion about the EDGE position and Texas' improvement over the first week of Spring drills.
"I hate to be that milquetoast fence-sitter – usually don't lack on an opinion – but I just kind of want to see what fall practice looks like," Wadlington said. "And then also the second portion of spring, because I do think that there is a possibility for some of these young guys to come along."
Burton talked about Barryn Sorrell, who seems to be coming into his own for the Longhorns.
"Sorrell is moving to a plus-asset of the football team after being a young guy that's just getting his feet," Burton outlined. "He is clearly on that ascension. Texas is going to be putting someone in Ovie Oghoufo's spot that may or may not be even ready that ready yet at this point or for the first six weeks of next season. I'm more concerned about that than I am the last six."
[Sign up NOW for the Inside Texas newsletter for Texas Longhorns daily updates and breaking news in your inbox!]
Burton asked who Wadlington thinks will emerge alongside Ryan Watts in the Texas secondary this fall. While Jalen Catalon, the transfer from Arkansas, seems like the player to watch his injury history makes one take pause.
There is plenty more to see on the video, so go watch it in its entirety.