On300 defensive back Jaylon Guilbeau flips back to Texas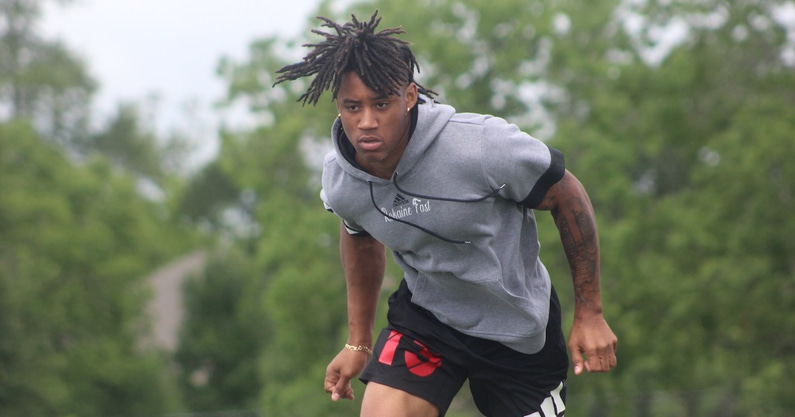 He must've missed being in UT's Class of 2022.
[Subscribe to Inside Texas right now and get 50% off an annual or monthly membership!]
Jaylon Guilbeau, the 6-foot, 175-pound four-star defensive back from Port Arthur Memorial, flipped from TCU to Texas on Thanksgiving.
The No. 200 prospect in the 2022 class committed to the Longhorns back on September 19th, 2020, then flipped to the Horned Frogs on September 30th of this year.
Guilbeau adds athleticism and ability to the Texas secondary, with strong track numbers and multi-position potential. He can play corner, nickel, or safety. He posted a 22.56 200m time as a junior and ran on Memorial's 5A Region 3 4×100 and 4×200 relay teams.
Excerpt from the Recruiting Notebook:
How he fits at Texas: Guilbeau is the island cornerback for his high school. Sometimes he'll play off coverage on the boundary without much help, at other times he'll be in press-man but still responsible for a vertical outside of the numbers. He's pretty quick and has a great feel for space, cutting off receiver's releases and breaking on routes. His ball skills are also solid. The measurables aren't impressive just yet, though. He ran a 4.82 40 as a sophomore and there are questions about his recovery speed as a press-man corner. If that doesn't work his ability to stick routes well, ball skills, and tackling should allow him to transition easily to nickel or safety. – Ian Boyd
Inside Texas Coach says:
Strengths: Good height for the position with a well-proportioned frame to add bulk. Smooth feet. A very physical player whose best moments are attacking the ball and the runner. Shows diversity in footwork (bail, side-shuffle, back-pedal). Shows very good lower body explosiveness and flexibility and does not commit his hips too early. Appears comfortable and smooth in change of direction and recovers very well when beaten. Judges the flight of the ball very well and catches naturally with soft hands. He has press-man, off-man and zone highlights that all show an understanding of leverage and scheme. He is obviously football smart and able to diagnose the play in front of him. He will explode into ball carriers and is a more than willing participant in the run support. Challenges every ball. Uses every bit of his advantage riding the receiver into the boundary. Frustrates offensive players. 
Areas for Improvement / Concern: Will need to add the requisite weight to play at the college level. Despite a track background, his measured straight line speed appears slow for the position. Will be slow to break at times even though he clearly has diagnosed the play.
Guilbeau is the No. 200 overall prospect in On3's rankings, the No. 20 corner, and No. 36 overall in Texas for 2022. He has a 91 score and four-star rating.