Opening 2023 Heisman Futures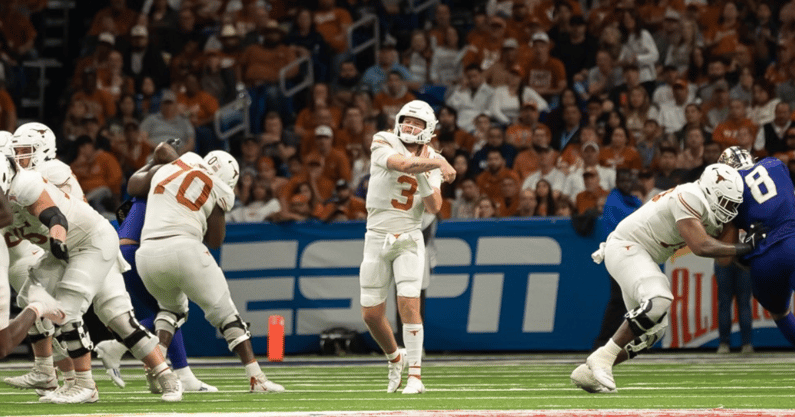 A few 2023 Heisman Trophy winner odds courtesy of BetOnline.
[Get Inside Texas Plus until the start of the 2023 season for $29.99!]
2023 Heisman Trophy Winner
Drake Maye
5/1
Caleb Williams
6/1
Jordan Travis
10/1
Bo Nix
12/1
Michael Penix Jr.
12/1
Sam Hartman
12/1
Jayden Daniels
20/1
Joe Milton
20/1
Kyle McCord
20/1
Cade Klubnik
25/1
Drew Allar
25/1
Quinn Ewers
25/1
Brock Vandagriff
28/1
Blake Corum
33/1
Carson Beck
33/1
Dillon Gabriel
40/1
J.J. McCarthy
40/1
Spencer Rattler
40/1
Ty Simpson
40/1
DJ Uiagalelei
50/1
Jeff Sims
50/1
KJ Jefferson
50/1
Marvin Harrison Jr.
50/1
Nick Singleton
50/1
Quinshon Judkins
50/1
TreVeyon Henderson
50/1
Devin Brown
66/1
Jalen Milroe
66/1
Will Shipley
66/1
Arch Manning
75/1
Will Rogers
75/1
Cameron Rising
80/1
Conner Weigman
80/1
Devin Leary
80/1
Donovan Edwards
80/1
Gunner Stockton
80/1
Jase McClellan
80/1
Nico Iamaleava
80/1
Raheim Sanders
100/1
Tyler Shough
100/1
An interesting comment from Adam Burns, the Sports Betting Manager at BetOnline:
"Our initial thought was to make Caleb Williams the favorite to repeat as the Heisman Trophy winner. We then thought better of it and made him the second favorite. No Heisman Trophy winner has repeated since Archie Griffin winning back-to-back in 1974 and 1975. In the last 15 years, Tim Tebow, Johnny Manziel, Jameis Winston, and Lamar Jackson won as early underclassmen and returned the next year as the clear Heisman favorite. And you know what, none of them won. And we don't think Caleb Williams will buck that trend. Drake Maye was tremendous last year, finished strong and is our opening favorite."
He neglects to mention that the other Heisman failures to repeat didn't have top notch manicurists.
[Sign up NOW for the Inside Texas newsletter for Texas Longhorns daily updates and breaking news in your inbox!]
Of course, this is the silly season where we don't even know full roster composition or the final impacts of the transfer portal, but the odds offer an interesting insight into where Vegas perceives public value. Arch Manning at 75/1 is…whimsical. But it will garner its share of "fun bets" — the sports book equivalent of a wishing well.
A few thoughts:
The Heisman Trophy is now an award for the quarterback of a Top 10 team with qualifying levels of anointed media hype. So while Texas fans are mired in Quinn Ewers' worst games in 2022, Vegas is in the futures game. Does Texas look like an emerging team? Are they going to throw the ball around? What does a year under Quinn's belt and ten returning starters mean to a team that should be a Big 12 favorite that can also garner sufficient hype to mount a Heisman campaign? That's why you see Cade Klubnik with the same 25/1 odds, despite fewer starts and a shaky bowl performance as the starter.
JJ McCarthy lower at 40/1 is interesting, but he lacks statistical volume.
Dillon Gabriel should have all of the volume in the world as OU runs its offense through him, but Oklahoma is replacing most of their offensive line and that's bad news for a smaller QB who could struggle to stay upright.
Drake Maye could be the best player in the country but questions about supporting cast and UNC garnering enough wins makes him a tenuous front runner.
Anyone getting in on that sweet Connor Weigman 80/1 money maker?