Overshown, Brockermeyer take unique paths to middle of Texas defense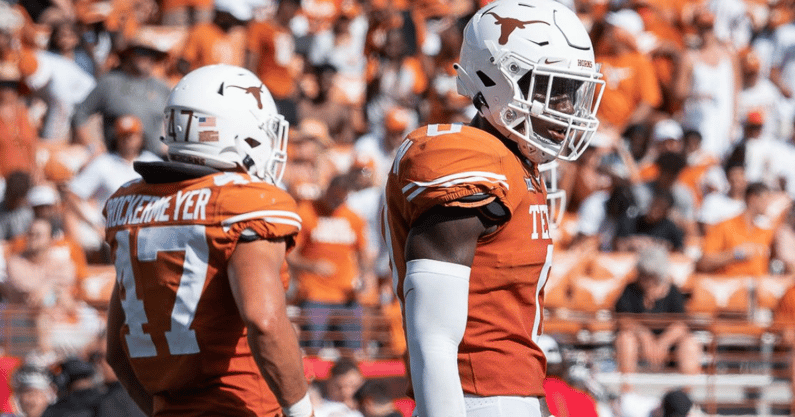 Senior DeMarvion Overshown and junior Luke Brockermeyer anchor the middle of the 2021 Texas Longhorn defense. Both play off-ball linebacker roles with Overshown playing Will and Brockermeyer playing Mike.
Their goals throughout a game are similar. They both must get the defense lined up properly, read where each play is flowing, bring down opponents who make it past the defensive line, and drop back into coverage when opponents air it out.
Their paths to the middle of the field look very different.
Overshown was a highly-touted prospect from Arp, a 2A town southeast of Tyler. Several publications rated him as one of the top safeties in the country and one of the best players from Texas in the 2018 class.
Brockermeyer was one of hundreds of three-star prospects in the same class from All Saints Episcopal School in Forth Worth. Instead of the 25-plus offers issued to Overshown, Brockermeyer's scholarship options were Rice and Oregon State.
Both ended up at Texas as part of the 2018 recruiting class. Overshown committed to the Longhorns in May of 2017. He explained Monday that he felt confident he was going to choose Texas but wanted to enjoy the recruiting process.
Brockermeyer chose to play football for the school both his father and grandfather also suited up for in early February 2018. He elected to go the walk-on route rather than play for free as an Owl or a Beaver.
"When I got the opportunity to walk on here, it really opened my eyes," Brockermeyer said Monday. "I took a visit and realized this was the best place for me."
From the beginning, Overshown sensed the walk-on from All Saints had something different to his game compared to the other walk-ons in the class.
"I was always like 'that guy, I don't see how he's not a scholarship guy' because the way that he worked and the way that he practiced when he was running with the scout team, you couldn't tell if he was a walk-on or not," Overshown said Monday. "The way that he's worked since he's been here, it's been amazing especially now that he's getting his time to be out there where he's supposed to be."
The two honed their skill sets to create Texas' top-line linebacker corps over the course of the 2021 offseason, the program's first under Steve Sarkisian.
Both Overshown and Brockermeyer had to make difficult adjustments early in their Texas careers to reach the starting 11 in 2021. The previous staff elected to move the rangy East Texan from safety to linebacker ahead of the 2020 season to help the Longhorns better handle Big 12 passing offenses.
Brockermeyer, who was a product of a small private school league, had to adjust to the speed and strength of Power 5 football players.
Big adjustments, no doubt. Bigger adjustments considering the missed practice time over the course of 2020. Looking at their stat lines from Texas' season opener, the duo has adjusted well.
Overshown led the Longhorns with 13 tackles, including 0.5 TFL. Brockermeyer was right behind him with 10 tackles and 1.5 TFL. The two even split a sack of Louisiana quarterback Levi Lewis in the first half.
Both felt as if their preparation made them ready for the moment.
"Saturday, I know I was comfortable," Overshown said. "It felt, I wouldn't say easy, but it felt like I've been there longer than a year."
Brockermeyer added: "It's definitely been a long time coming. I was prepared for it. I was ready. It definitely helps playing next to Zero, but it was a great game. I had a good time and glad to come out with a win for sure."
Overshown mentioned he thought Brockermeyer had some opening game jitters, but saw Brockermeyer gain comfort throughout the course of the game. "He was making checks and making calls like we were at practice," Overshown added.
They took the majority of the snaps at linebacker, too. David Gbenda and Jaylan Ford also saw some action, but when the outcome of the game was not fully determined, Nos. 0 and 47 were manning the middle of the field.
"I like the impact that they have in the game," Sarkisian said Monday. "I think they work well together, but we're going to need other guys to do that too. That's what were striving for."
They face an SEC opponent this weekend in Arkansas that prides itself on being able to use big bodies to clear paths for rushers. They also will walk into a raucous environment that loathes anything burnt orange.
Those are stout obstacles to overcome, but Brockermeyer is ready to take them on with Overshown by his side. "There was definitely times where I didn't know if this day would come, but I'm glad that the coaches had the trust in me," Brockermeyer said.
That day arrived on Sept. 4. It will arrive again Saturday as Texas heads to Arkansas to face the Razorbacks. When the Razorbacks take the field, Overshown and Brockermeyer will stand a few yards from each other with similar roles.
Their paths to those spots were very different, but they now share the same goal.
"I'm excited for it and I'm blessed," Overshown said.